Paleo Tacos [in Soft Cauliflower Tortillas]
I remember a time in my life when I was extremely big on Mexican food. I would eat it like, at least once a week.
Then for some reason, it eventually sort of died out, without me even realizing it. I just stopped craving Mexican flavored things. (Hmpft. Now if only that same phenomenon could happen with Asian food… but that's a whole 'nother story!) 
The other day, however, the desire for something Mexican struck without even so much as a warning. Just like that, I felt the overwhelming desire to sink my teeth into a crispy tortilla shell overfilled with spicy ground beef, creamy avocado, fresh tomatoes and salty olives.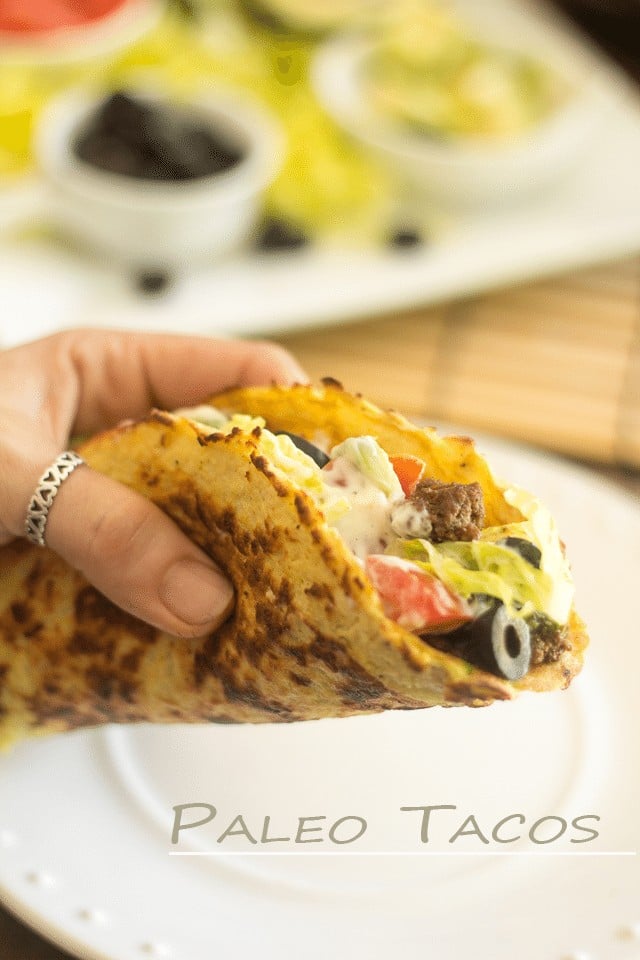 It was fairly easy to make this happen, only I knew I'd have to come up with some sort of solution for the shell. Making it crispy would probably be a long and complicated process, and I was in the mood for fairly quick and easy, so I decided to go the soft route.
I remembered seeing a couple of recipes for cauliflower tortillas over the Internet, but all of them called for baking and I felt that would take too long for my taste, so I thought I would take more of an omelette-slash-pancake approach and see where it would take me.
Much to my surprise, it worked perfectly fine!
Sure, I still had to squeeze the water out of the cauliflower, which you all know I love so much, but it was a small sacrifice to make for a meal this good. Plus, honestly, it doesn't really take all that long after all, especially not when you cook the cauliflower in the microwave, which is what I chose to do this time 'round.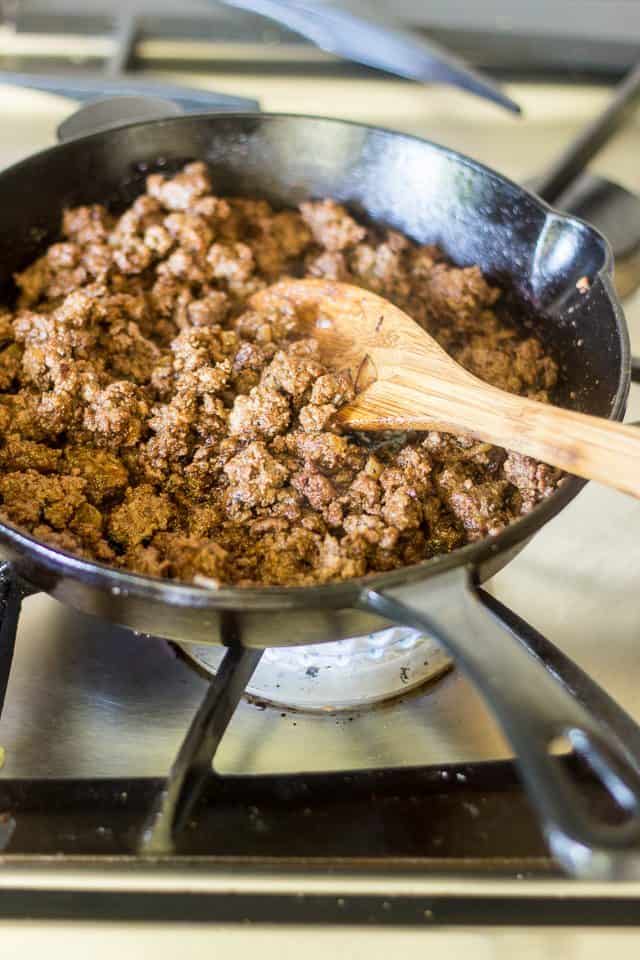 From start to finish, fixing these tacos doesn't take much longer than it would cooking ground beef and a handful of pancakes.
You can set the cauliflower to cook and cool while you are working on the ground beef. That way, when you're done dealing with the beef, all you need to do is squeeze that cauliflower dry, mix it in with a couple of eggs and a little bit of flour and get started on your tortillas.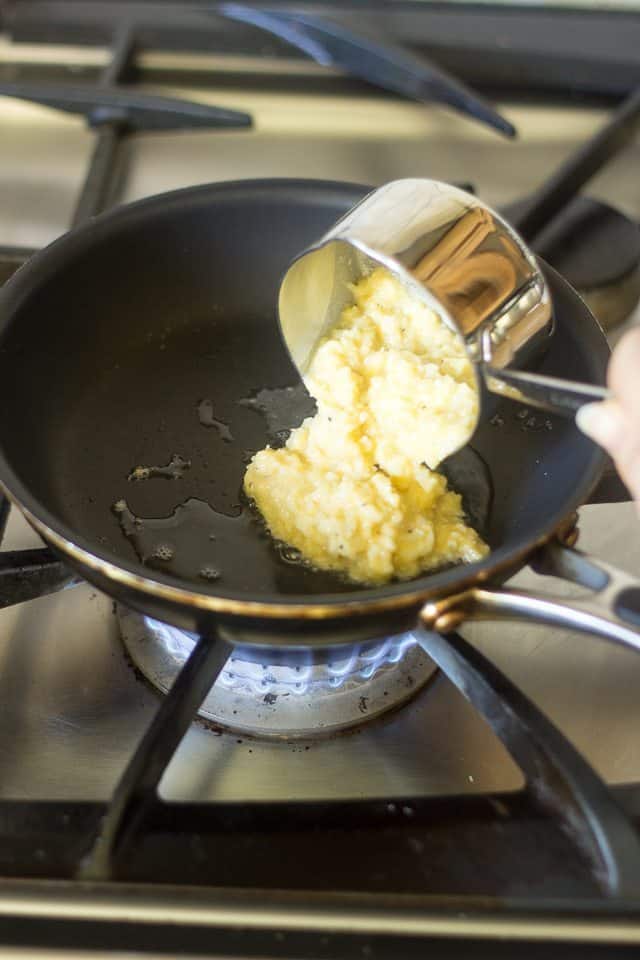 As you can see, the batter is fairly loose, sort of like a cross between pancake batter and cauliflower crust dough. You may feel that it looks a bit "chunky" but don't worry, the bits and pieces literally disappear as the tortillas cook.
You should have enough batter to make 4 tortillas if you use half a cup per tortilla and cook them in a small 8″ skillet.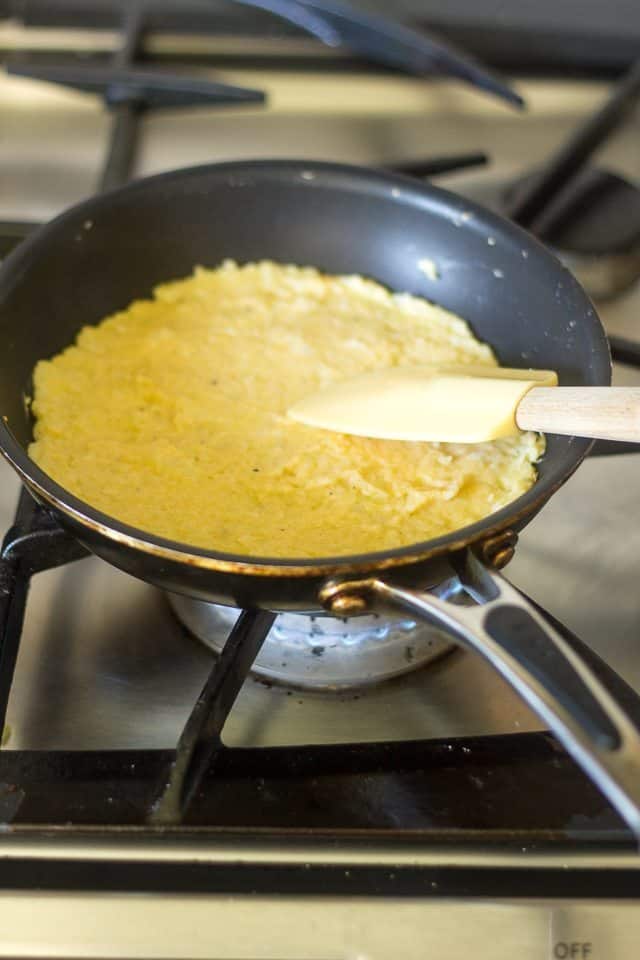 You'll want to spread that batter rather thinly, all the way to the edge of the pan.  Oh, and don't you go cook this over supersonic high heat, you'd only end up burning them.
2 to 3 minutes on this side over medium heat should do the trick.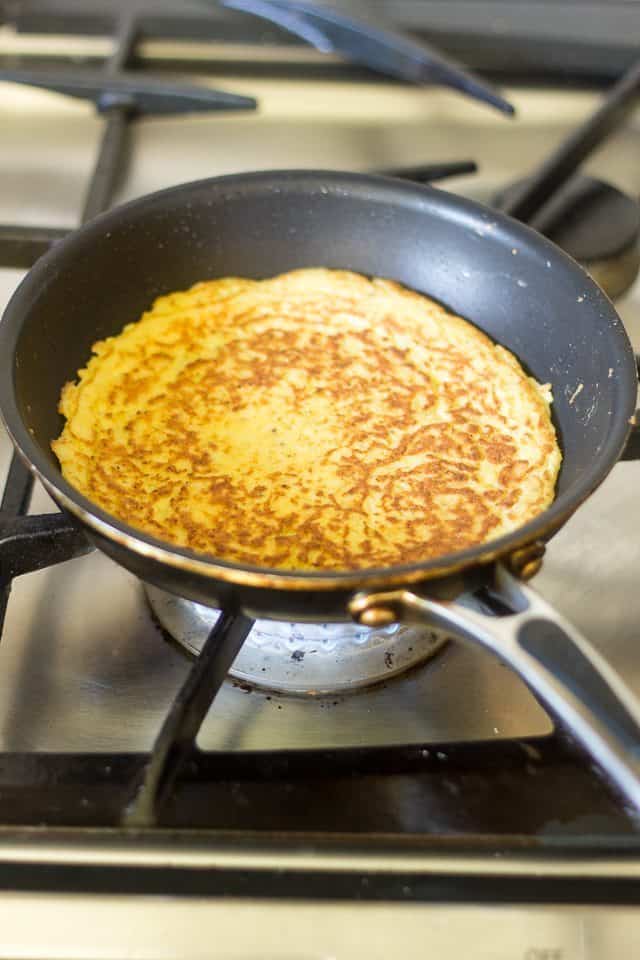 You then want to carefully flip your tortilla over and continue cooking for about one minute, just to make sure it's cooked all the way through.
Transfer to a plate and repeat this exact same process 3 more times.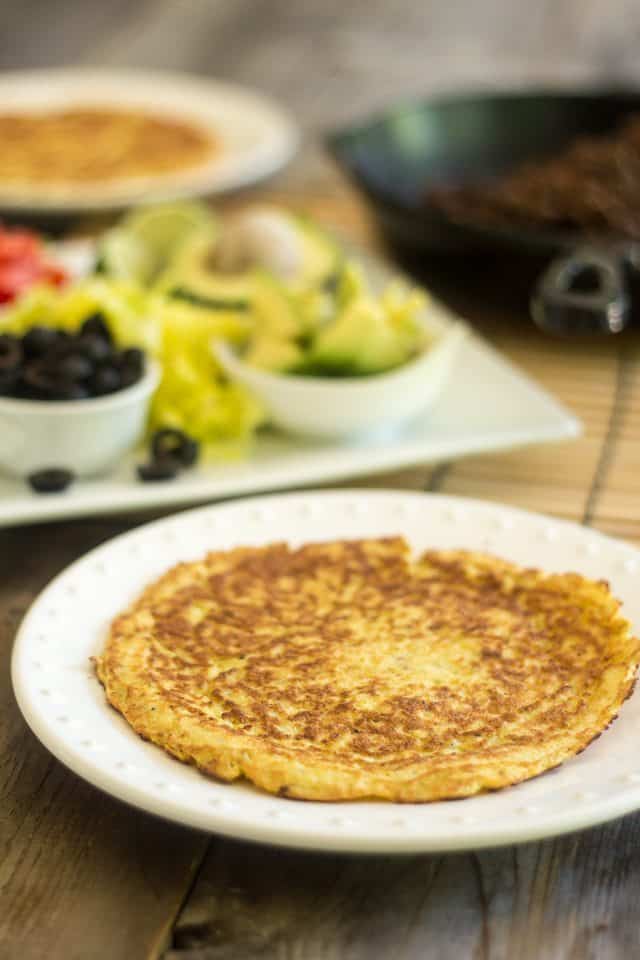 Hey, is that a nice looking tortilla or what? Plus, it has tons of flavor to it, unlike the flour-water-and-oil-based discs that you can buy in a bag at the store.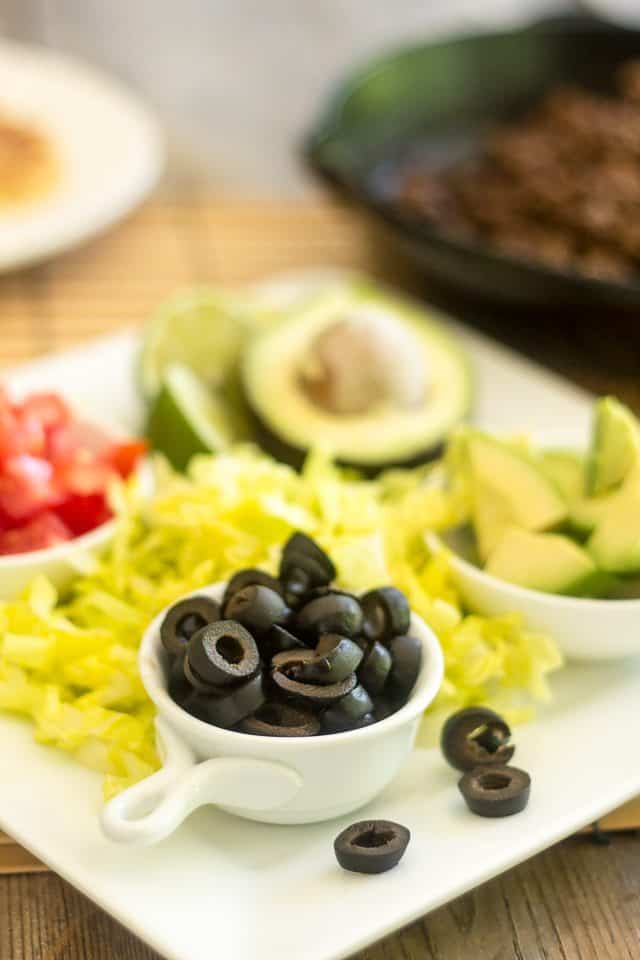 While your tortillas are cooking, chop your veggies and prep your garnish, then set a nice station in the middle of the table so that everyone gets to fix their own taco just the way they like it!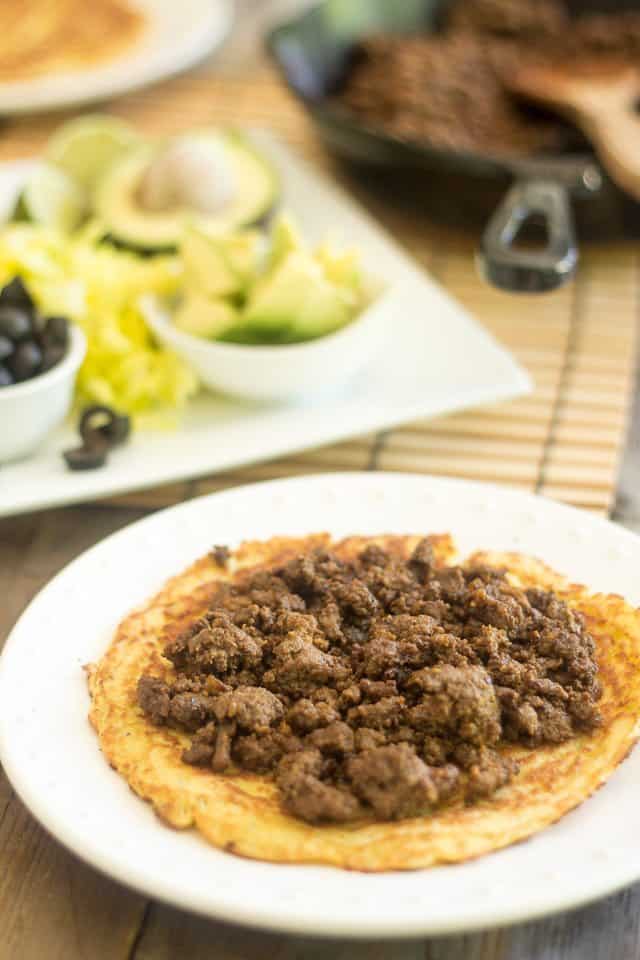 I like mine with LOADS of spicy ground beef…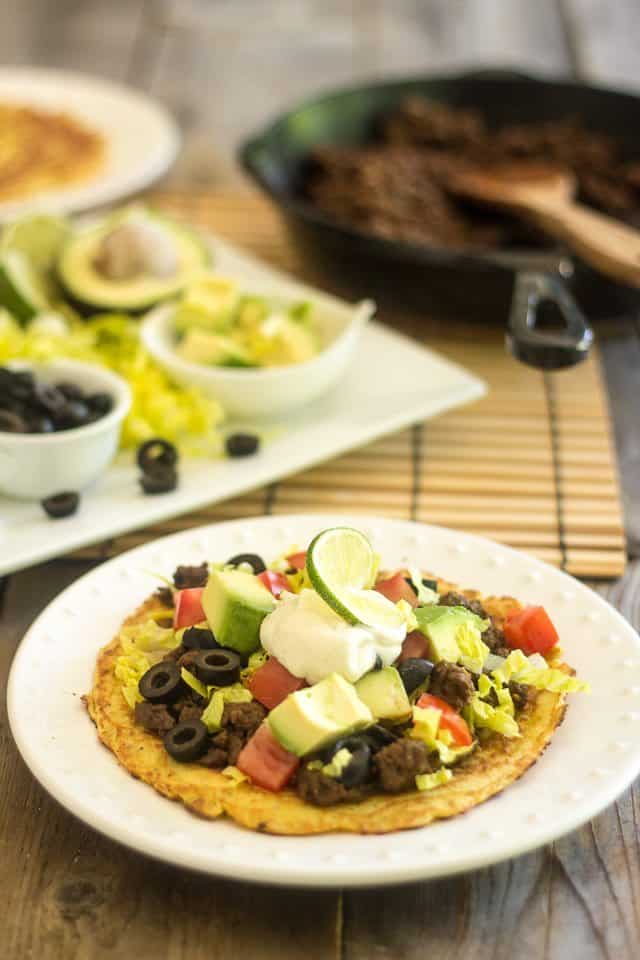 … which I then top with avocado, shredded lettuce, fresh tomatoes, sliced black olives, a generous dollop of paleo mayo as well as a great big squirt of lime juice.
That lime juice really does make a difference, you know. I dunno, it just seems to bring all the flavors together and make them go KABOOM for ya!
Oh, and if you want to kick things up a notch, go ahead and spice up that mayo. Add a little bit of cumin to it, or maybe a pinch of smoked chipotle powder, or even both why not? Sure beats sour cream, let me tell you that much!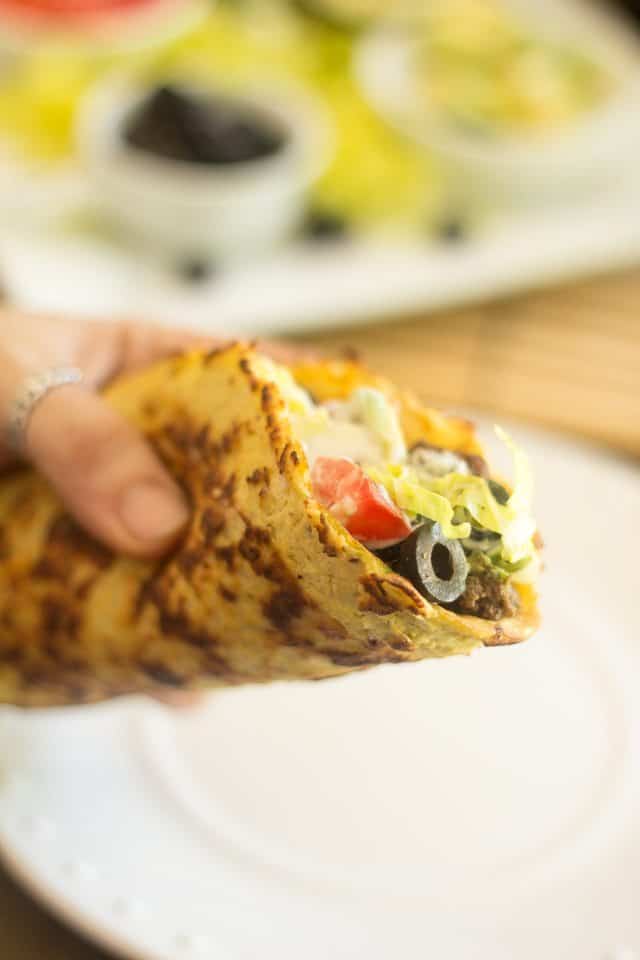 Now, believe it or not, even in that deliciously and generously garnished state, you can pick your taco right up and eat it with one hand. And no, it will not crumble on you, collapse or tear down to pieces.
How beautiful is that? I know! My thoughts exactly…
It may very well be that I will be having Mexican flavored food more often, from now on!
Paleo Tacos
Servings: 4
Ingredients
The garnish station
1 avocado, diced
1 to mato, diced
1/2 cup black olives, sliced
1 cup lettuce, shredded
Instructions
The ground beef
In a large heavy skillet set over medium-high heat, melt some cooking fat and throw in the onion, garlic and salt. Cook for a few minutes until the onion turns translucent then add the the ground beef. Continue cooking until the ground beef is no longer pink, then add the black pepper, cumin, coriander, smoked chipotle, onion powder and water. Stir and continue cooking for one or two minutes until the meat is completely brown. Set aside.
The tortilla shell
Use a box grater or the grater disc of your food processor to grate the cauliflower.

Place the grated cauliflower in a microwave safe bowl and cover loosely; microwave for about 4 minutes on high. Let the cauliflower cool for a few minutes until it can be handled safely and then squeeze it to remove as much water as you possibly can.

Throw the cauliflower into a bowl, along with the rest of the ingredients for the tortilla shells". Mix with a large wooden spoon until well combined.

Melt some cooking fat in a small skillet set over medium heat. Drop 1/2 cup of the cauliflower mixture and spread it all the way to the edge with a spatula.

Cook for 2-3 minutes or until the top looks set and the underside took a nice golden coloration. Flip the tortilla and continue cooking for about a minute, until it's completely set, then transfer to a plate while you cook the remaining 3 tortillas.
The garnish station
Chop and prep all your ingredients and set them onto a plate.

Place everything on the table and let people build their own taco. Don't forget the

paleo mayo

and lime wedges...
If you've tried this recipe, please take a minute to rate the recipe and let me know how things went for you in the comments below. It's always such a pleasure to hear from you!
You can also FOLLOW ME on PINTEREST, FACEBOOK, INSTAGRAM and TWITTER for more delicious, healthy recipes!