I know I've been giving you a lot of nut butter recipes lately, and I really hope that you don't mind because I happen to still have a few more in store! What can I say? I am truly passionate about them! A little obsessed, even…
One thing I just realized, however, is that I tend to share more of my intricate, unique flavor combination recipes.
Yet, I do make "standard" nut butters much more often than I make the fancy varieties.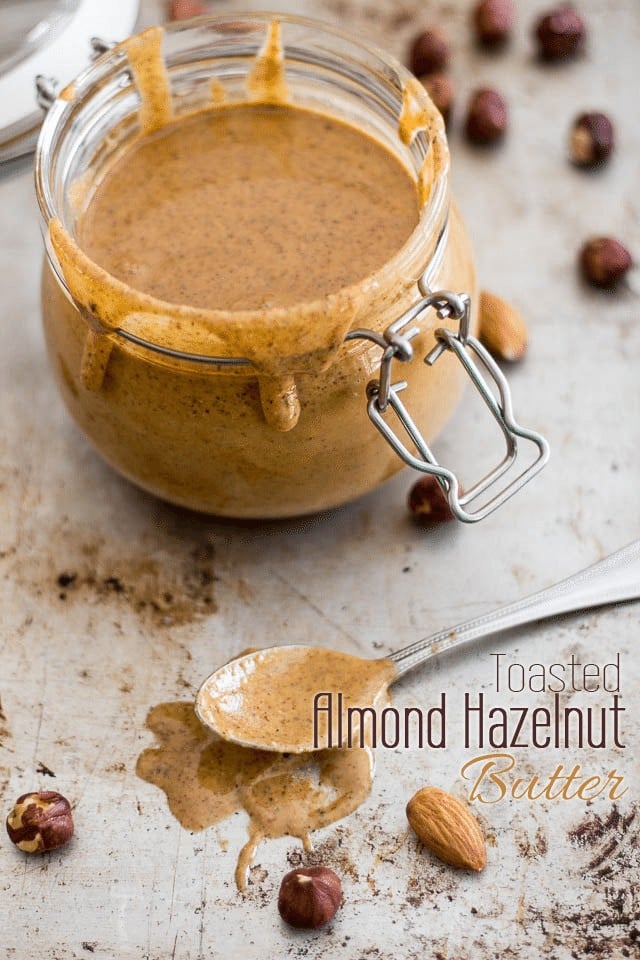 This Toasted Almond Hazelnut Butter Combination is one that I happen to be making on a very regular basis. I kind of think of it as my standard peanut butter replacement. 
To make it, I tend to use a combination of toasted almonds and hazelnuts, because I find their flavor profiles go so well together, but I also like to throw in a good amount of raw almonds, to help slightly thicken the final consistency of the nut butter.
Toasted nuts, having a much lower moisture content, tend to produce much thinner butters, whereas raw nuts yield thicker butters. Also, toasted nuts taste smokier, nuttier, whereas raw nuts tend to be a little bit more on the sweet side. So I like to mix things up a little to achieve the desired flavor and consistency.
I find this recipe's ratio works great for me, but don't be afraid to play with it until you find one that really works for you.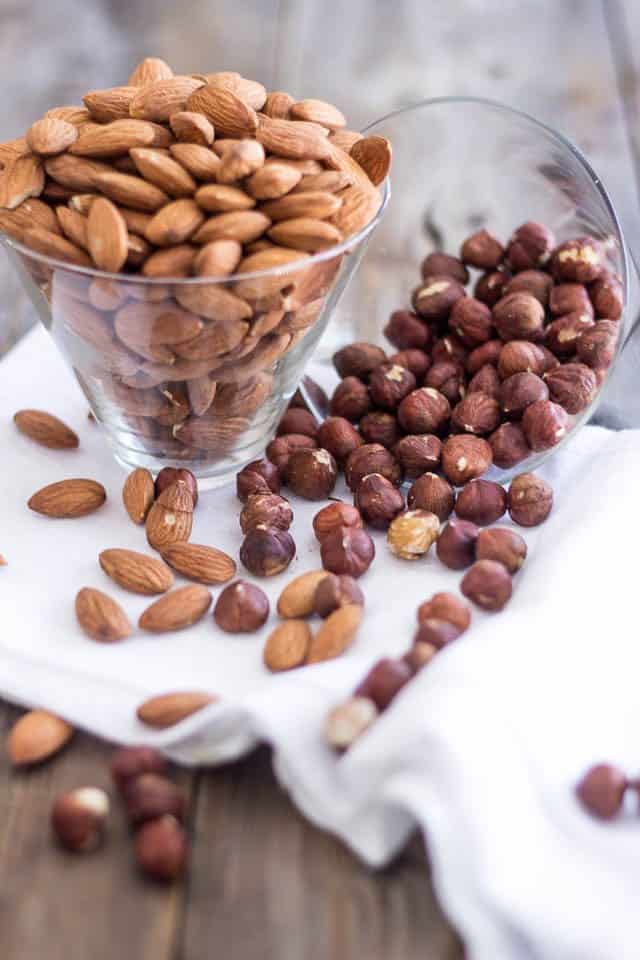 As always when making nut butter, I like to start with raw, unsalted nuts. In this case, we'll be using a combination of almonds and hazelnuts.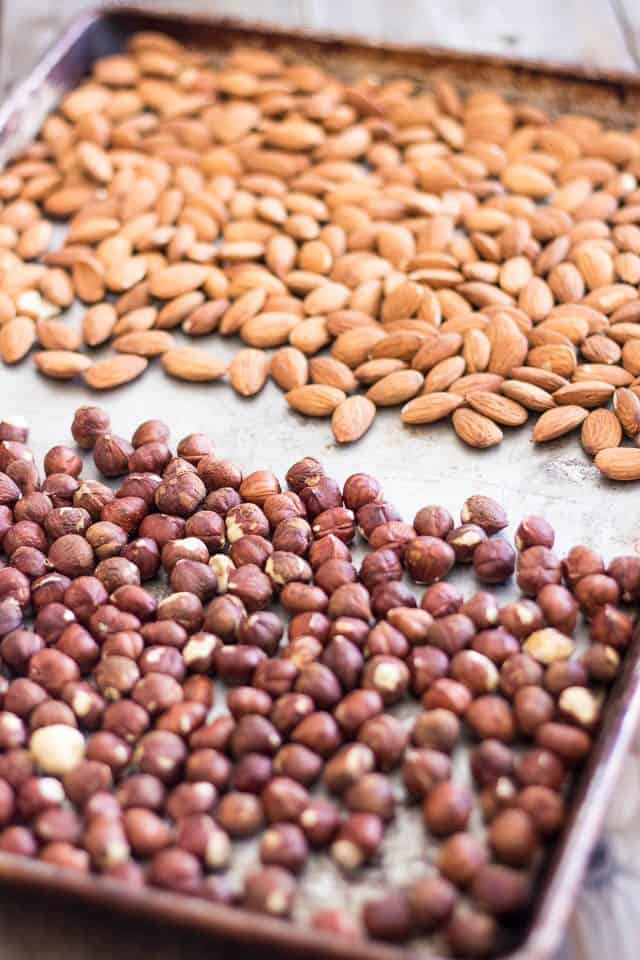 We're gonna be toasting half the almonds and all of the hazelnuts; I find hazelnuts taste SO much better after they have been toasted. Also, I like to peel them because their skin can have a bit of a bitter taste to it and toasting them makes removing that skin a breeze.
Let's lay the nuts on a baking sheet in two distinct patches. You don't want to mix them because then that would make peeling the hazelnuts a tad trickier.
So let's keep 'em nuts separated!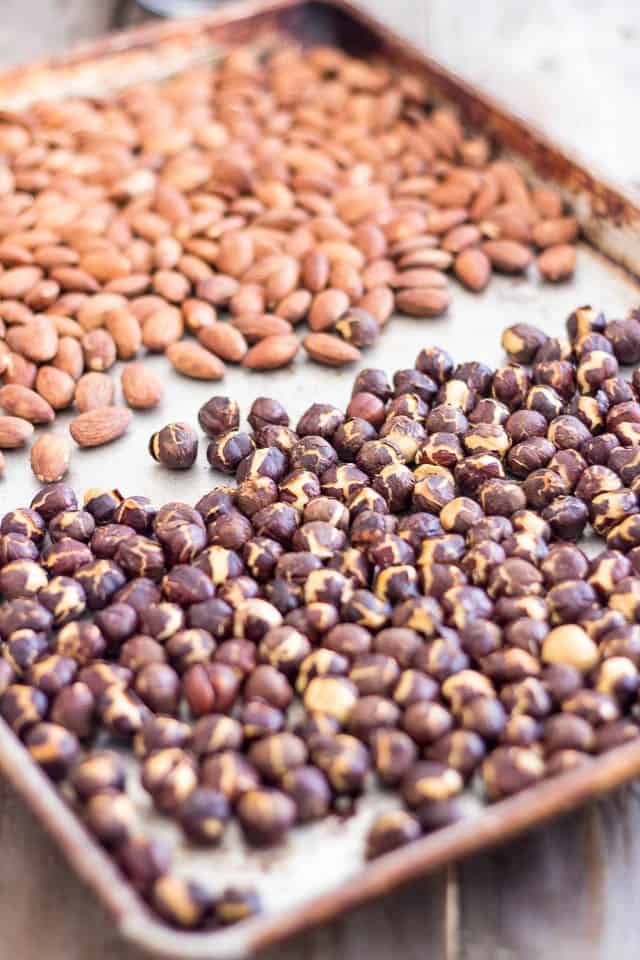 See how the skin has cracked, shrunk and lifted after the hazelnuts come out of the oven? It's like magic!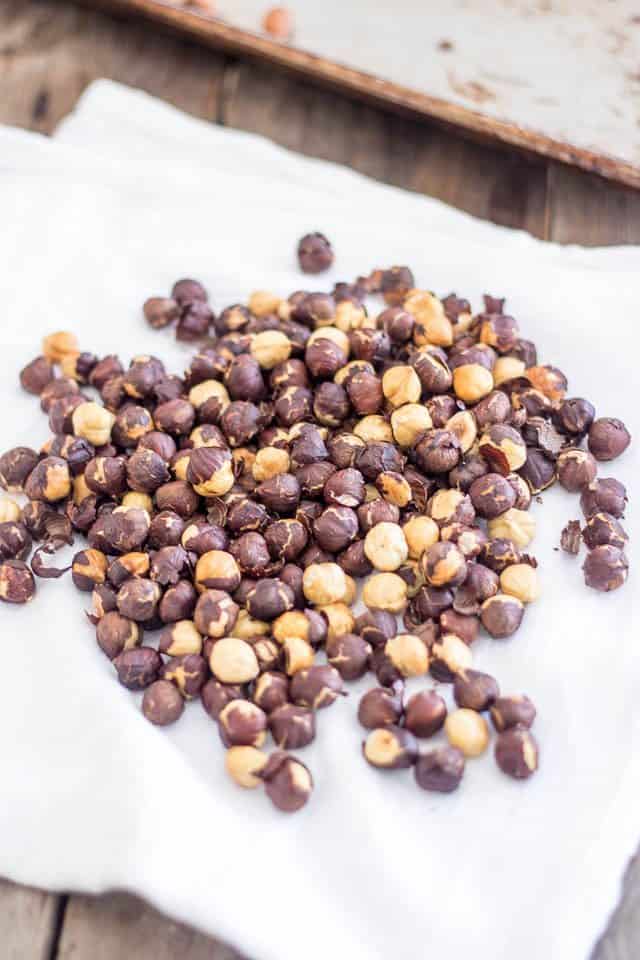 As soon as they are cool enough to handle, transfer the hazelnuts onto a clean tea or flour sack towel.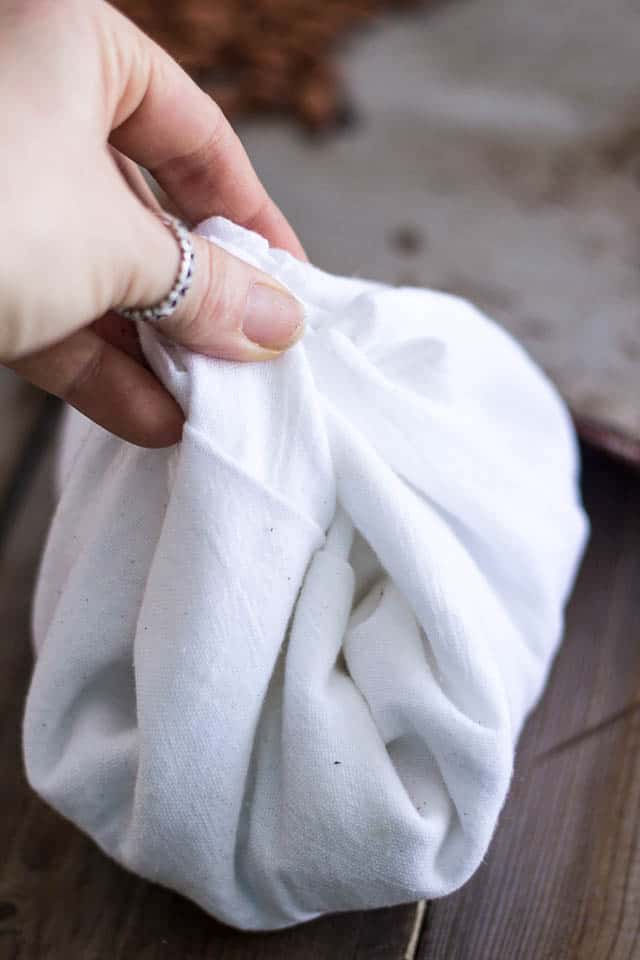 Fold the towel into a little bundle like this. Hold it firmly in one hand and with the other hand, wiggle the nuts around so that they grind against each other. Do that for a good minute or so…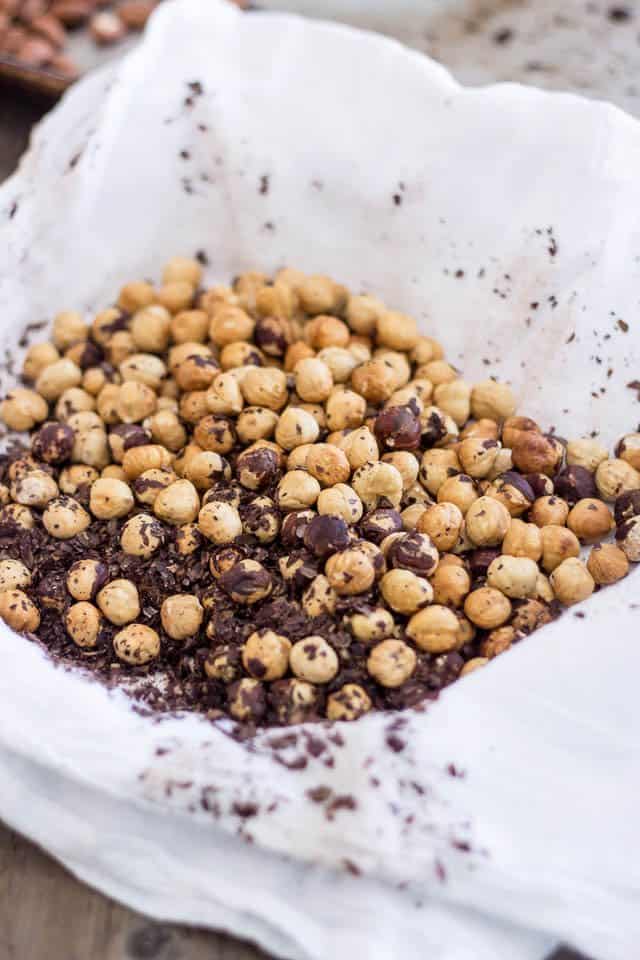 …and when you open up your little bundle, your hazelnuts will be totally skinless!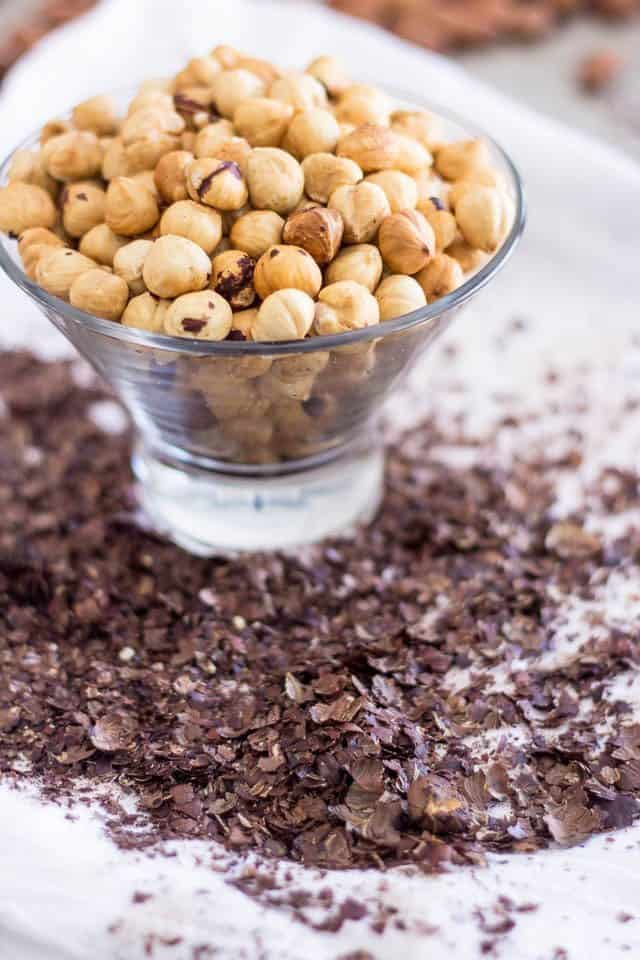 Now carefully pick the nuts out, leaving the skins behind.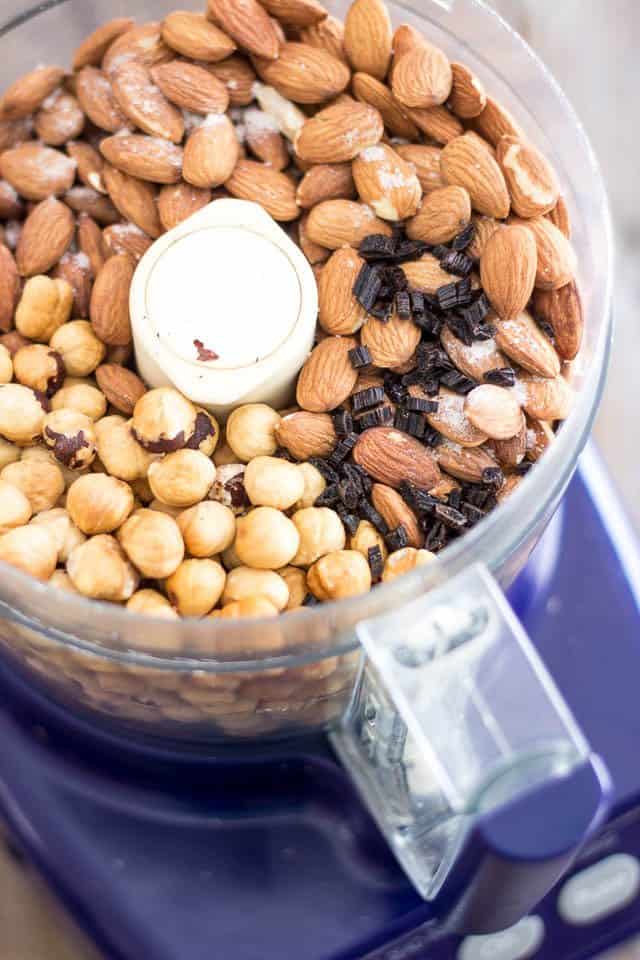 Add the toasted almonds, hazelnuts and raw almonds, as well as the salt and chopped vanilla beans to the bowl of your food processor.
Yes, I actually throw the whole vanilla beans in there, not just the seeds. I only take care to remove the dry ends, then chop the whole vanilla beans fairly finely before adding them to the food processor. They're going to get pulverized, anyway… so why waste?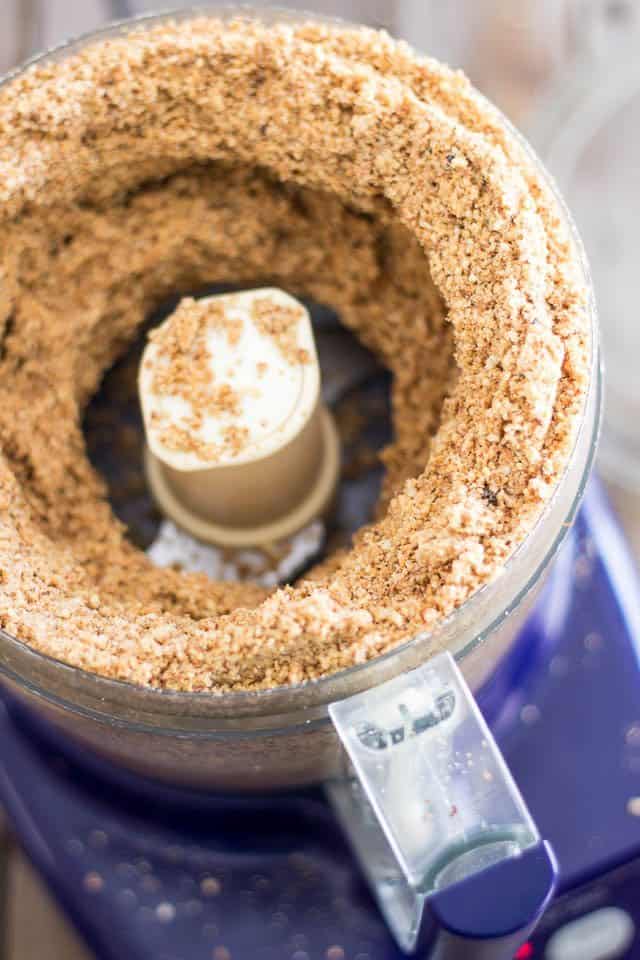 The nuts will have to be processed for a total of about 20 minutes, but you will want to stop from time to time to break down the mass that will invariably form and scrape the sides, too.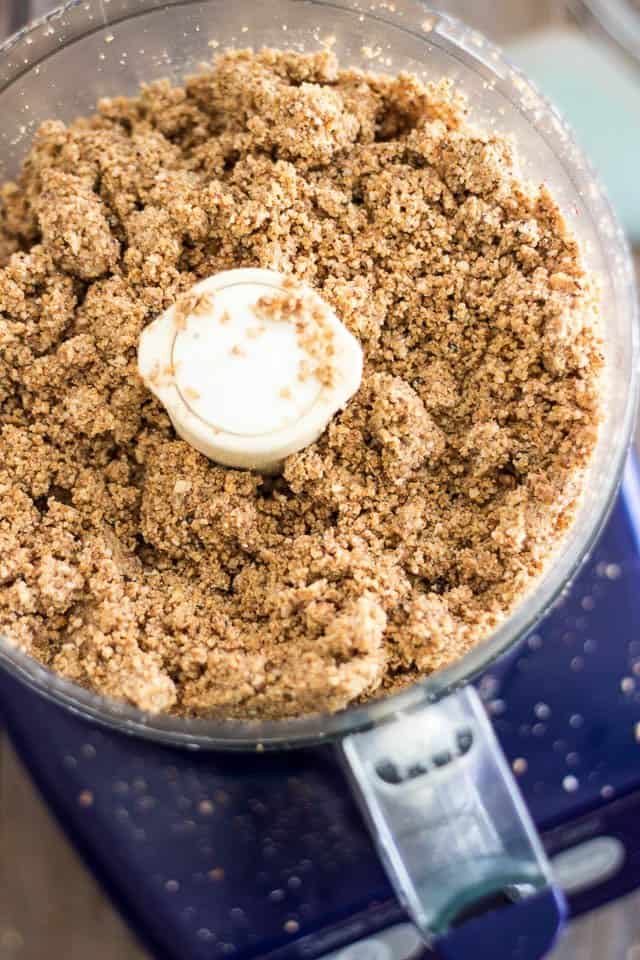 In the early stages, you will have to stop more often as the nuts will want to lump up into a solid mass strangely resembling cement.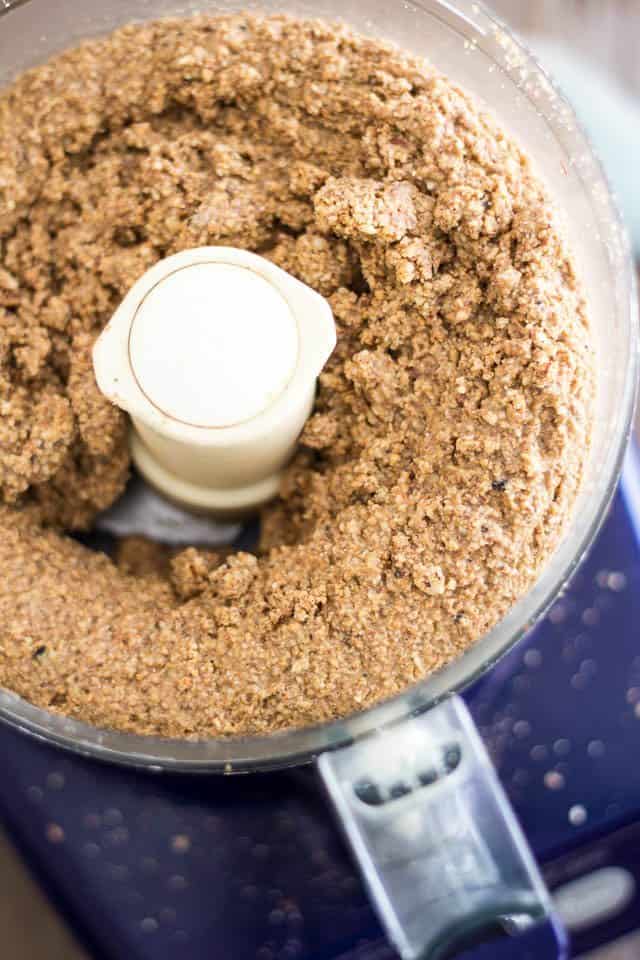 After about 5 minutes, the nuts will start to release some of their oil, making the mass more pliable and more inclined to stay within the path of the spinning blade, so you won't have to stop as often.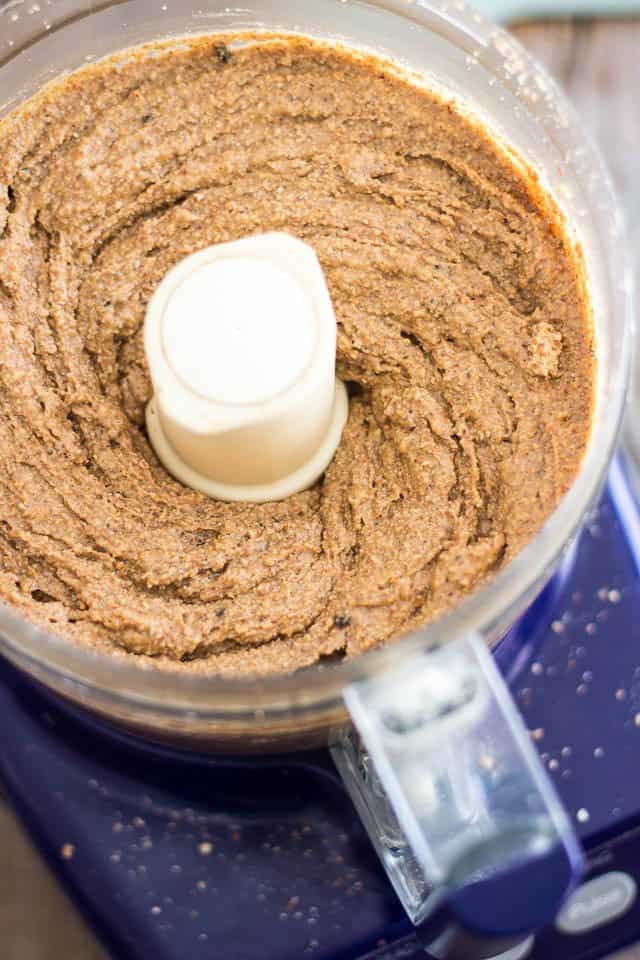 Still, it might be a good idea to stop from time to time, if only to give your food processor a little break if you feel it needs one…
After 10 minutes, the mixture will start to look a lot more like nut butter! Still, it's a tad too rough for my taste, though. I think it needs to spin some more!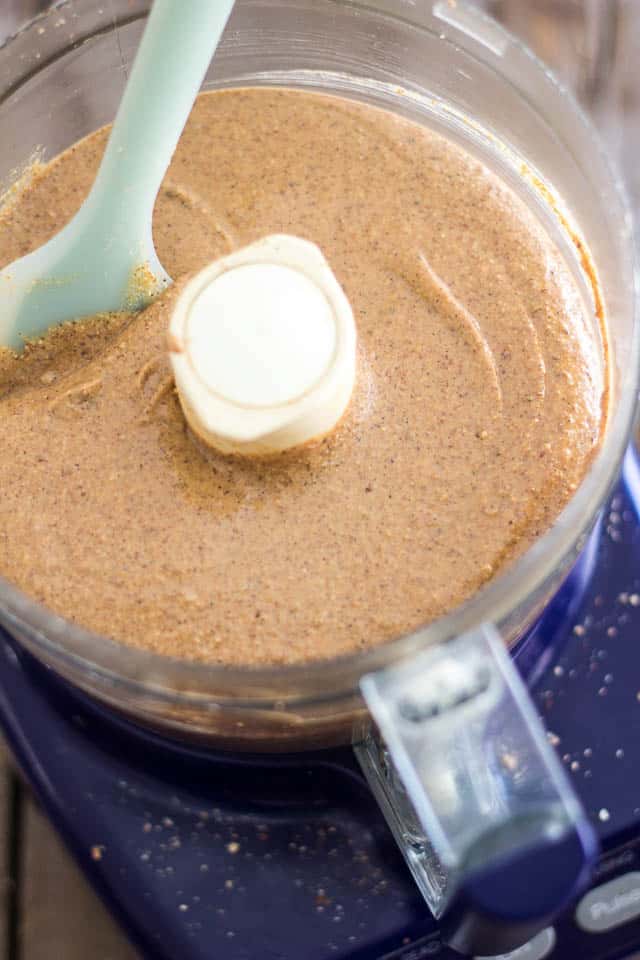 Another 5 minutes in the making and you really have what looks like creamy nut butter now. You could very well stop here if you wanted to. But I like my nut butter to be as smooth as can be, so I like to give it a little bit more time, still.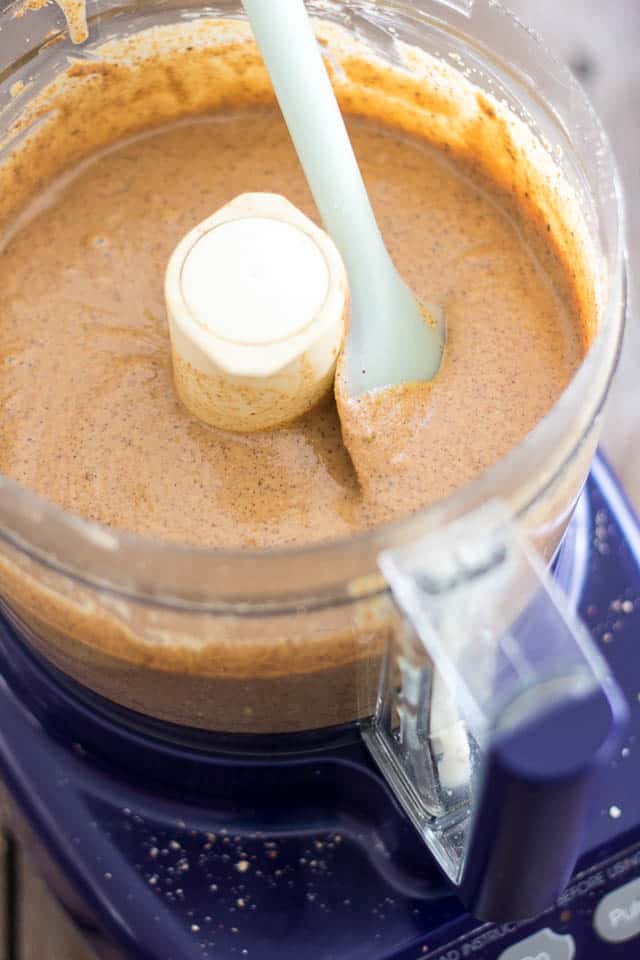 Aaah! There we have it. Can you see the difference? I think we're good to go, now.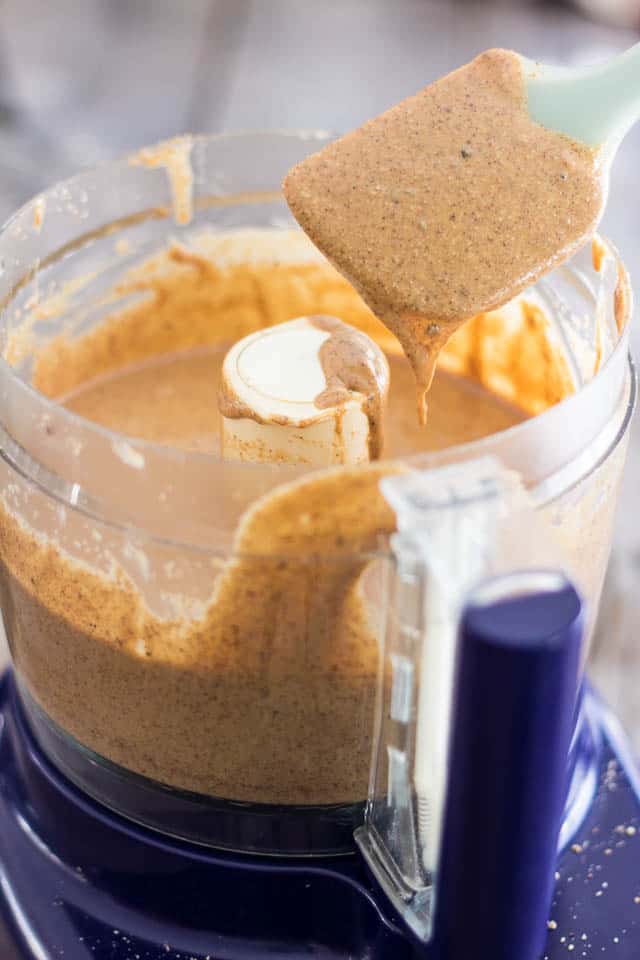 Does this look smooth and creamy enough for you? Looks very good to me, I must say.
And just you look at those little black specks of vanilla. Gawd I love 'em!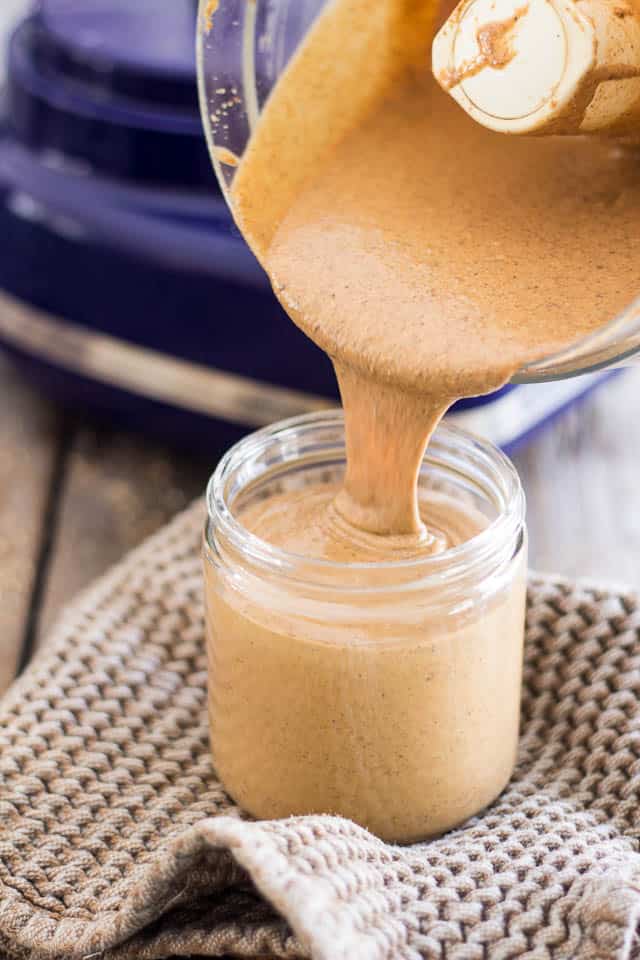 Time to transfer your creamy nut butter into glass jars.
Ideally, you want to let that rest for a wee bit now. As good and tempting as it looks in this very moment, all that friction from the blade makes the nut butter become fairly warm and takes away from its overall deliciousness.
I find it's always much better after it's had a little time to come back to room temperature as well as give a chance to all the flavors to get to know each other a little bit better.
But of course, I can never resist getting a little taste at this point, you know. I mean, that bowl does have to be scraped really clean, doesn't it? And what are spatulas for, if not to be licked?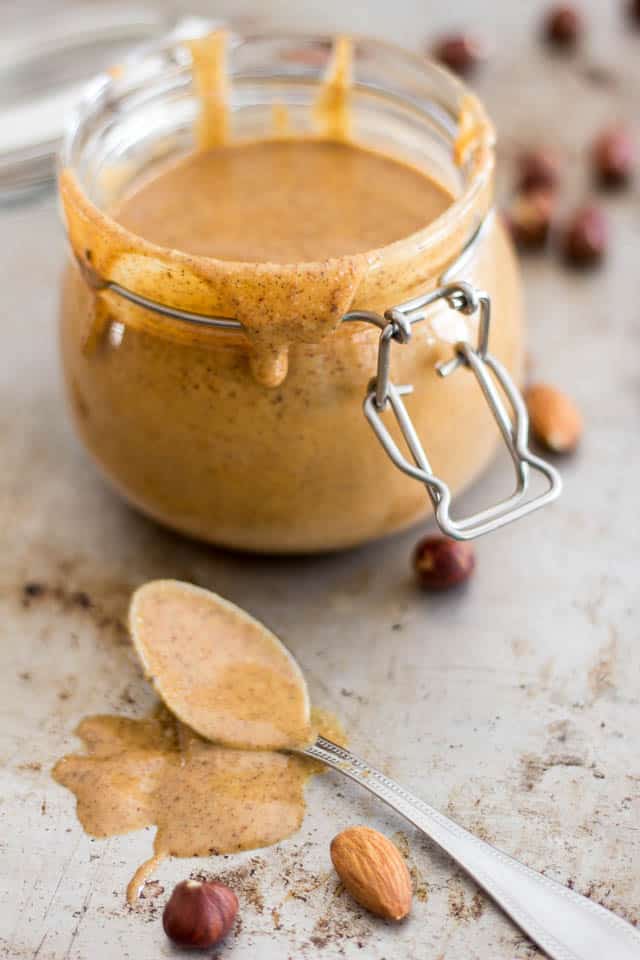 Now, after your nut butter has had a chance to rest for a while, as in about 24 hours, it's finally time to whip out a spoon and go right to town.
Just close your eyes, dig in and enjoy!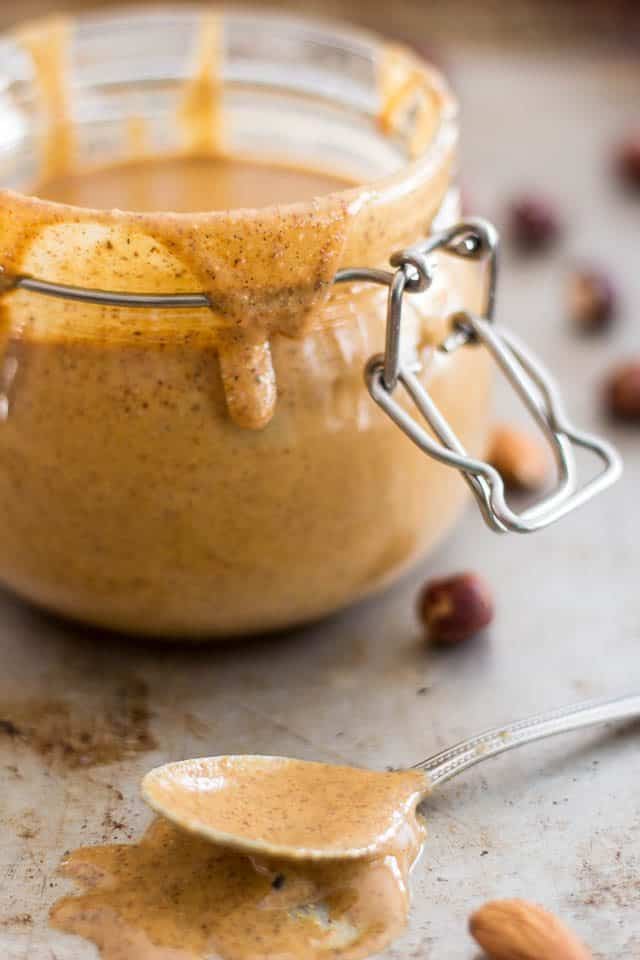 You know, the principle of making nut butter is pretty much always the same, so don't be afraid to experiment. Try different nut combinations, try mixing raw with toasted, try different ratios and try adding different flavorings and spices. I sometimes like to add a little bit of cinnamon, nutmeg, or ginger, or even coconut, or a hint of honey or maple syrup…
Hey, you could even make savory nut butters and add garam masala, curry powder, Ras el Hanout, cayenne pepper or even smoked paprika, why not?
I think I need to start experimenting with that myself! "Spreadable Spicy BBQ Peanuts", anyone?
Hmmm, that can't be bad now, can it?
Toasted Almond Hazelnut Butter
Serves:
Yields approx. 4 cups
Instructions
Preheat oven to 350F
Place 2 cups of almonds and the 2 cups hazelnuts on a large baking sheet, making sure to keep them well separated so the nuts don't mix.
Toast in the oven for 15 minutes, moving the nut around a few times during the process.
Place the hazelnuts in a clean tea towel and close that up into a little bundle. Now hold that package in one hand and, with the other hand, wiggle the nuts around so that they grind against each other. Do that for a good minute or so and when you open up your little bundle, your hazelnuts will be totally skinless. Now carefully pick the nuts out, leaving the skins behind.
Add the toasted almonds, hazelnuts and raw almonds, as well as salt and chopped vanilla beans* to the bowl of your food processor
Process for a total of about 20 minutes, stopping to scrape the sides from time to time, until the butter is very smooth and creamy and almost liquid in consistency. It will return to a firmer consistency once it's had a chance to rest and cool down.
Transfer to clean air tight glass jars or containers.

Notes
*yes, I actually throw the whole thing in there, not just the seeds. I only take care to remove the dry ends, then chop the whole vanilla beans very finely before I add them to the food processor
Nutrition Information
Serving size:
NF is based on 1 tablespoon