I had given up on Mayo a long time ago.
Not that I don't actually LOVE the stuff… I could easily eat it by the spoonful!
Only, store-bought mayo doesn't do much for you in the nutrition department…
I attempted making my own at home a few times, but failed miserably. I think it's too much of an exact science for me, so I had learned to live without it.
That's until I did my first Whole30® and stumbled upon this recipe on Picket Fence Paleo. It's so easy, even a kid could do it. Blindfolded.
Here's what you'll need to make a basic mayonnaise: 
Equipment:
1 glass jar, which you will use to both make AND store the mayo. Make sure you use a tall and narrow jar with an opening that's just wide enough to accommodate your stick blender. I like to use a 500ml (one pint) wide mouth Mason jar like the one in the pictures.
An immersion blender. That's the magic tool that'll make your mayonnaise come together so easily.
Ingredients: 
One egg (apparently size does matter here. Make sure you use a large or extra large egg, else you might need to add an extra one)
One cup Extra Light Tasting Olive Oil
The juice of half a lemon or lime (about 2-3 teaspoons)
A generous pinch of salt
About the oil, it's very important that you use light tasting olive oil and not full flavor. The latter is way too strong for mayonnaise! You could, however, sub avocado, macadamia, almond or walnut oil for some (or all) of the olive oil.
And what's even better is you can flavor your mayo whichever way you like, too!
You could very well add a teaspoon of Dijon or grainy mustard to it, or minced garlic, or horseradish, why not?
Fresh herbs, such as thyme, rosemary or oregano, would be delicious as well. A pinch of cracked black pepper adds a little bit of a kick to it. Crushed chili peppers would add an even bigger one!
And of course, you could always replace the lime juice with your favorite vinegar!
Alright, you ready? Let's make us some mayo, folks!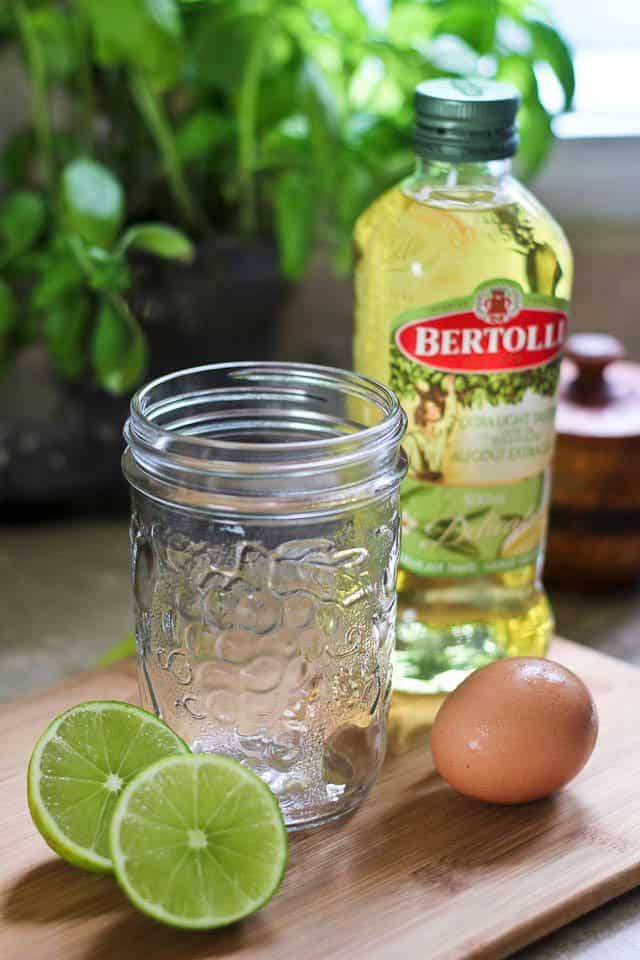 Start with one egg, straight out of the fridge. No need to fuss about it, let it come to room temperature, give it a warm bath or anything.
Just one egg. No pampering required whatsoever. I swear.
Throw that right in the jar. Add the lime juice (or vinegar) and salt.
If you wanted to add mustard, garlic or other flavorings, now would be a good time to do that.
Pour in one cup of light tasting olive oil. No need to drizzle or be all fancy schmancy here either.
Just pour it right in.
Now let that sit for a few seconds, just long enough for the egg settle down and find a comfortable seat at the very bottom of the jar, underneath the oil.
Insert your immersion blender and push it all the way to the bottom of the jar.
Push the power button and do not move the blender for a full 20 seconds.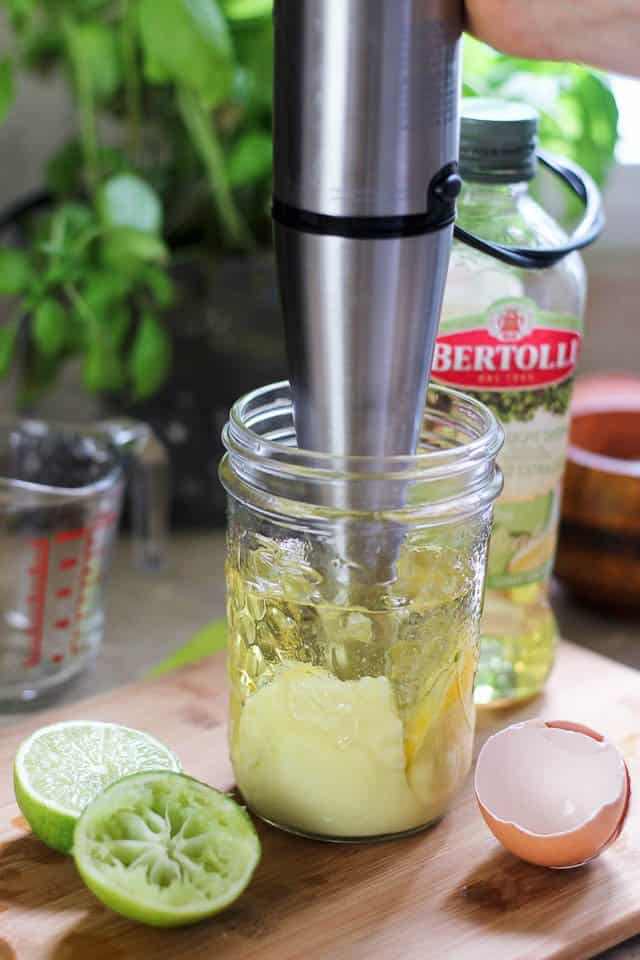 Almost instantly, the magic will start to happen.
Your fabulous mayonnaise will come to life right before your very eyes and quickly start climbing all the way to the top of the jar.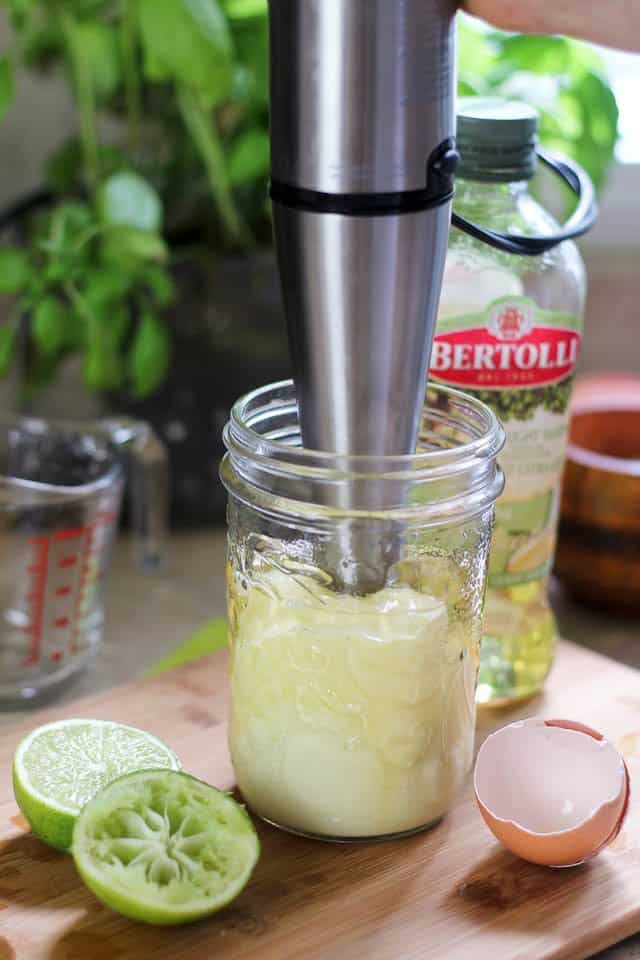 After 20 seconds, the mayonnaise will be almost all the way to the top. This is when you want to slowly start raising the blender until you get to the very top.
Do not take it completely out, though, else you might send mayo flying all over the place!
Continue blending for just a few more seconds.
At this point, you can move the blender around to make sure you get every last bit of oil blended in.
And there you have it.
Beautiful, creamy, tasty and HEALTHY mayo!
That wasn't complicated, was it?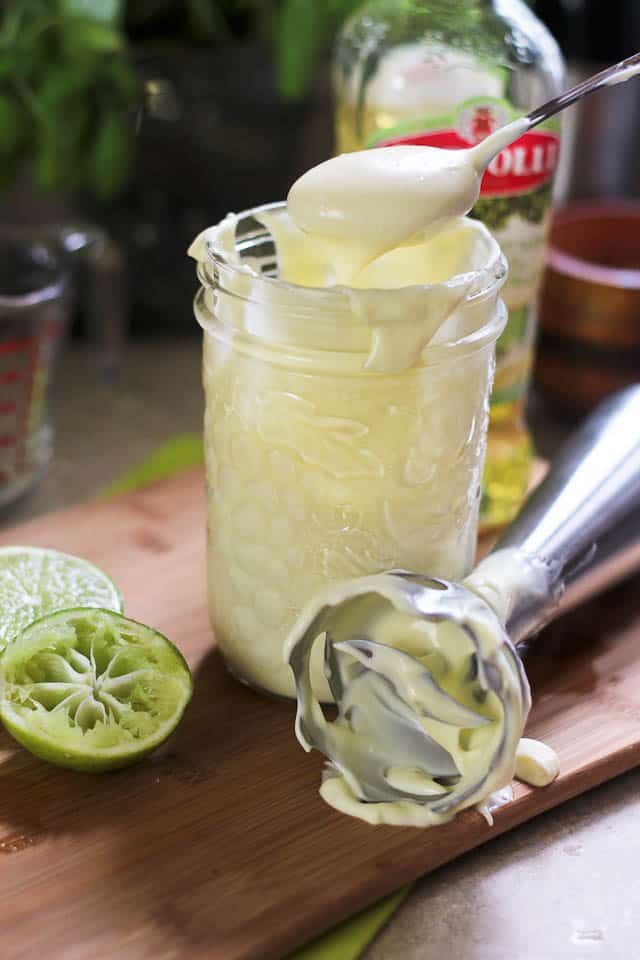 Bet you're never gonna buy the store-bought ever again!
And now you can brag to your friends and family that YOU can make your very own mayo!
Of course, you don't need to tell anyone just how easy it really is…  that'll be our little secret!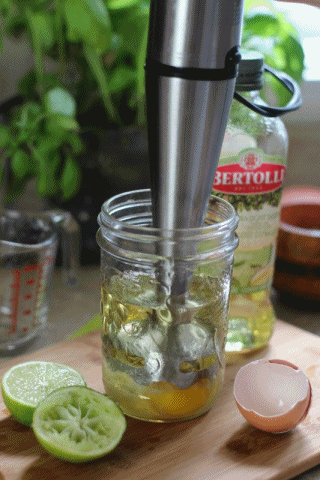 And this is pretty much how it goes in real time…
Of course, you can hold your jar so it doesn't move around like that. I didn't hold mine so you could see what was going on in there.
Fascinating, isn't it? I could watch this for hours!