Super Simple Loaded House Salad
Seriously?
A House Salad?
That's what I dare serve you today?
I know, I know. Way too common… and I would even dare say… boring!
BUT!
First off, it's not just your standard House Salad, which usually comprises of a handful of lettuce, a slice of cucumber and, if you're lucky, a wedge of tomato. No way. I make mine FULLY loaded and always make sure to add olives and avocado as part of my base ingredients. For healthy fats, you know!
Also, this would probably be the one thing that I eat the most during the months of summer, ESPECIALLY when doing a Whole30®. As such, I feel I need to share it with you.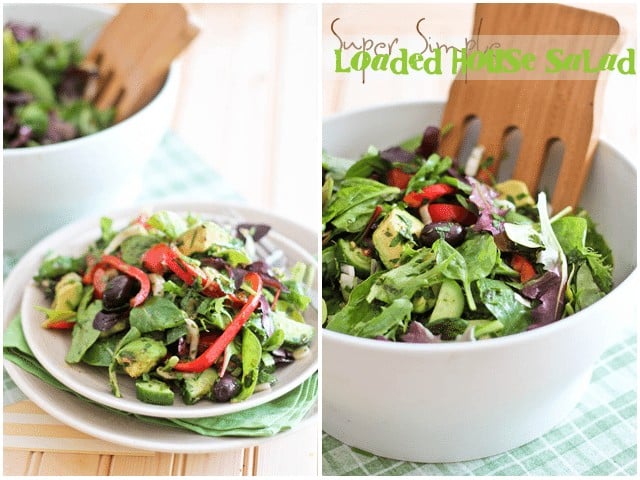 It just makes my life SO much easier.
What I do is I make a full batch and divide it between 2 or sometimes 3 meals. One serving of salad easily and conveniently takes care of all of the fresh veggies and healthy fats that need to be included with every meal.
All that's left for me to do is throw a good source of protein on the side, such as grilled chicken, a juicy beef patty, a few tasty meatballs, some delicious braised meat, a few slices of leftover roast, a handful of cooked shrimp, a piece of grilled salmon, some scotch eggs (or even plain hard boiled eggs) or, if I'm really in a pinch (or caught completely unprepared) canned tuna fish.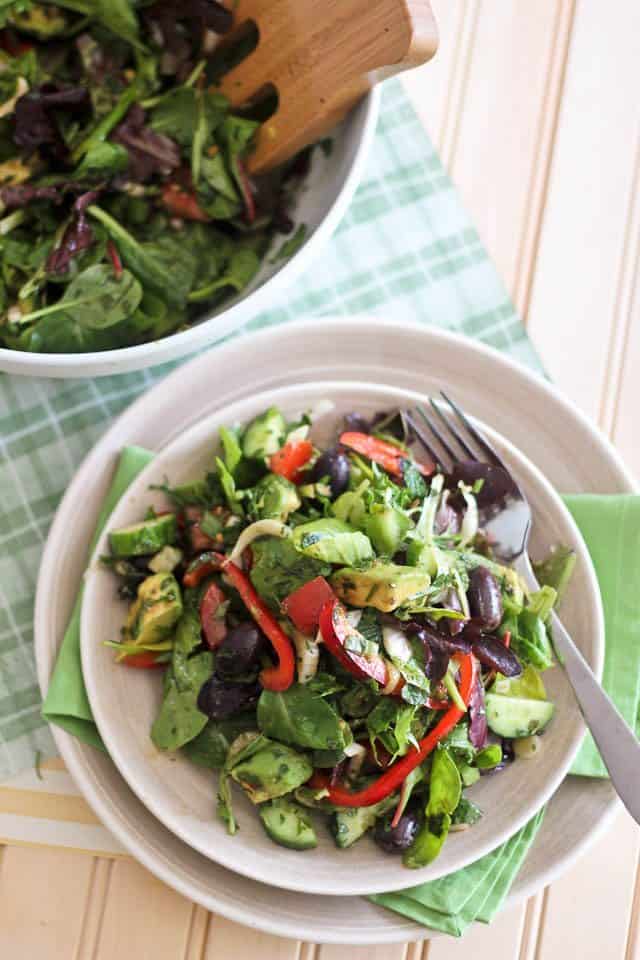 Of course, I don't always use the same vegetables. Oftentimes I'll add even more and other times I'll be forced to make a few substitutions, but some ingredients I make sure are always present.
They are:
Lettuce, Cucumber and Tomatoes – To me, they are just plain essential. They HAVE to go in, that's just the way it is.
Parsley and Mint – They add so much freshness and flavor, they basically make the salad.
Avocado and Olives – Not only are they my sources of healthy fat (along with the olive oil in the dressing) but they're also my favorites. I wouldn't dream of leaving them out!
Apart from that, I tend to play and have fun with the ingredients. I sometimes like to add broccoli or cauliflower for a bit of extra crunch.
Radishes add a nice little kick!
Grated carrots really do a lot in the color department…
Raisins and apples add a nice touch of sweetness…
I could go on and on and on!
Seriously, just let your imagination go wild, use whatever veggies you have in your fridge.
Trust me: salads never get old!
Loaded House Salad
Servings: 3
Ingredients
The Veggies
1 to mato, diced
2 Lebanese cucumbers, diced
2 green onions, chopped
1/2 red bell pepper, sliced
1/2 endive, sliced thinly
1/2 cup fresh parsley, finely chopped
1/2 cup fresh mint, finely chopped
18-20 Kalamata Olives
1 avocado, diced
3 cups mesclun
Instructions
Throw all the vegegables in a large mixing bowl and stir delicately until well combined.

In a separate bowl, combine the ingredients for the vinaigrette.

When ready to serve, pour the vinaigrette over the vegetables, stir delicately until evenly coated and serve immediately.

This salad will keep in the refrigerator for up to 24 hours. However, make sure to add the vinaigrette at the very last minute, else your salad will get extremely soggy.
If you've tried this recipe, please take a minute to rate the recipe and let me know how things went for you in the comments below. It's always such a pleasure to hear from you!
You can also FOLLOW ME on PINTEREST, FACEBOOK, INSTAGRAM and TWITTER for more delicious, healthy recipes!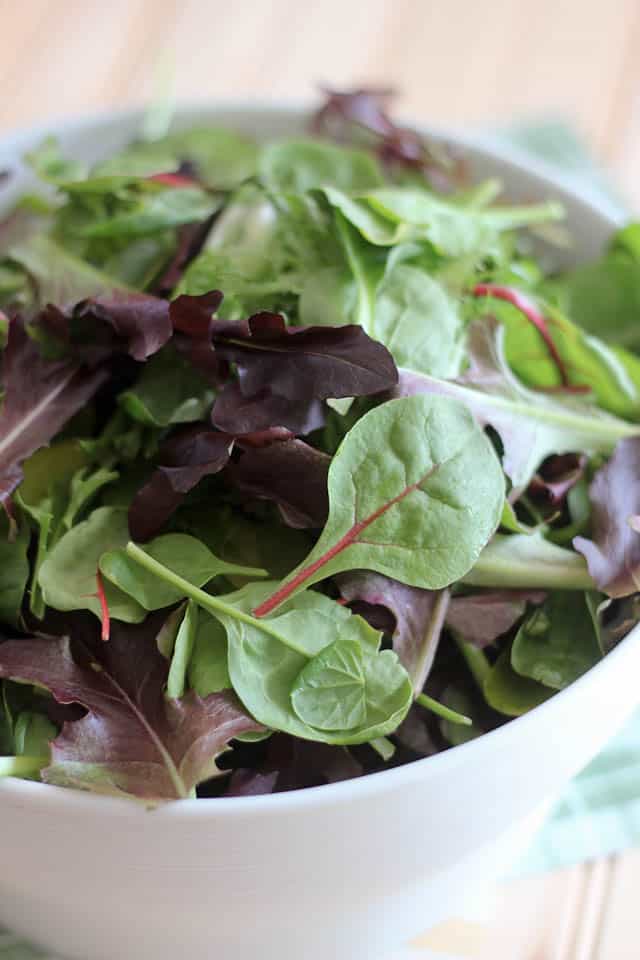 Ah! Precious leafy greens how I love thee! 
Aren't they pretty, just like that?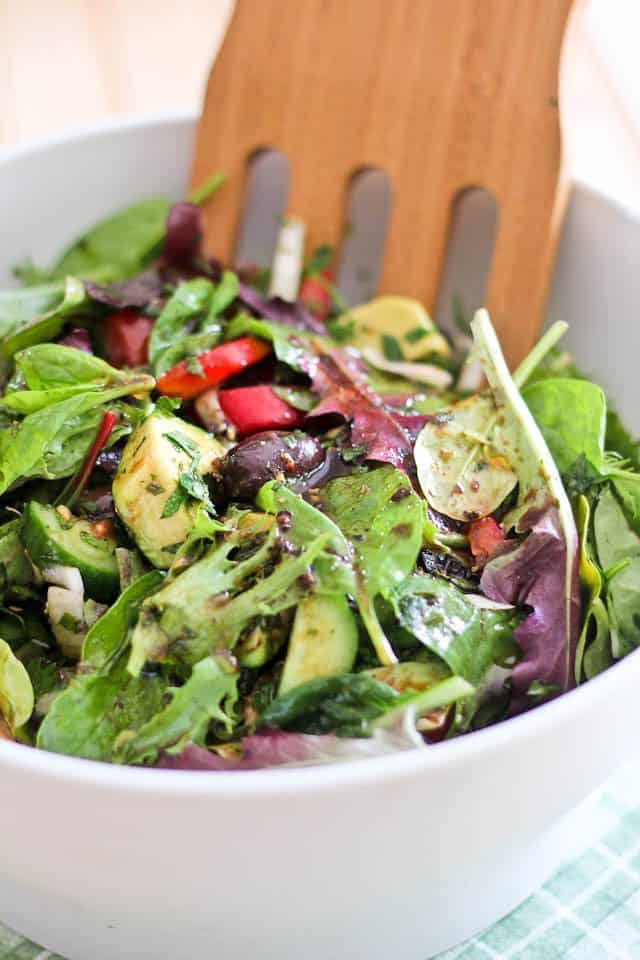 Drenched in a beautiful light and healthy vinaigrette and joined by a bunch of other fresh veggies, thing just got even better!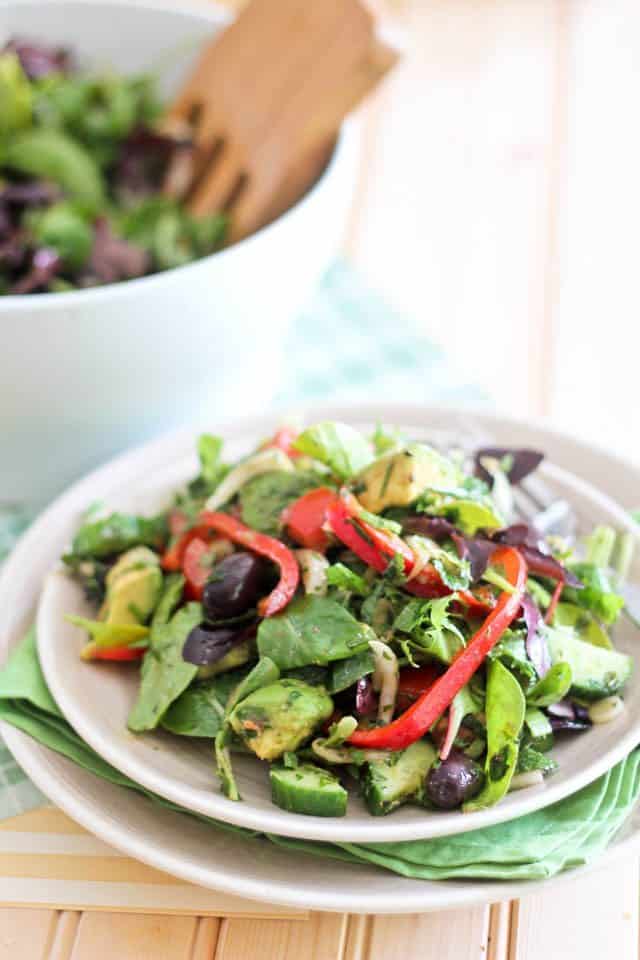 All that's missing now is a side of… protein!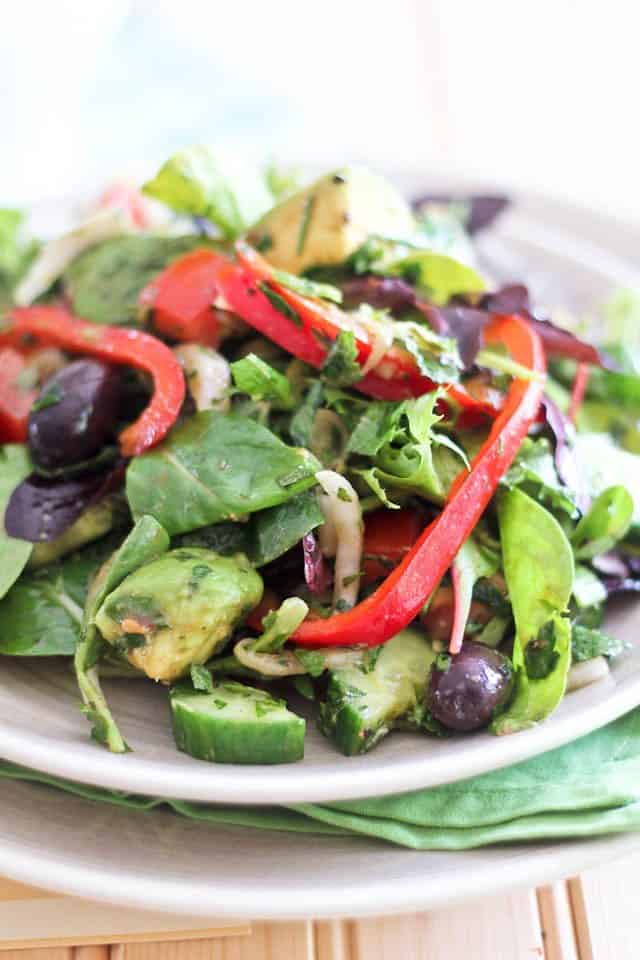 Oh! My mouth is watering right now…