30 Healthy Vegan Thanksgiving Recipes
A roundup of 30 Healthy Vegan Thanksgiving Recipes to help you plan your menu and keep things healthy and cruelty free this Holiday Season!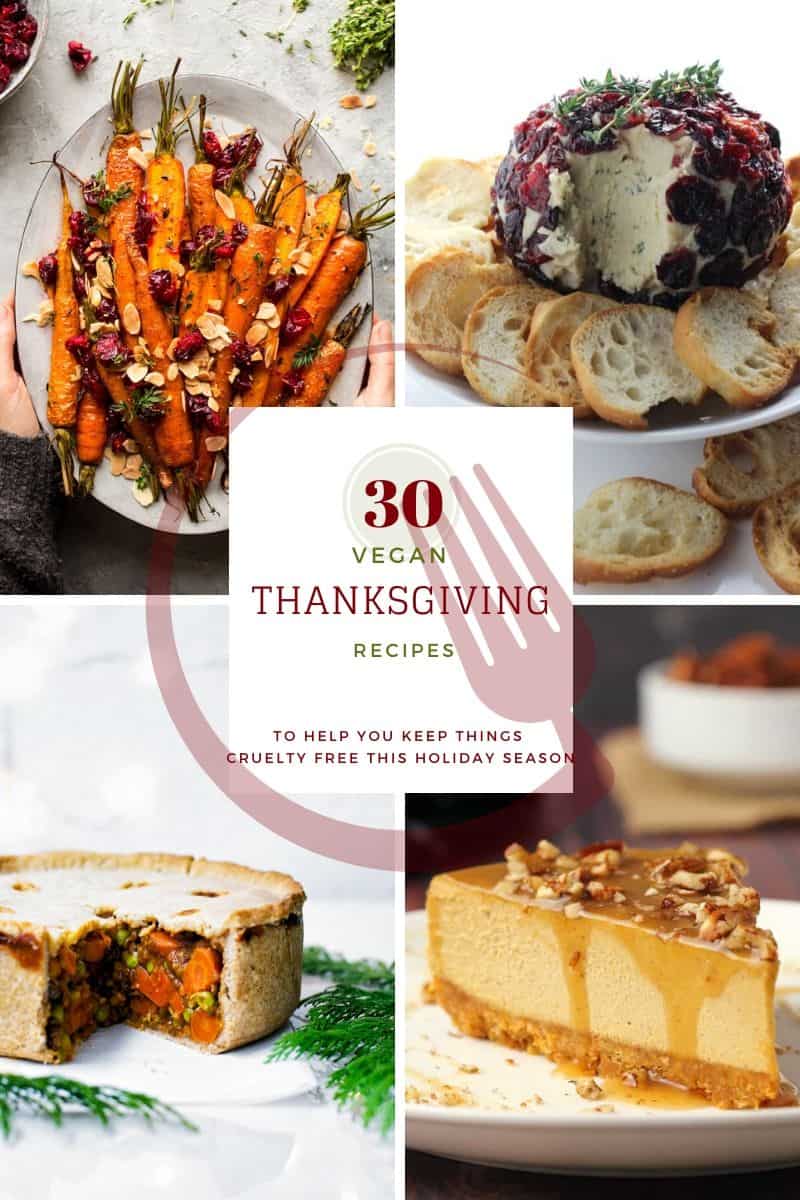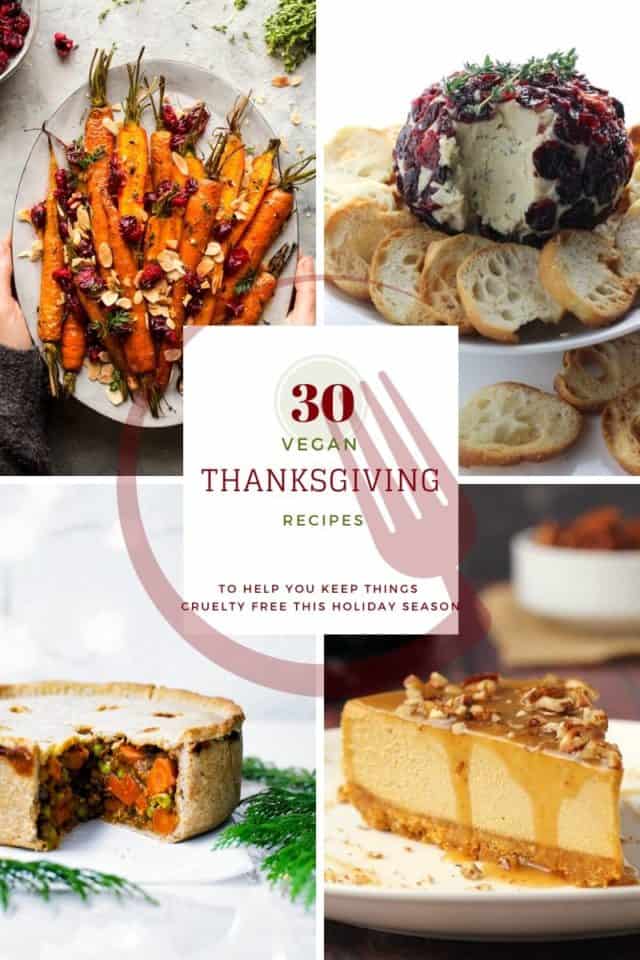 I've said it before, and I'll say it again: as a French Canadian, I don't ever get to celebrate Thanksgiving, so I can't pretend to say that I know much of anything about what goes on and especially what gets eaten on that much celebrated Holiday… I do know, however, that food totally gets a prime spot on that day!
From what I understand, Thanksgiving is also, and mostly, about giving thanks and telling people that you love them… Well, what better way to thank the animals and let them know just how much you love them than by leaving them off your plates? I know, I know… easier said than done. This can be a little intimidating, especially given the fact that traditionally, the star of the menu is a whole roasted turkey, and that most of the other items on the menu also typically contain lots of dairy and / or more meat. But really, there are TONS of scrumptious recipes out there that are entirely cruelty-free AND that still scream of Thanksgiving.
I've scoured the Net in search of the best vegan Thanksgiving recipes and put them together here, in this roundup. Hopefully these will inspire you to create a fabulous Holiday feast that everyone will remember… and will totally want to repeat, too!
And also maybe, discover a new vegan blog or two that you'll want to follow…
---
APPETIZERS
---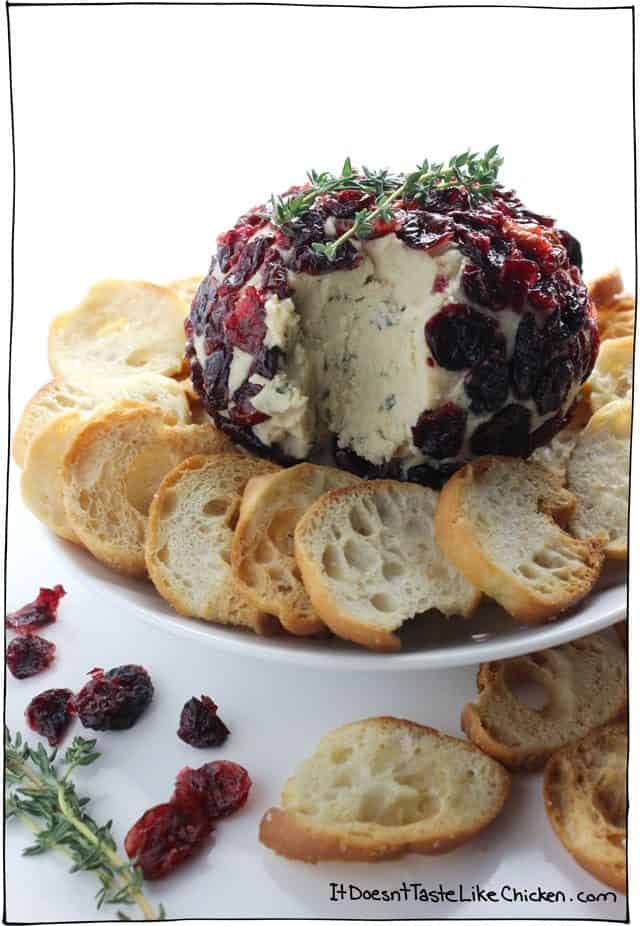 So, what makes a good Cheese Ball, really? This one totally passes the test, according to Sam… Smooth and creamy? Check! Flavorful and addictive? Check! Festive colors? Check! Easy to make (and can be made ahead of time)? Check! Want to devour the whole thing immediately? Double Check! Peeps will devour this cheese ball in no time, regardless of whether they are vegan or not…
---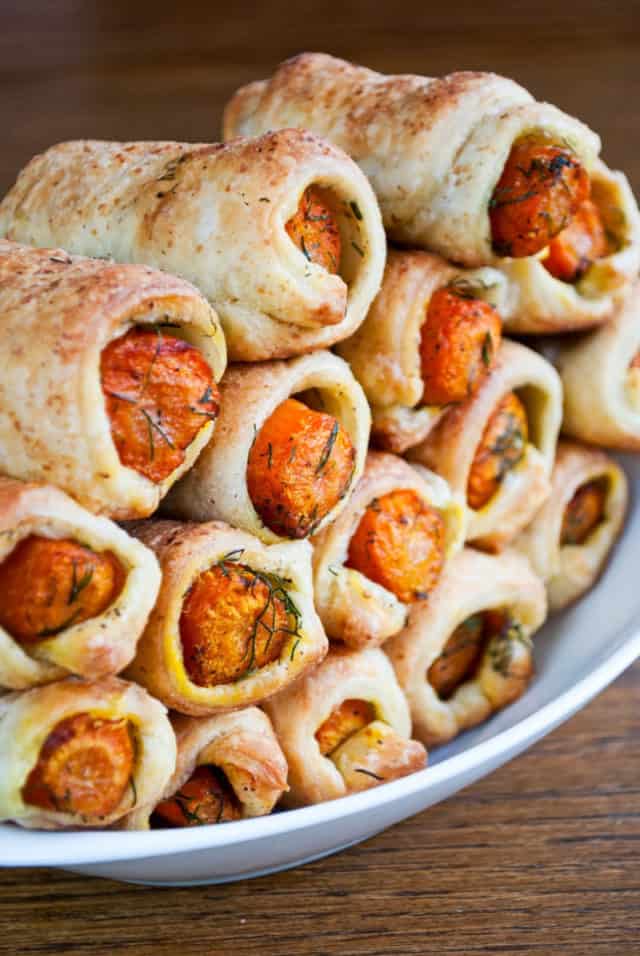 How good do those look, seriously? And who needs sausages anyway when you can have delicious, juicy and vibrant carrots, instead?
---

A plant-based version of a classic dip. It's made with just 9 ingredients, so delicious, creamy, cheesy and really easy to make.
---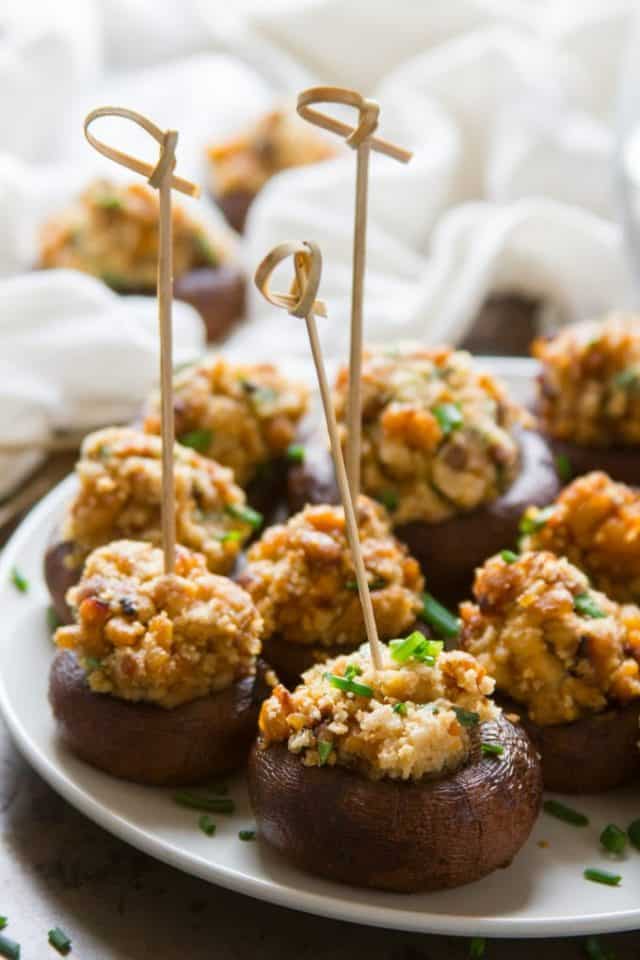 These vegan stuffed mushrooms are incredibly addictive, thanks to a filling of dreamy cashew cream cheese, smoky tempeh bacon and chives. Great for snacking, but you can absolutely make a side of them too!
---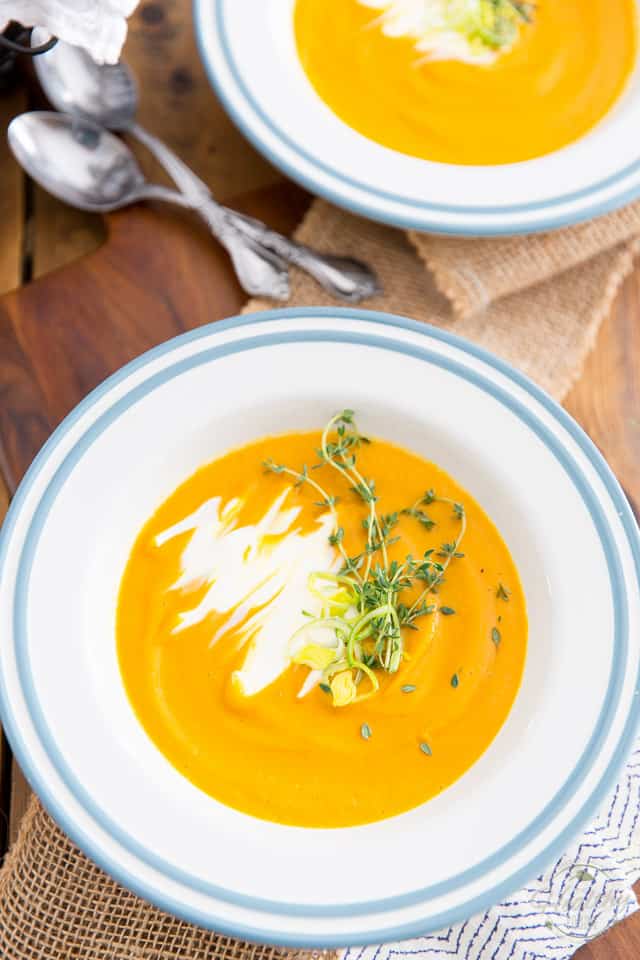 This Cream of Leek and Sweet Potato Soup is so silky and creamy, it's the perfect dish to warm your body and soul on a cold winter day. Best of all, it's super easy, and crazy quick, to make!
---
MAIN COURSE
---
This Vegetable Wellington is loaded with lentils, mushrooms, walnuts and more! A flaky puff pastry crust wrapped around the perfect savory and satisfying filling. It is the perfect holiday entree for vegans and non-vegans alike!
---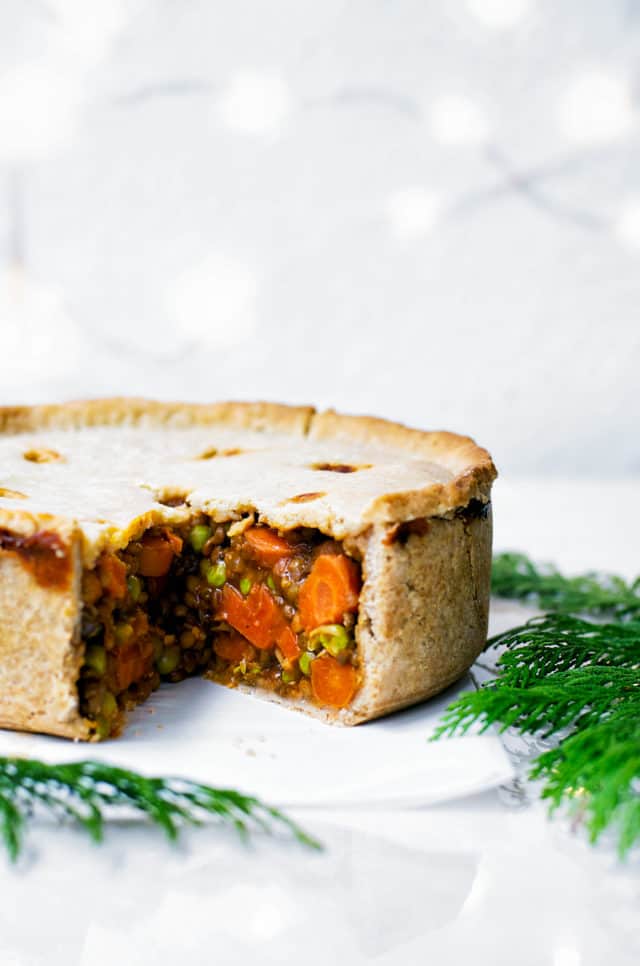 This vegan holiday pie with lentils, vegetables, and a vegan hot water pastry makes a STUNNING centerpiece for any vegetarian or vegan table. Move over, turkey!
---
This Vegan Meatloaf is flavorful, decadent, nutty and great for anyone wanting a no bean/lentil loaf. You can use your favorite nut in this meatloaf, too!
---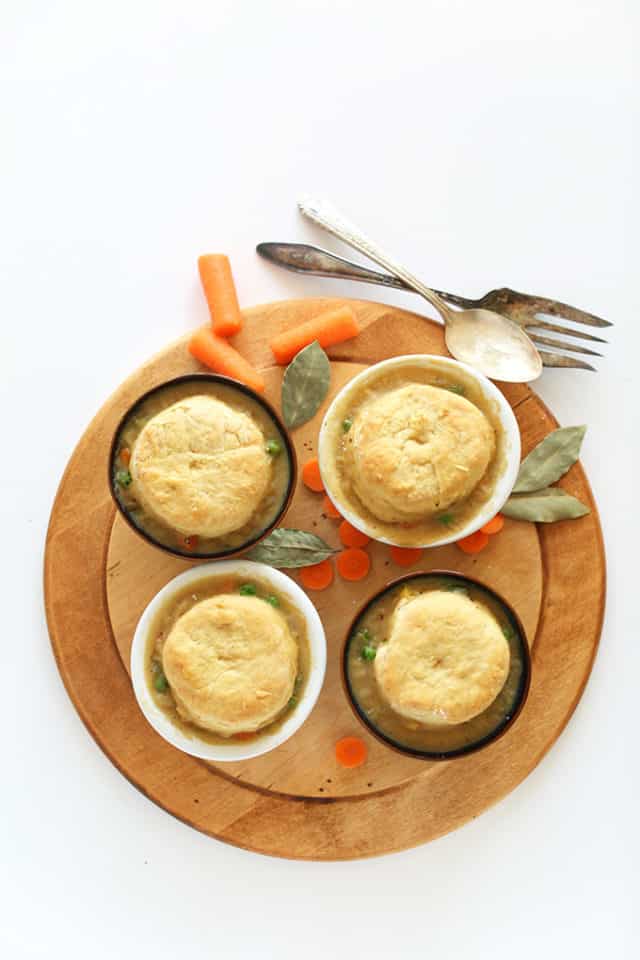 Easy, 1-hour vegan pot pies loaded with veggies and topped with flaky, from-scratch vegan biscuits!
---
These vegan stuffed shells are filled with a blend cashew ricotta, butternut squash, and crunchy walnuts, baked up and served with creamy butternut squash sauce.
---
STUFFING
---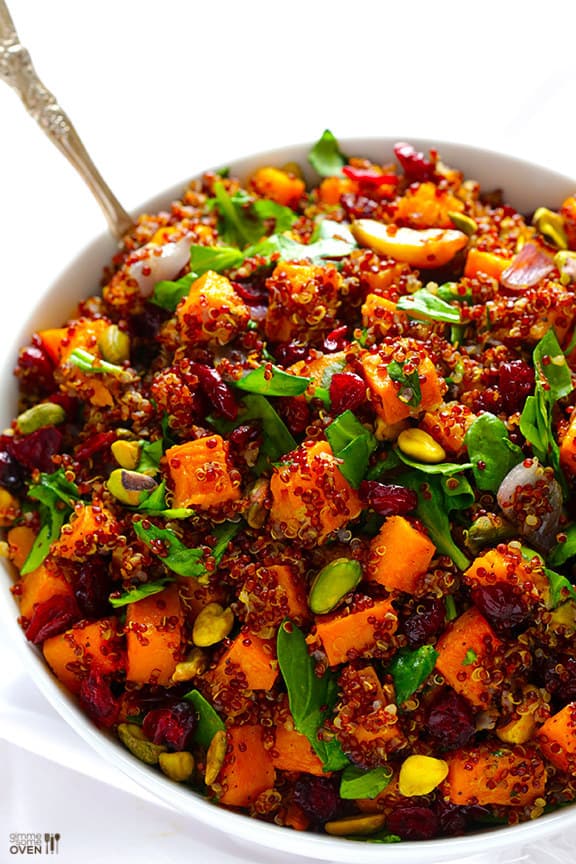 This delicious quinoa stuffing is packed with healthy ingredients and is full of amazing flavor! Stuffing so stunningly gorgeous and so delicious looking… I say you should definitely serve it "on the side". Hey! Whoever said stuffing had to be stuffed somewhere, anyway?
---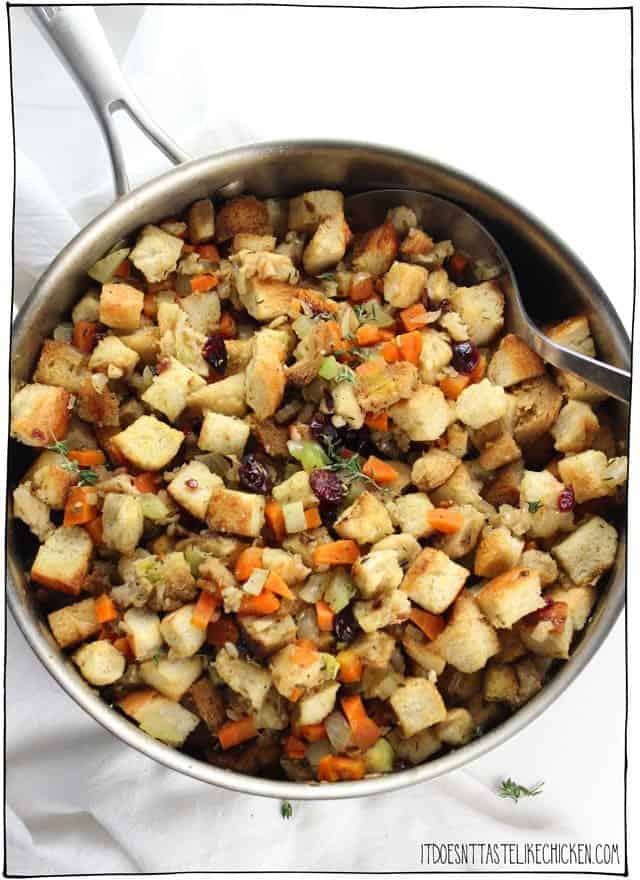 The perfect traditional stuffing for Thanksgiving or Christmas. Just 30 minutes and can be made ahead of time. Perfectly seasoned, fluffy, with sage, thyme, rosemary and dried cranberries.
---
This gluten-free stuffing recipe is layered with a vegan "creamed" spinach, caramelized leeks and shallots. It's a great vegan option for Thanksgiving!
---
SIDE DISHES
---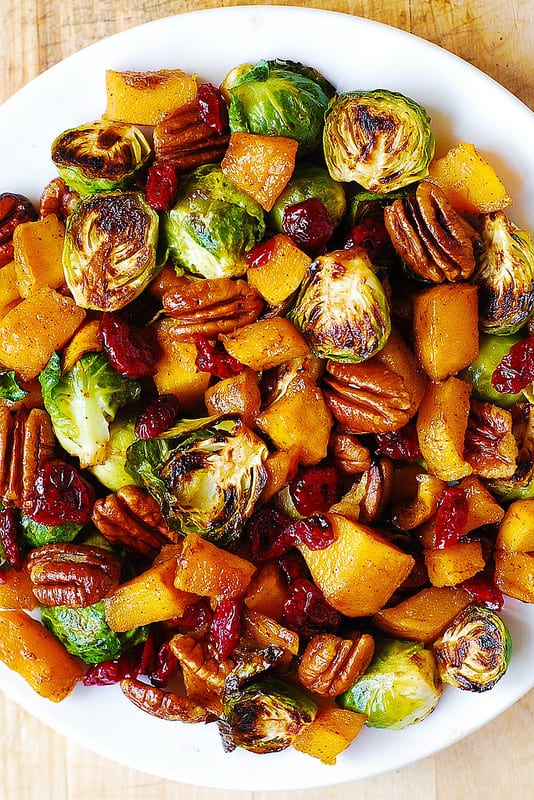 This one has so many Thanksgiving must-haves, all rolled into a single dish. I say this is a definite must-make!
---
Easy, delicious green beans made in 1 pan with 6 simple ingredients! Big flavor, infused with garlic, and garnished with toasted almonds. Perfect for Thanksgiving and beyond!
---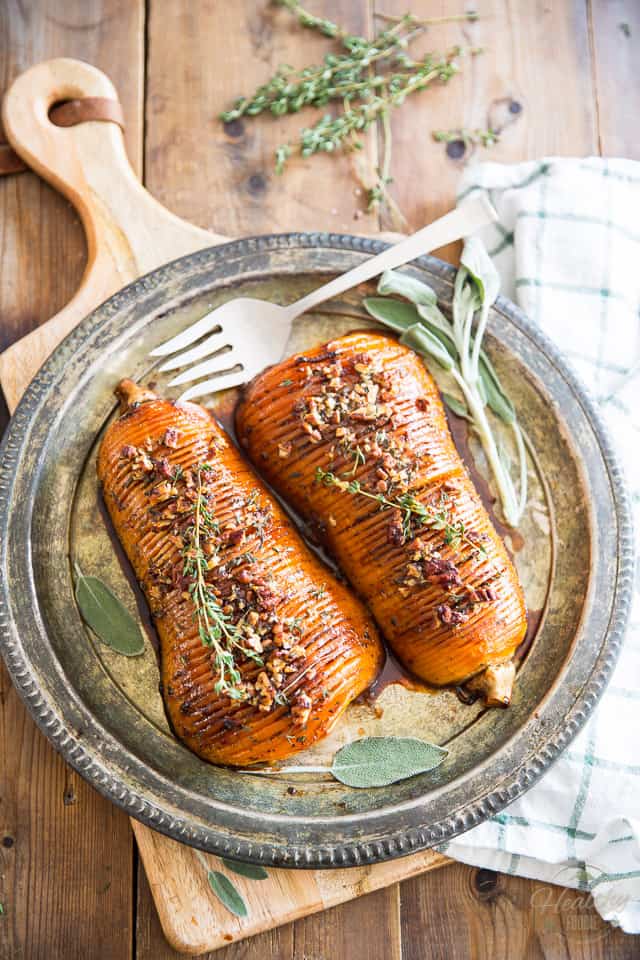 If you want to go all out and don't mind spending a little bit more time in the kitchen, especially if you're gonna get visually stunning results, then this one's for you! As elegant as it is delicious, this Honey Glazed Hasselback Butternut Squash is guaranteed to be the star of your dinner table. And if honey is off limits in your household (some vegans still use it when it's well sourced, some not at all) you can simply use pure maple syrup, instead!
---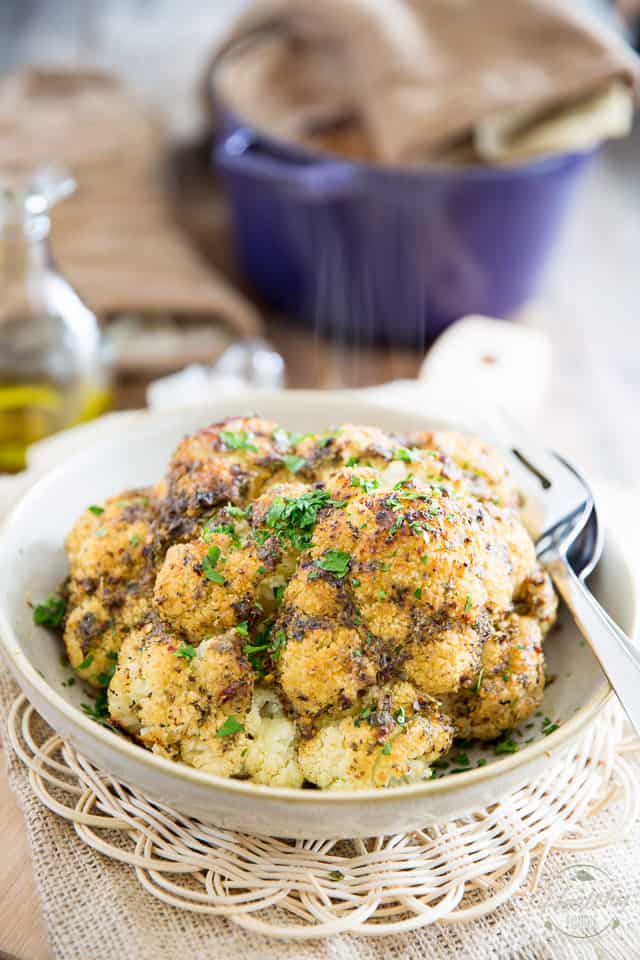 This is the easiest and tastiest way to prepare cauliflower. Plus, talk about a stunning dish to place on the table… It'll make you an instant fan, guaranteed!
---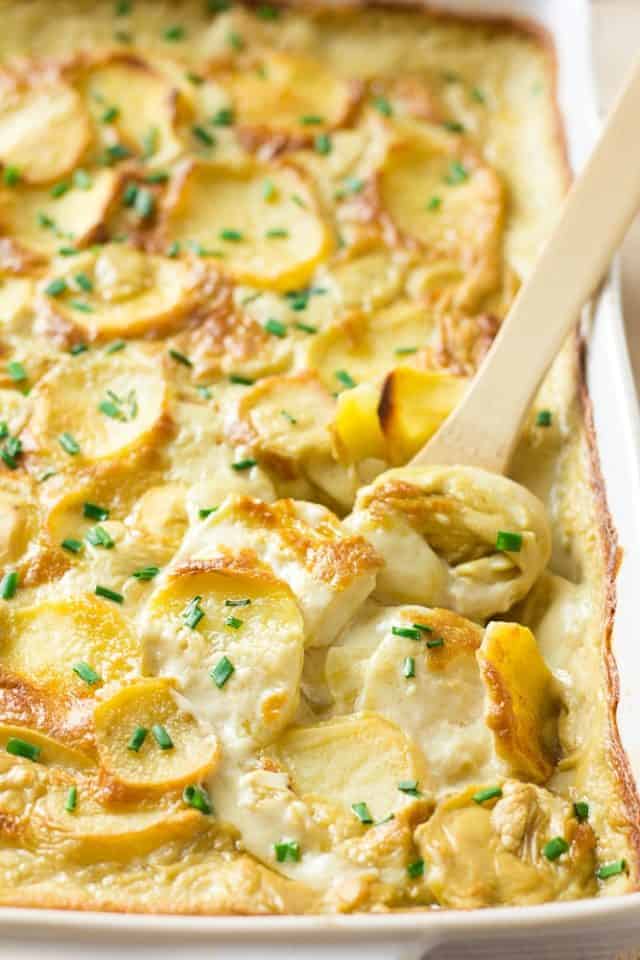 This is Nora's favorite recipe for vegan scalloped potatoes (and I can totally see why!) — ultra creamy, cheesy, garlicky and comforting. Absolutely NO dairy!
---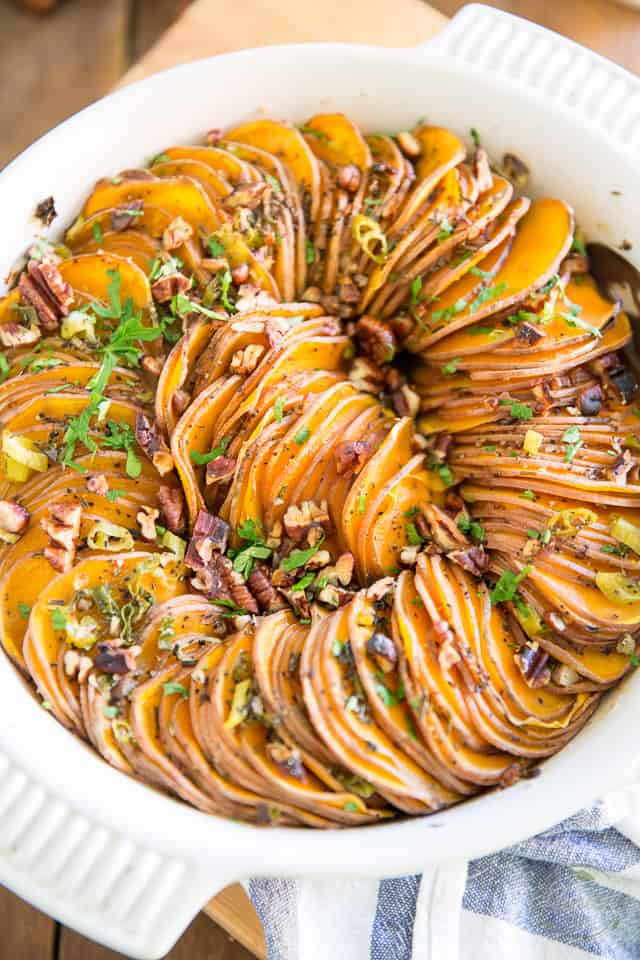 A new and improved version of my sweet potato "gratin", this true stunner will definitely steal the show.
---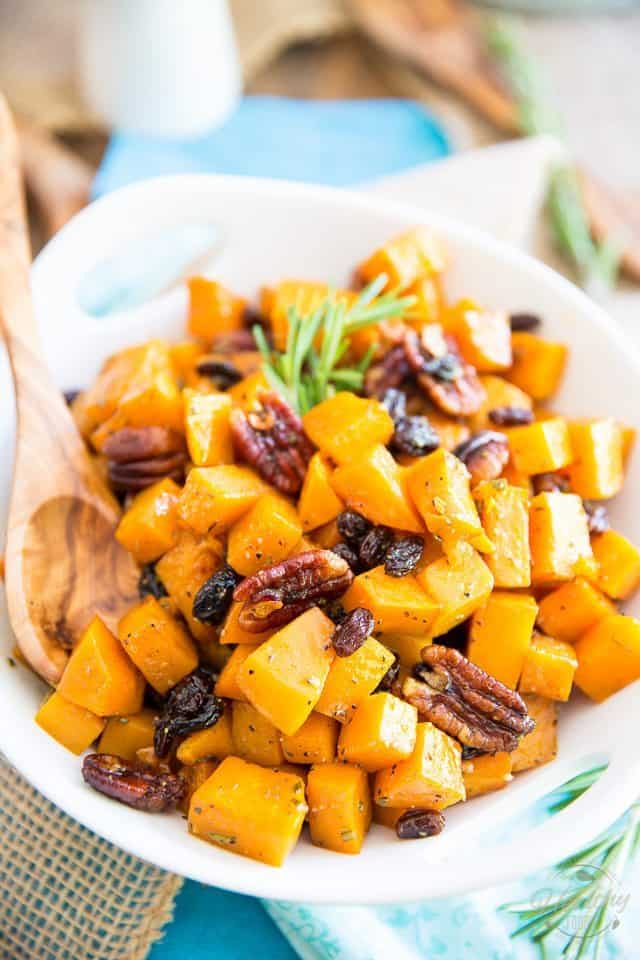 This Candied Butternut Squash is so tasty, you don't even need to be a fan of squash to enjoy it! It goes good with practically everything, any time of day!
---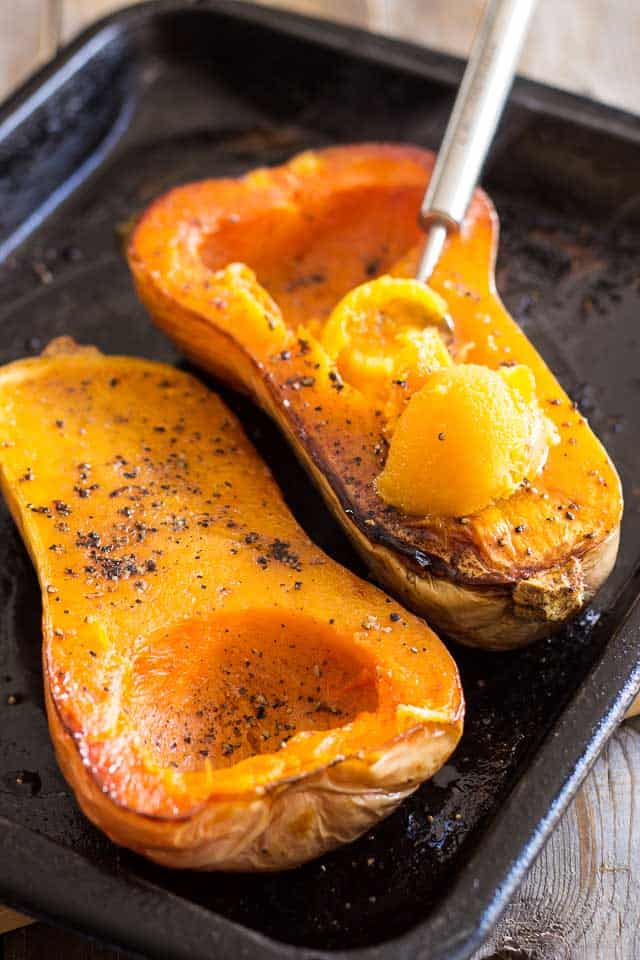 So simple yet so elegant, this rustic Oven Roasted Butternut Squash mash is a tasty and versatile side dish that goes good with just about anything, any time of day, but that would shine particularly brightly on this special day!
Guaranteed to impress your guests, yet so easy to make, it won't eat up much of your precious time at all. But that, nobody needs to know…
---
A healthier sweet potato casserole with butternut squash, sweetened with maple syrup, and topped with toasted, lightly-sweetened pecans. The perfect side dish for fall and holiday gatherings.
---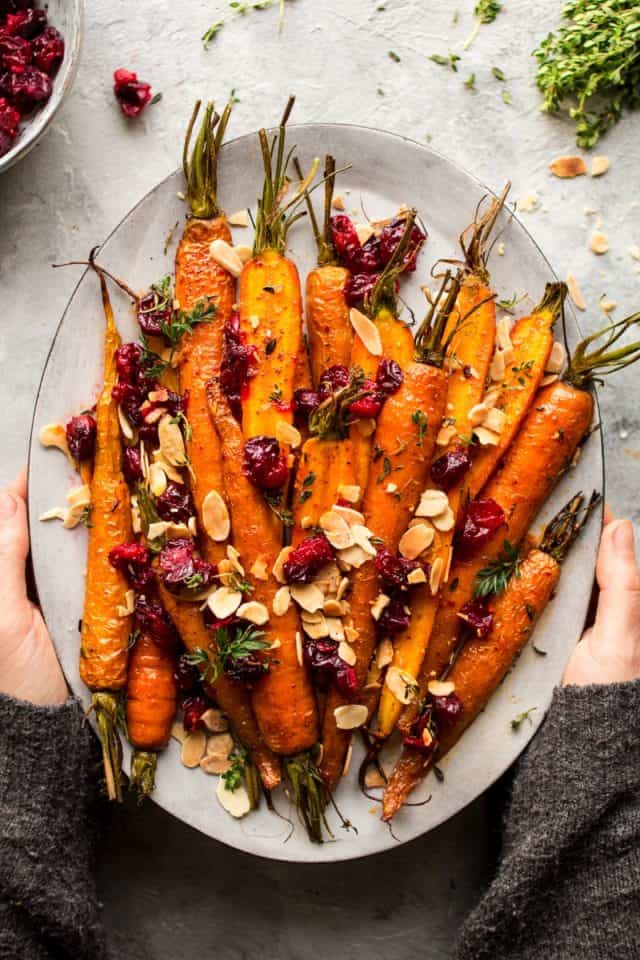 A colorful side of maple and harissa glazed carrots studded with jammy cranberries and toasted almonds for much needed flavor and texture contrast. This dish is low on effort and easy to make and will look amazing on your Thanksgiving table!
---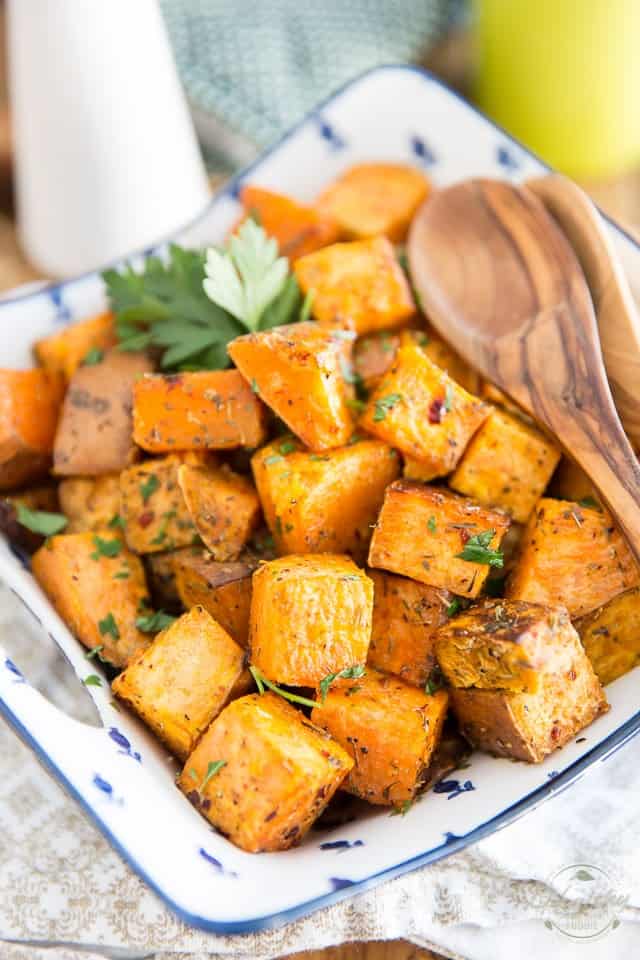 So delicious and easy to make, these Herbed Oven Roasted Sweet Potatoes deserve to be given a prime spot in your plate on a regular basis! And once you've given them a try, you'll want to do just that, I swear…
---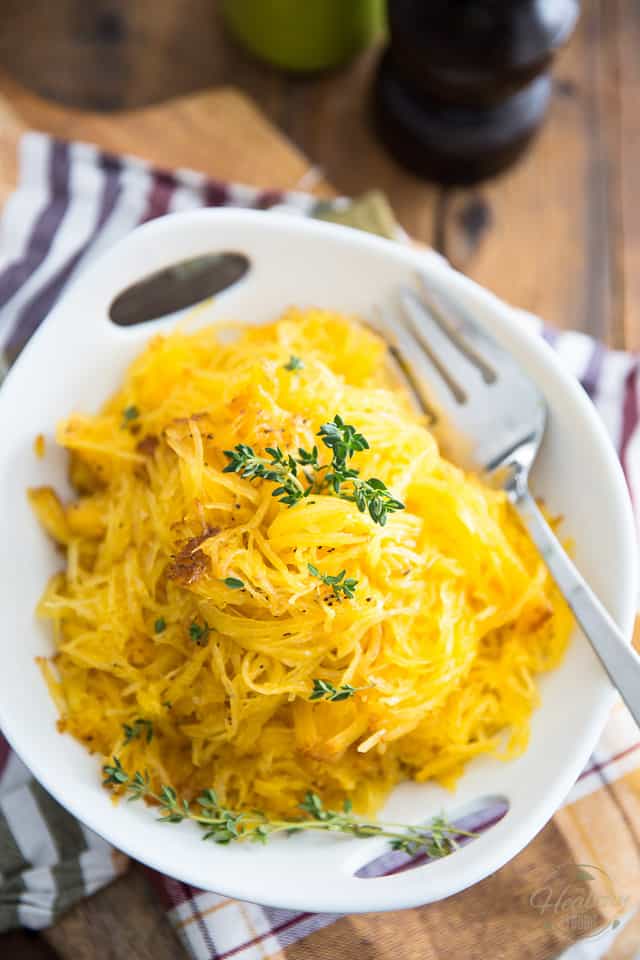 So very easy to make and so deliciously tasty, Oven Baked Spaghetti Squash might very well become your favorite pasta replacement!
---
DESSERTS
---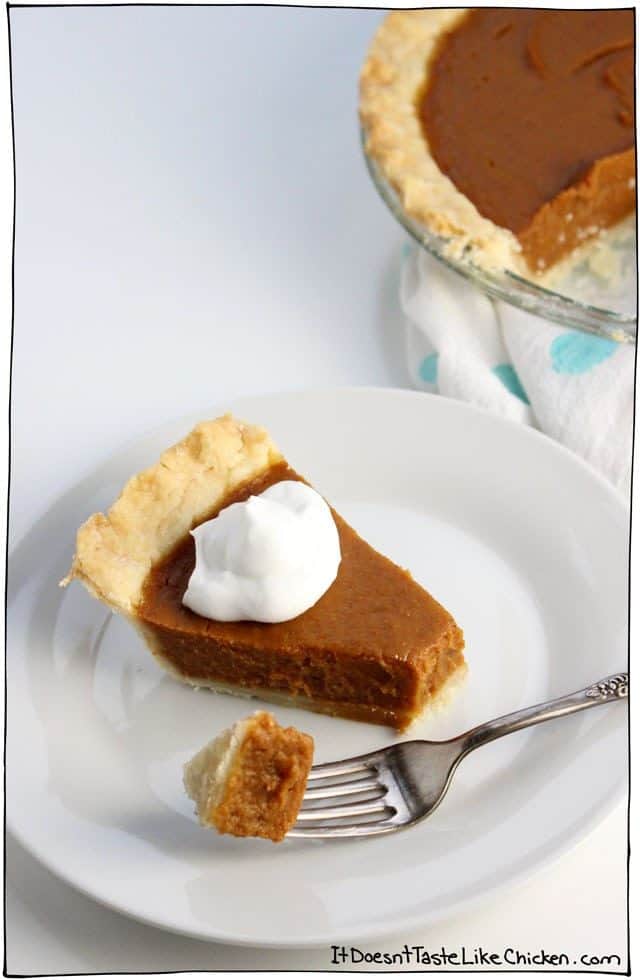 9 easy ingredients, combine in a blender, pour into a pie shell, and bake. Done! Tastes best when made ahead of time making it a stress-free Thanksgiving dessert. The BEST go-to vegan pumpkin pie recipe ever.
---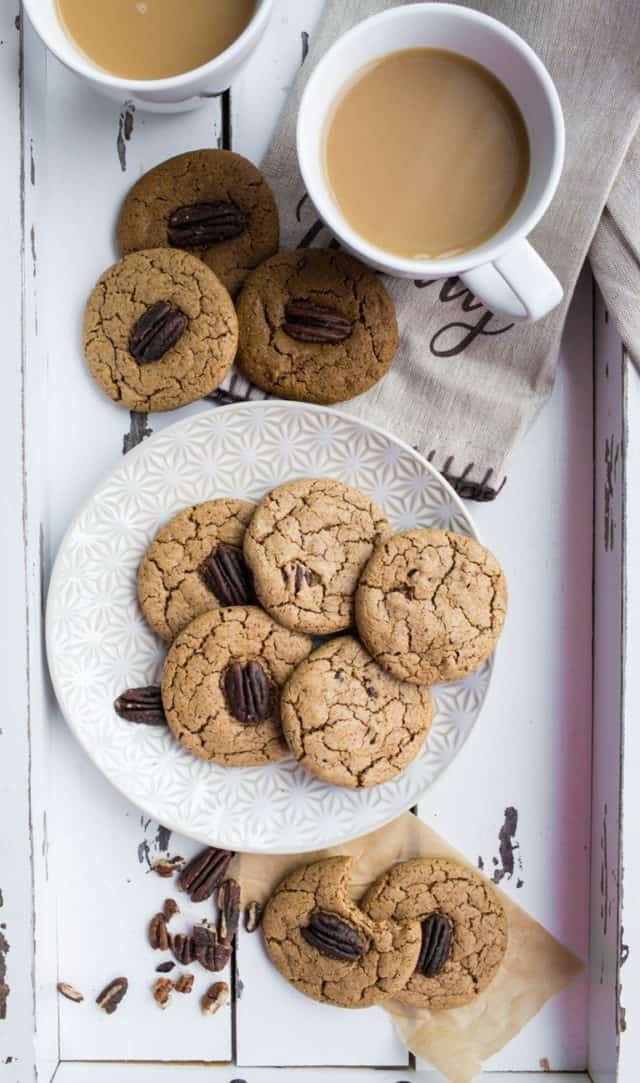 Vegan Cardamom Pecan Cookies are the perfect holiday cookie and are gluten-free, oil-free, dairy-free and full of rich cardamom spice, soft texture and buttery pecans.
---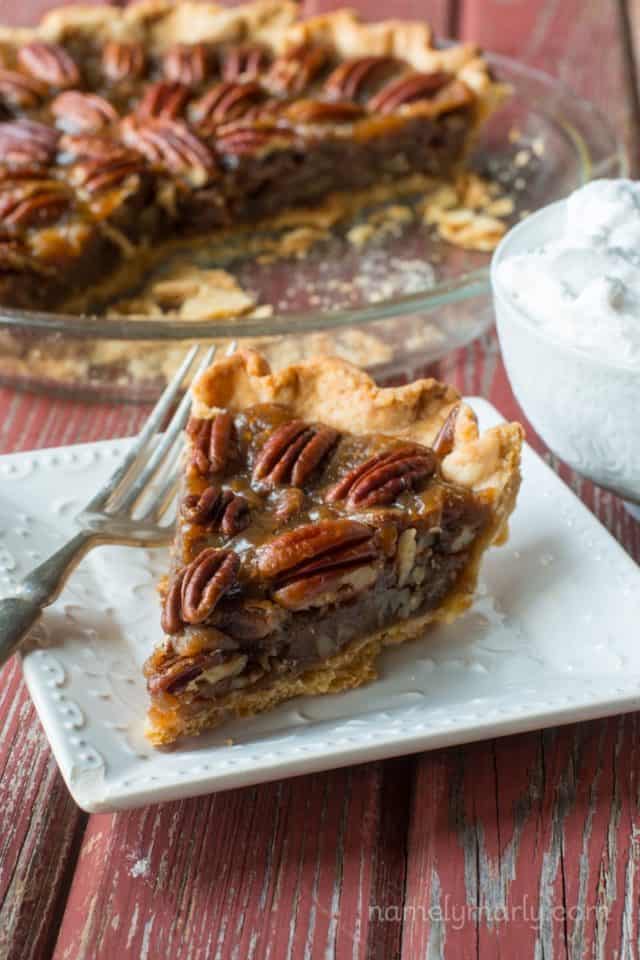 Everyone's favorite pie veganized – Vegan Pecan Pie – with simple ingredients and easy-to-follow instructions. You'll be enjoying this pie in no time!
---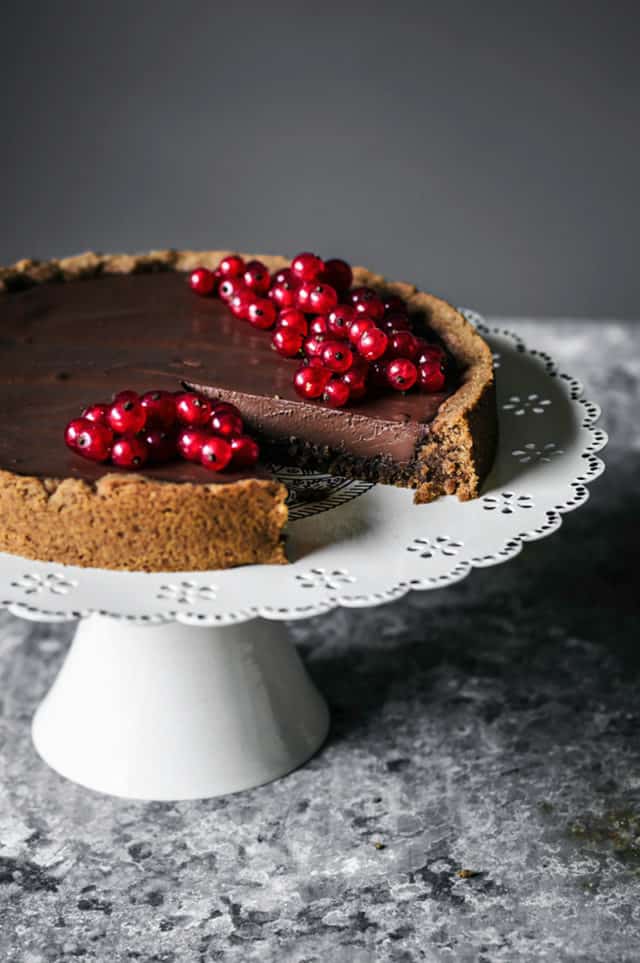 A naturally sweetened, gluten free, and vegan chocolate hazelnut tart, with a hazelnut cookie base and rich chocolate ganache filling. This elegant tart is surprisingly simple, with a press-in crust – no rolling needed!
---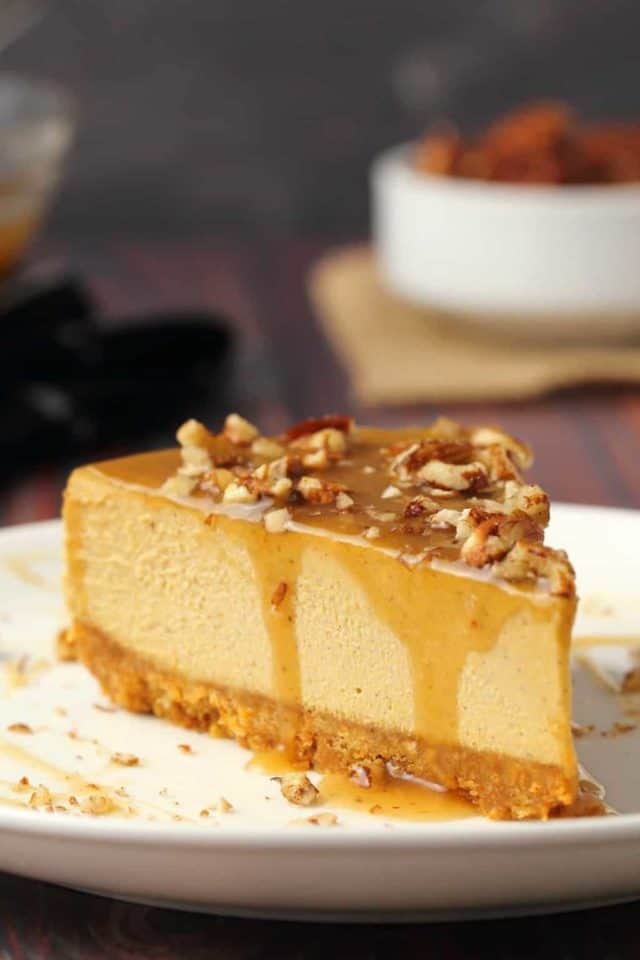 Deliciously rich and decadent vegan pumpkin cheesecake packed with flavor and topped with a caramel sauce and crushed pecans!