My Favorite Thanksgiving Recipes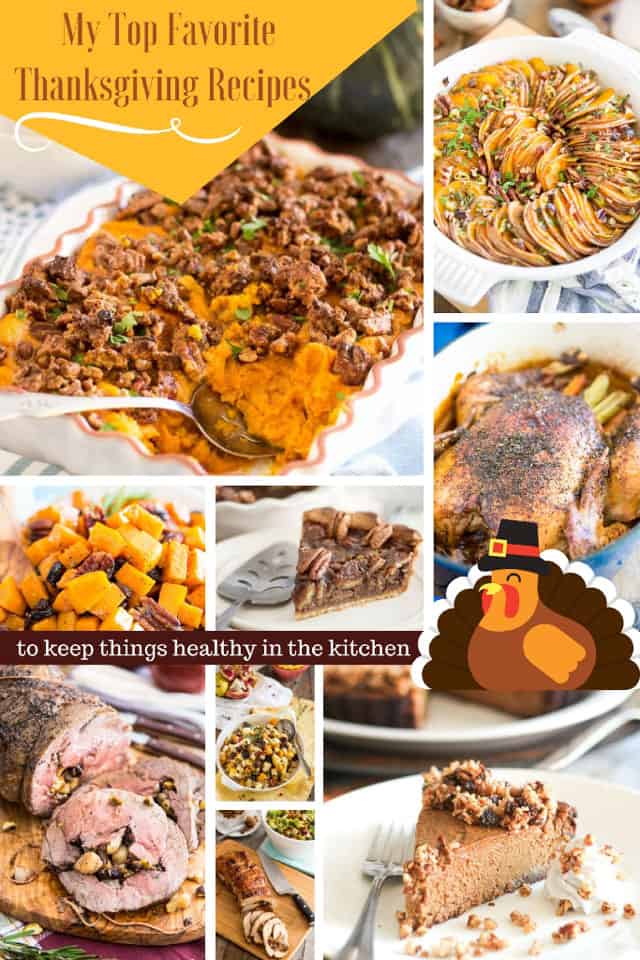 It's that time of the year once again for all of you, my friends from across the border.
Even though I, as a Canadian, don't get to celebrate American Thanksgiving, I thought that I would, as I usually do, share a few of my favorite Thanksgiving worthy recipes with you. Some of them you might remember from earlier years, but I also have lots of new material that I thought would make awesome additions to that list.
Besides, recipes, they don't really get old and I don't think that you could ever have too many Thanksgiving Recipes pinned to your inspiration board or saved in your favorite recipes folder.
At least I know I couldn't. Whether I'm cooking for a crowd, for the fam, or just need to whip up a single dish to contribute to a party or gathering, I like to be prepared and have options!
Hopefully, you'll find some great inspiration among the following…
---
MAIN DISHES
---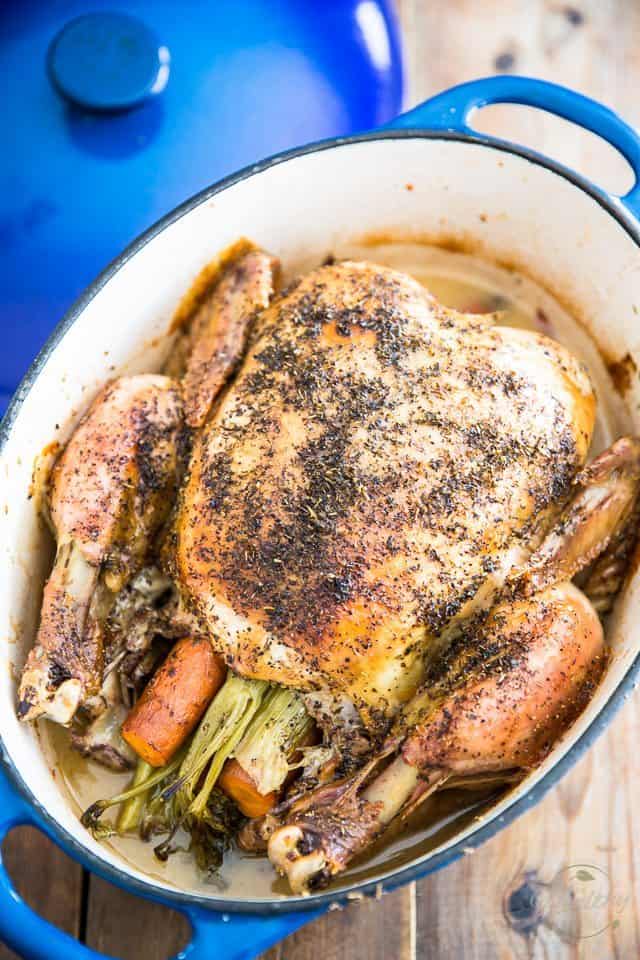 As you probably all know by now, this is one of my all time favorite recipes!
While Dutch Oven Roasted Chicken might not be the prettiest, it most assuredly is the juiciest, moistest, tastiest, most delicious chicken I have eaten my entire life. And it's sooooo super easy to make, too!
Whether you've making chicken or turkey, I'm telling you, this Dutch Oven roasting method simply can't be beat.
---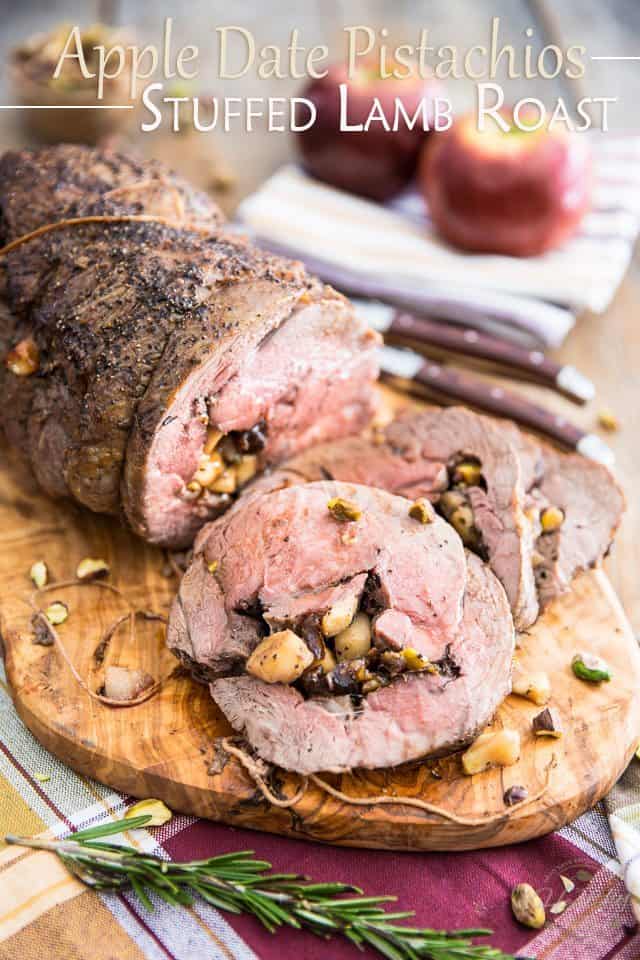 Why not do things a little differently this year and treat your loved ones to a juicy boneless leg of lamb that's been generously stuffed with chunks of sweet apples, dates and crunchy pistachios.
It's strikingly beautiful, delicious and not even as complicated to prepare as you might imagine!
---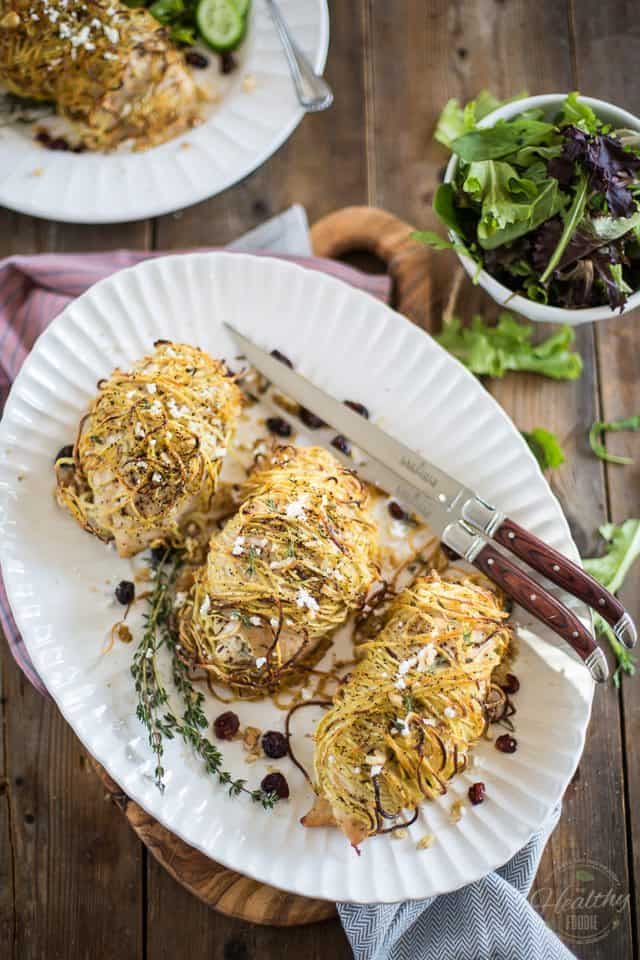 Or perhaps you'd rather stick with poultry?
These moist, tender chicken breasts are stuffed with tangy Goat Cheese, walnuts and cranberries. They then get all wrapped up in crispy, perfectly golden Sweet Potato Strings.
Talk about elegant, and yummy!
---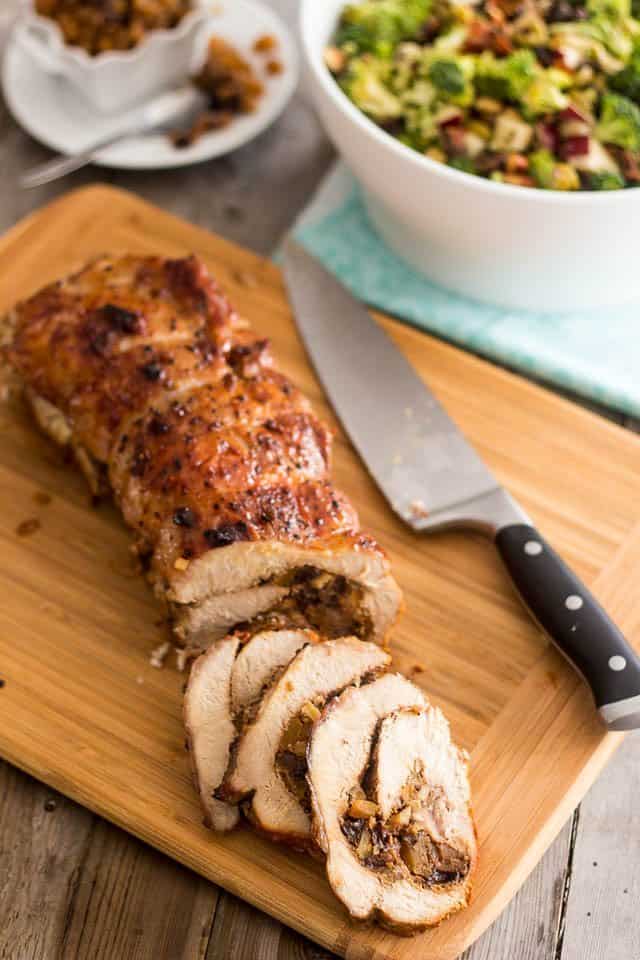 Pork would make for an excellent option, too, me thinks. This tender pork loin is all rolled-up and filled with the most delicious candied ginger and butternut squash chutney.
If you're wanting to serve something that's a bit on the fancy side this next Thanksgiving, this is the perfect dish for you!
---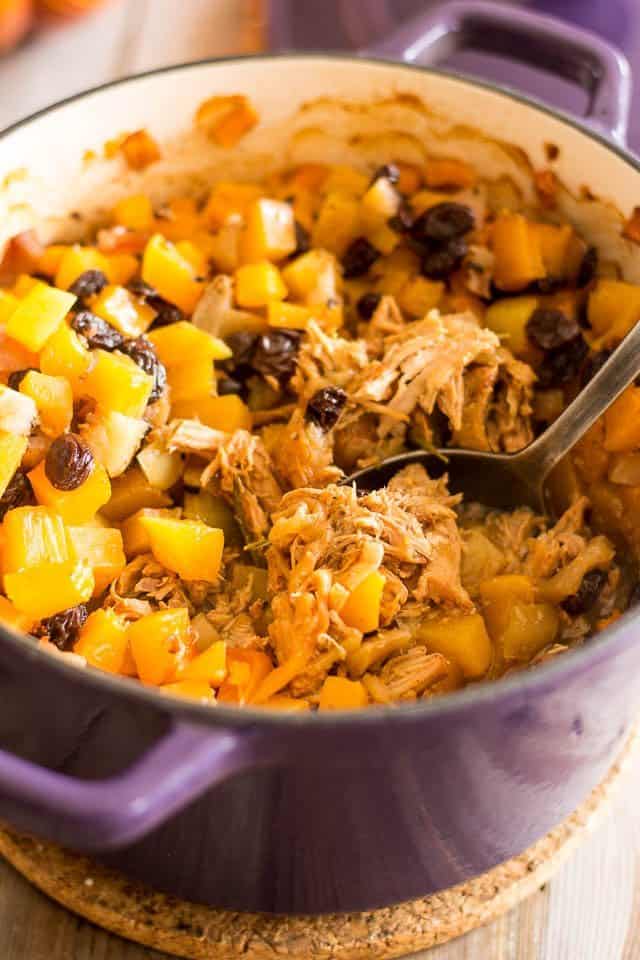 Here's a one pot-dish option that's guaranteed to please even the pickiest of eaters.
This Pulled Pork and Butternut Squash Casserole has pleasant notes of sweet apple, spicy seasonal aromas as well as rich, heavenly tones of salted butter. A dream!
---
SIDES
---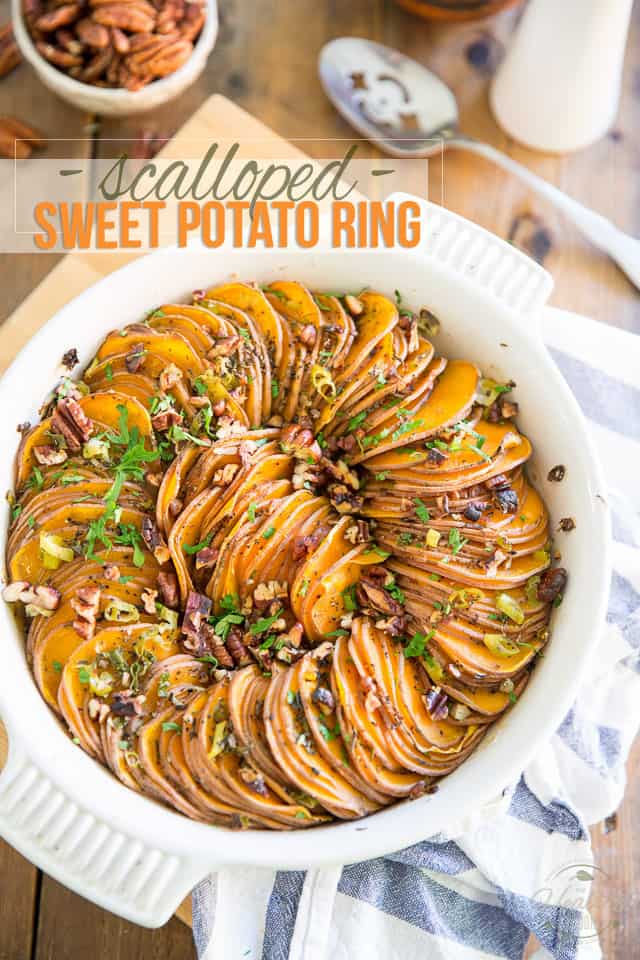 Did you know sweet potatoes could look this beautiful?
This elegant sweet potato dish is much easier to make than you may think and is so delicious and so pretty to look at, it'll no doubt be the star of your Thanksgiving table!
---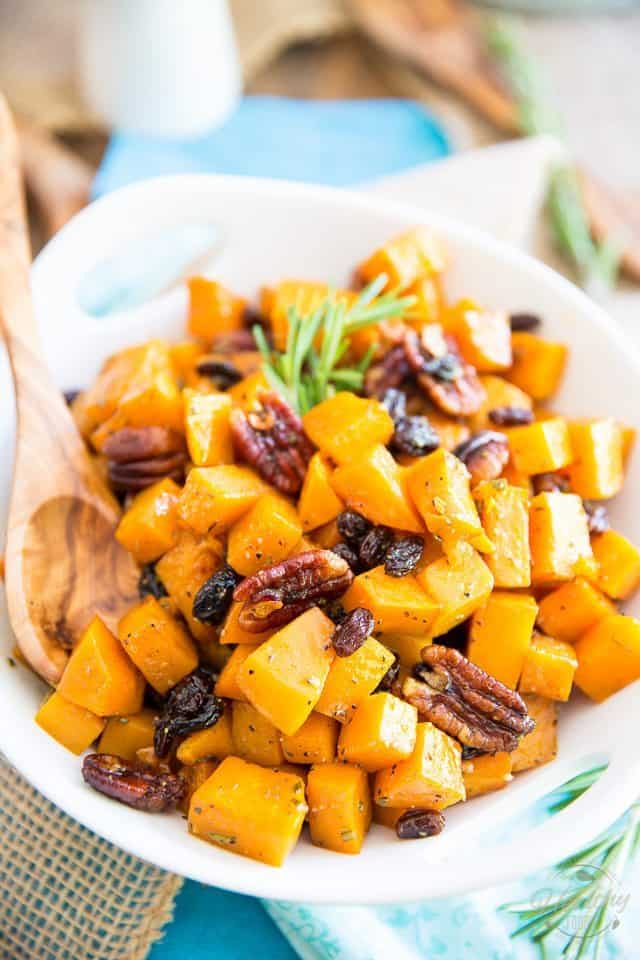 Here's one of my ultimate favorite butternut squash dishes.
This Candied Butternut Squash is so tasty, I swear you don't even need to be a fan of squash to enjoy it! It goes good with practically everything, any time of day!
Of course, it would be absolutely perfect for Thanksgiving.
---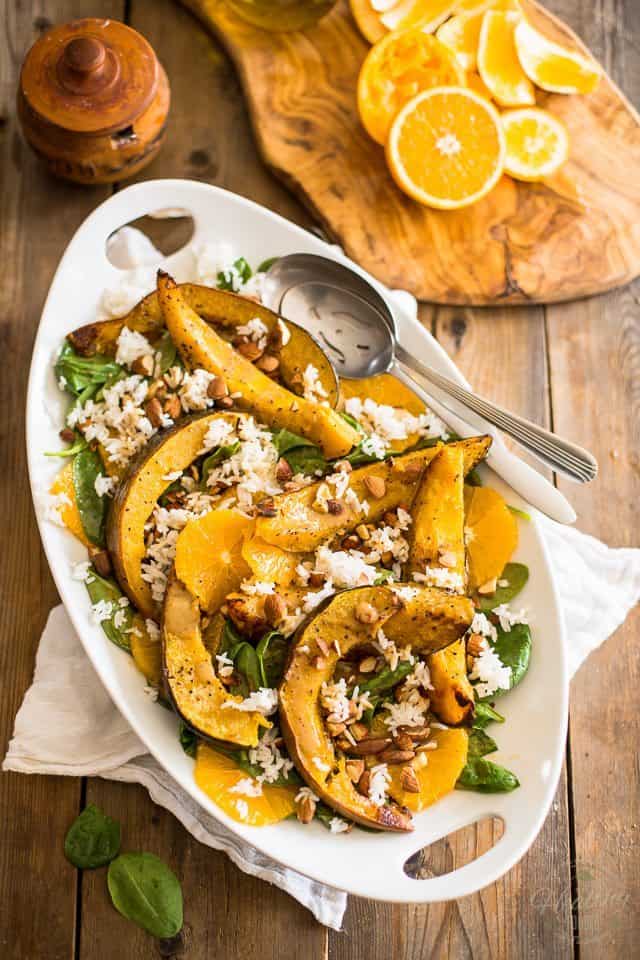 Warm slices of roasted squash on a bed of spinach, topped with sweet slices of orange, crunchy toasted almonds and a robust coffee orange vinaigrette.
A definite winner!
---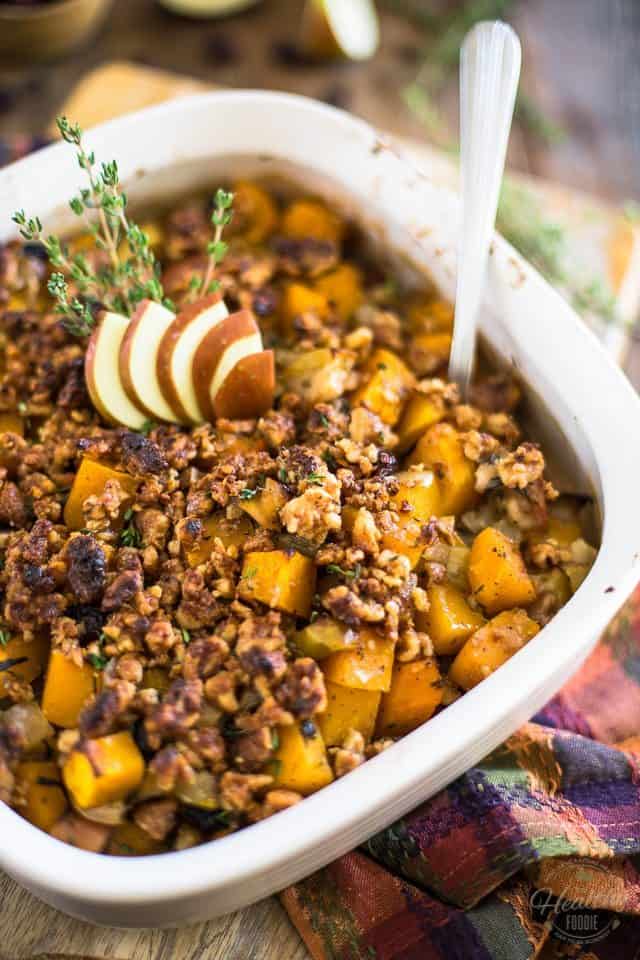 This Butternut Squash and Apple Casserole might be one of the best things I've ever eaten: it's creamy and sweet and salty and crunchy and sugary and spiced and everything nice!
Simply put, I think it tastes like pure heaven and it's definitely worthy of being served on Thanksgiving.
I get the feeling that you and your guests will agree with me on that one.
---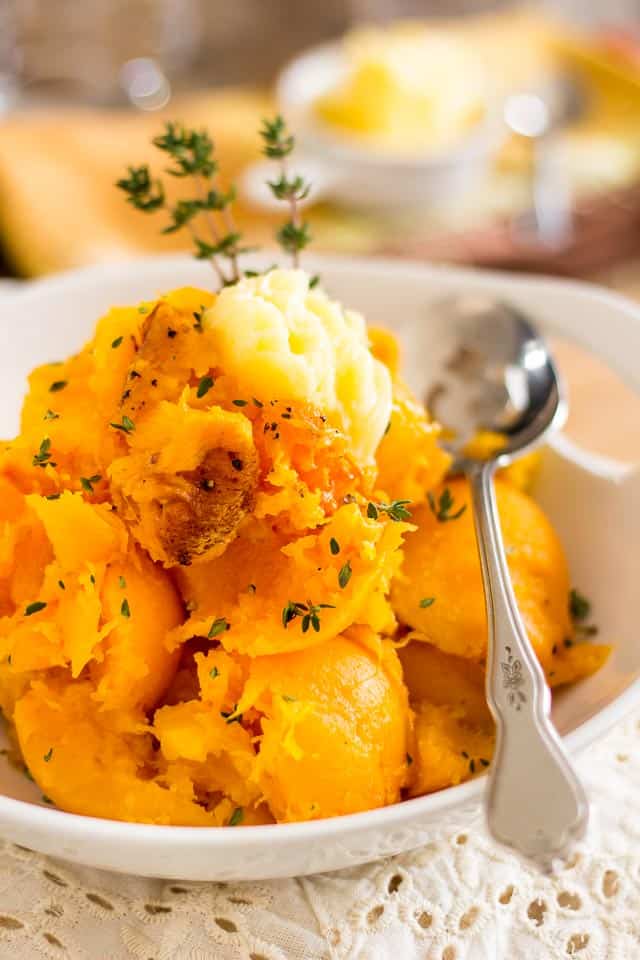 Now this would be one of my top and most popular recipes of all times: to this day it has been pinned close to 125 thousand times! Mind you, I can very well understand why.
So simple yet so elegant, this rustic Oven Roasted Butternut Squash mash is a tasty and versatile side dish that goes good with just about anything, any time of day!
Guaranteed to impress your guests, yet so easy to make, it won't eat up much of your precious time at all. But that, nobody needs to know…
---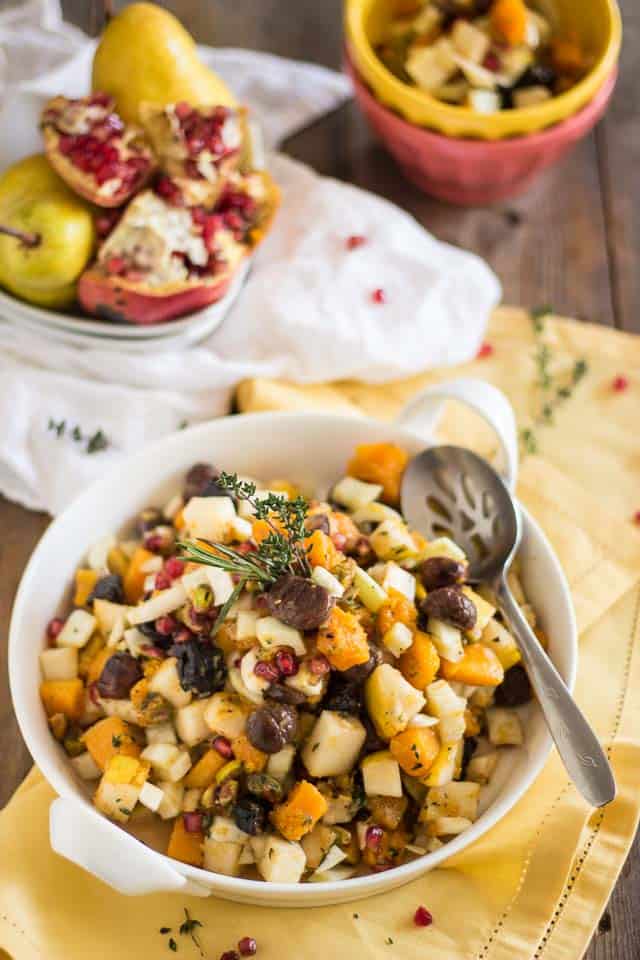 Made to be served cold, this butternut squash, pear and chestnut salad with pomegranate, fresh and crispy fennel, dried prunes and crunchy pistachios, definitely has a clear winning advantage: it can be made ahead of time!
Need another good reason to make it? It's so delicious, I guarantee you it's worthy of getting a prime spot on your Thanksgiving table, right next to your homemade smoked ham, perhaps?.
---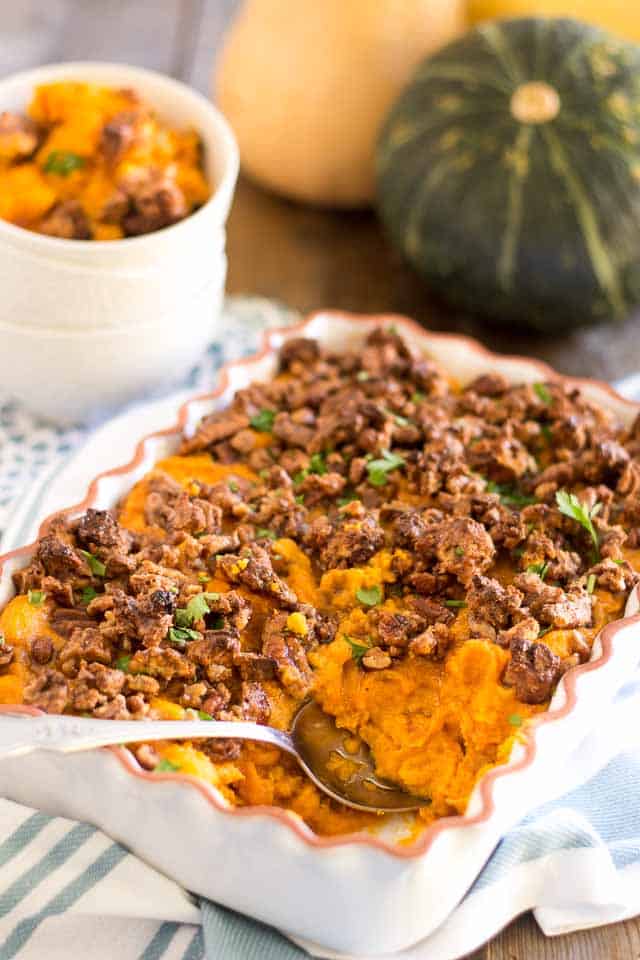 I sort of get the feeling that this Whipped Sweet Potato Casserole, topped with a generous amount of crunchy and sweet Candied Maple Walnuts will end up being everyone's big favorite of the day.
It's seriously so dreamy, just one bite will have everybody wanting to give thanks all around!
You might want to make a double batch…
---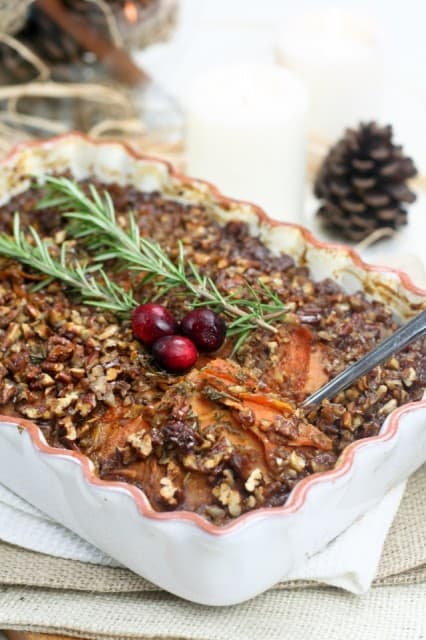 If mashed Sweet Potatoes aren't your thing, then this "Gratin Dauphinois" Style Sweet Potato Casserole may very well be just what you've been waiting for…
Made with layer upon layer of super thin sweet potato slices, this is a very elegant and scrumptious alternative to the traditional Sweet Potato Mash for your next Thanksgiving party.
---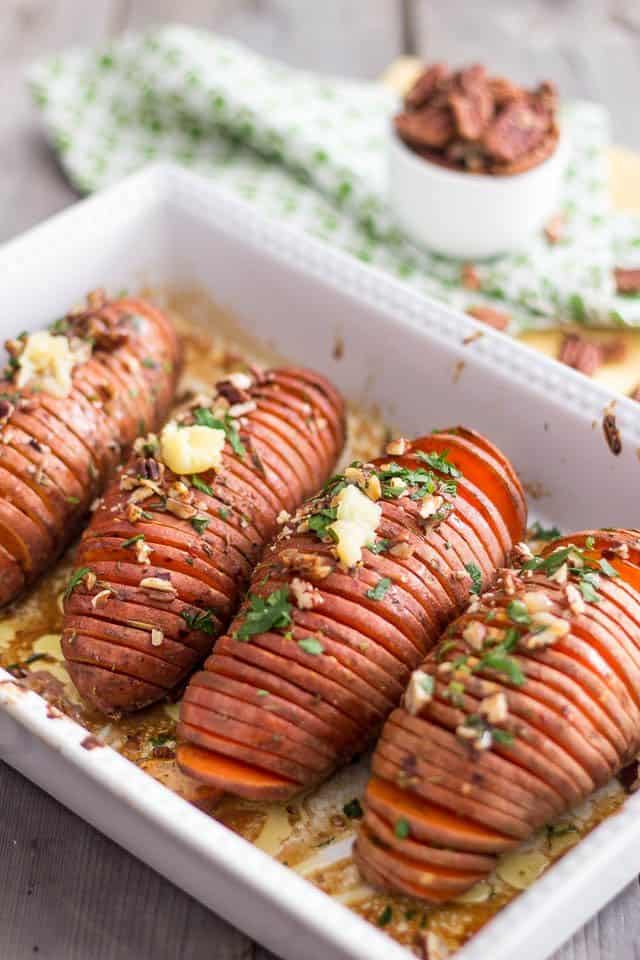 Wow your guests with these stunning and elegant looking Baked Potatoes.
Learn how to easily make Hasselback Potatoes with a very simple trick, and then kick them up a notch to make them Thanksgiving worthy!
---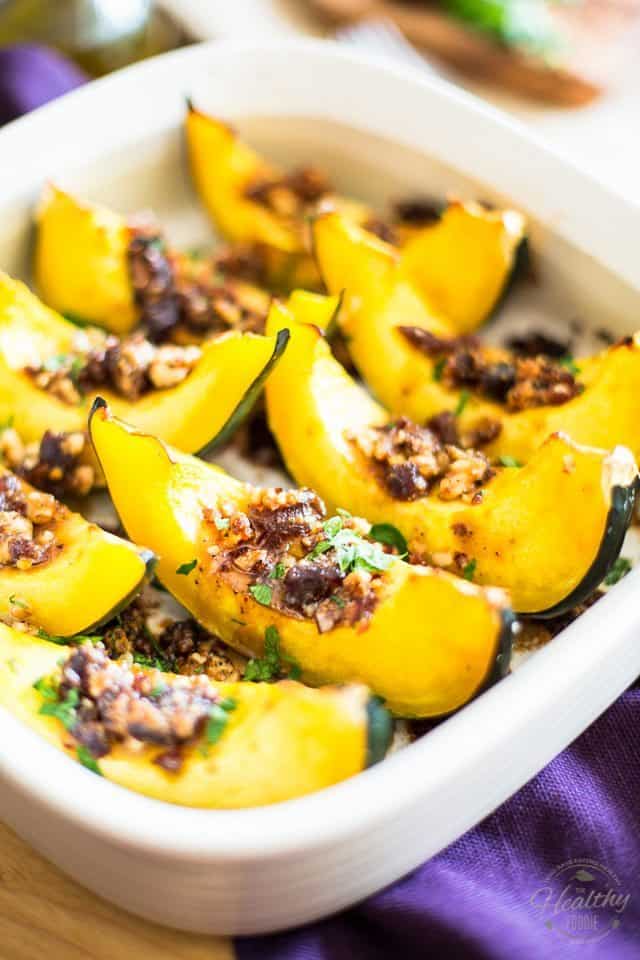 Here's a side dish that's so easy to make and so delicious, too, you'll want to make it time and time again!
Even on Thanksgiving. Or ESPECIALLY on Thanksgiving, rather!
---
DESSERTS
---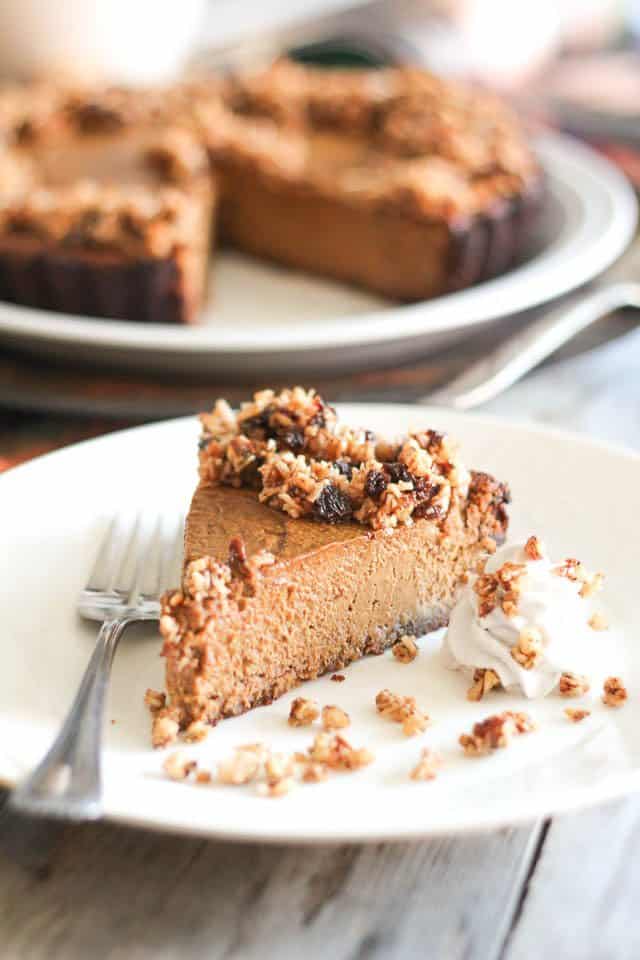 No Thanksgiving meal would be complete without dessert, now would it? And what better way to end this annual feast than with a slice of heavenly Paleo Pumpkin Pie?
With its devilishly sweet, spiced and super rich custard-like filling and tender-yet-crispy crust, all that topped with a crunchy, honey sweetened crumble, this unconventional Pumpkin Pie is nothing short of spectacular.
Bet it'll have you coming back for more… year after year after year!
---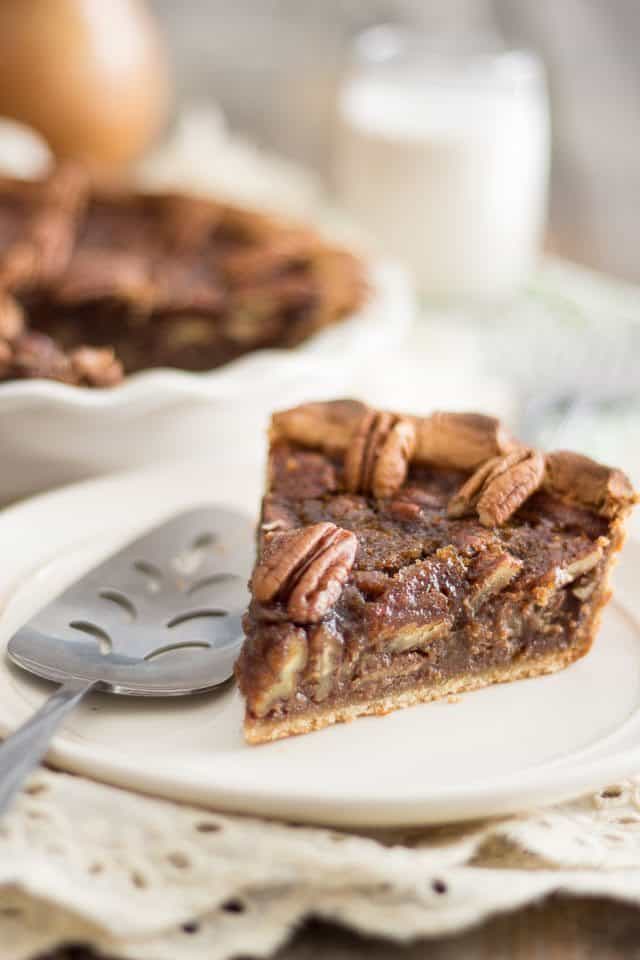 Or, you could go with this other great classic. Trust me when I say that the "real deal" has absolutely nothing over this Paleo version of Pecan Pie: its filling is perfectly sweet, silky smooth and crunchy at the same time, and tastes like a million bucks, too!
Once you've tried it, you'll never go back!
---
If pie is not your thing, then might I suggest this crazy delicious Maple Caramel and Apple Cheesecake?
This one truly IS indulgent, but still totally gluten free AND refined sugar free. No need to tell anyone, though. They'll be too busy smacking their lips anyway…
---
Hungry for more?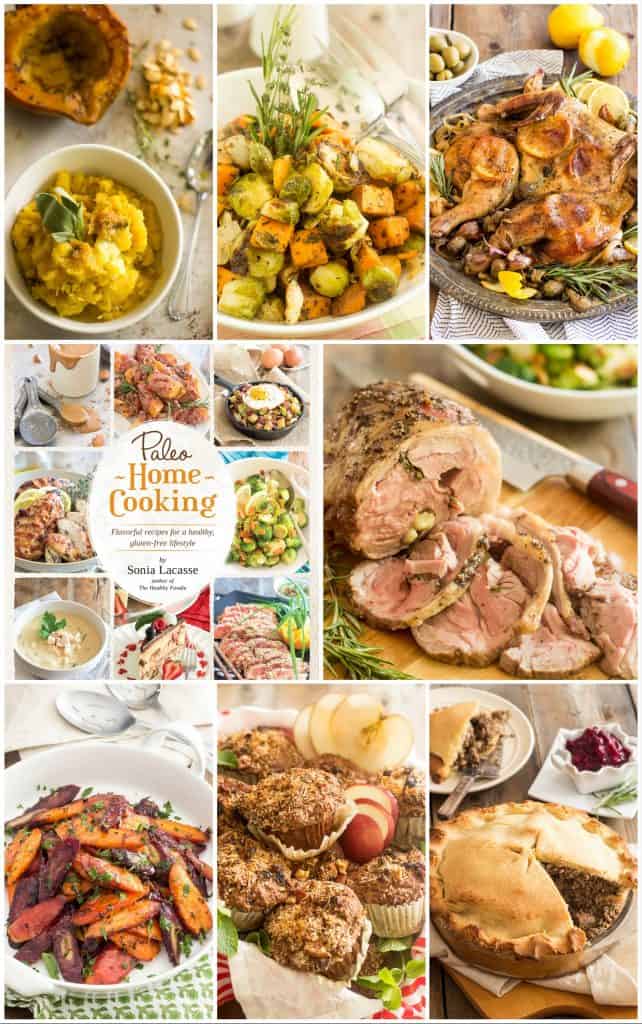 I've got plenty other great Thanksgiving recipe ideas in Paleo Home Cooking! Just sayin', you know…
In case I didn't get you covered here!
Happy cooking, Happy Thanksgiving! Love and kisses all around.