14 Valentine's Day Recipes You will Fall in Love With
An assortment of 14 of my favorite healthy recipes to that will have you fall in love this Valentine's Day… cuz who says healthy can't be loveable! 
Can you smell this? No, I'm not talking about the food… I'm talking about LOOOOOVE! Yes sir!
LOVE IS IN THE AIR!!!
Cupid's special day is just around the corner and I thought perhaps you'd be looking for a little bit of cooking inspiration in preparation for this romantic evening.
So, I've put together a collection of 14 of my favorite Valentine's Day Recipes. Well, technically, they're not Valentine's Day Recipes per se, in a sense that they are not meant to be enjoyed exclusively on Valentine's Day, you know. But all of them are dishes that I would personally LOVE to make for my significant other on that special day, if I did have a significant other to even cook for, that is…
Most of these dishes are fairly light and fairly easy to prepare, so you won't have you spend the entire day slaving in the kitchen, or end up being so stuffed after dinner that you'll barely be able to lift a finger. After all, you may need to have a little bit of energy left in you for a few *ahem* enjoyable activities, if you know what I mean…
Right, let's not go there… let's take a look at them dishes instead, shall we?
---
You're looking at a lightly pan-seared fillet of Sole served over a light and super delicious Mango and Chayote Salad: this one would make for a great appetizer, one that is totally restaurant worthy but also incredibly easy to make.
While the fish has to be cooked at the last minute, you could very well make the salad ahead of time, if you wanted to win some precious minutes and spend them with the love of your life.
---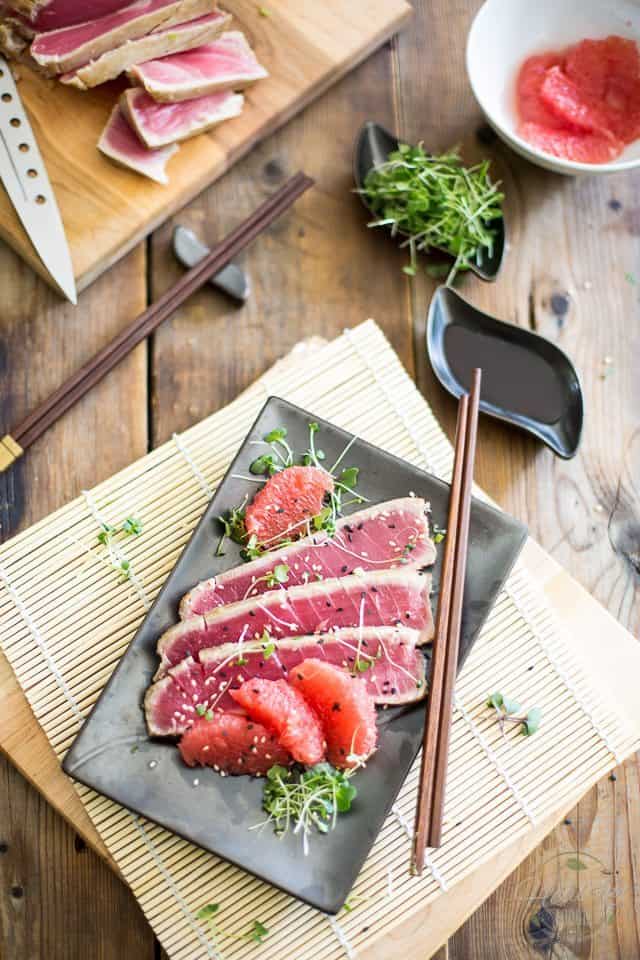 If tuna is more your thing, then this beautiful tuna steak that's been quickly seared and marinated in a sweet and tangy pink grapefruit and ginger marinade is just for you!
This Grapefruit and Ginger Tuna Tataki is simple, fresh and delicious, could very well be made ahead of time, and again, would make for a fantastic appetizer or be served as a light meal, with a side of white rice and a handful of fresh greens.
---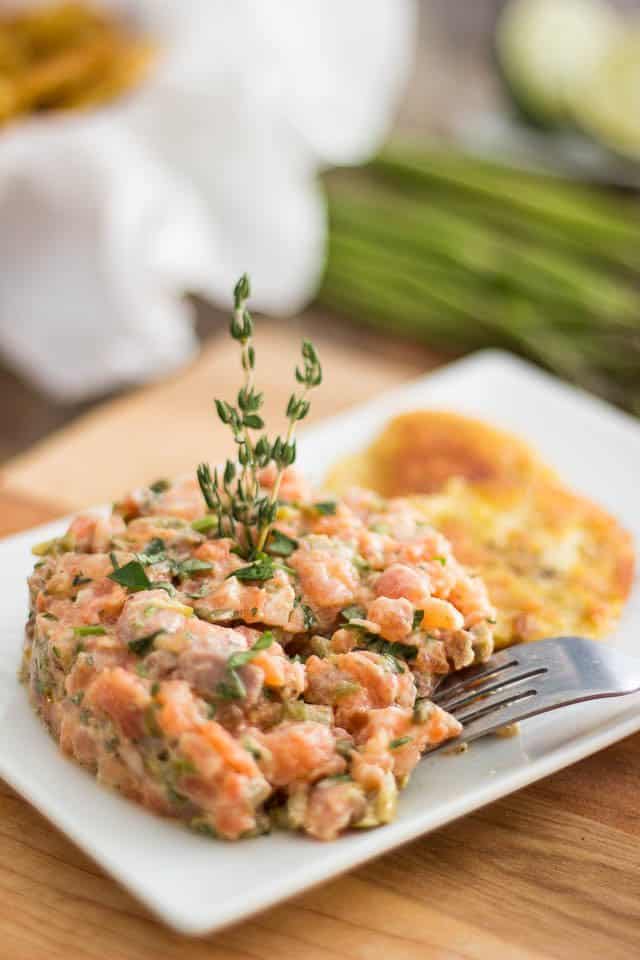 As good looking as it is delicious, this Two-Salmon Tartare uses both fresh and smoked salmon; it is so incredibly tasty, it's bound to become your new ultimate favorite tartare recipe!
Can be made a few hours in advance and is absolutely perfect served as an appetizer or light meal, with a few crispy tostones or crackers.
---
This totally reinvented Surf &Turf was given a spot on my own personal list of my top 10 ultimate favorite meals ever. I think that this fact alone makes it a great contender for such a special occasion as a Valentine's Day romantic dinner for two…
And the good thing is it can totally be made ahead of time so the two of you may get to spend more time together. Goes fantastic with a glass of red wine, too… just sayin', you know!
---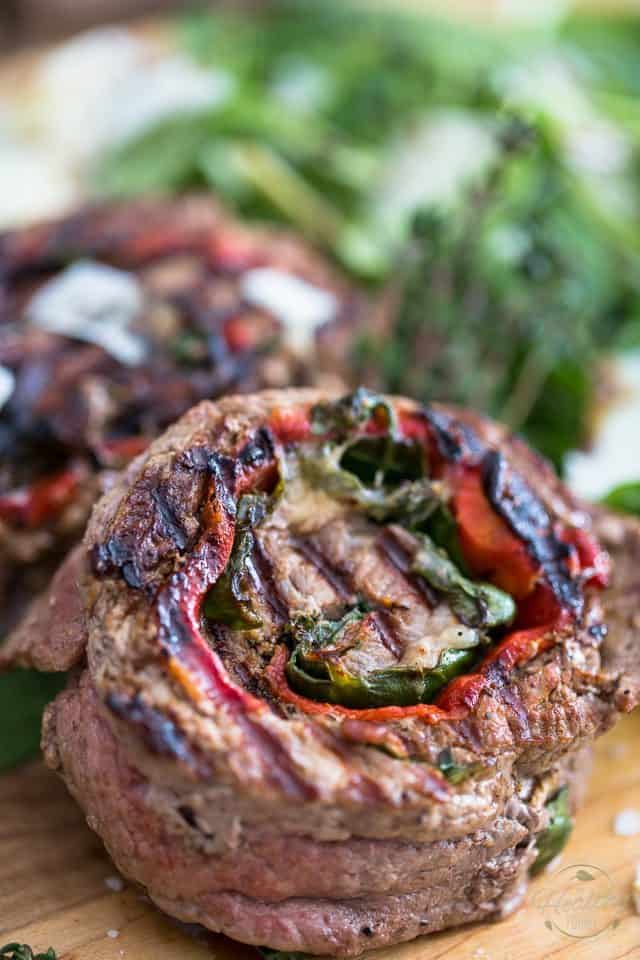 Turn the ordinary into extraordinary with these beautiful beef pinwheels, stuffed with Sweet Roasted Bell Peppers, Baby Spinach Leaves and Shaved Parmesan Cheese.
While these will have you spend more time in the kitchen, the "meat roll" can very well be made and cut into individual pinwheels ahead of time; the finished medallions will cook in just a few minutes! A definite way to your meat lover's heart… 
---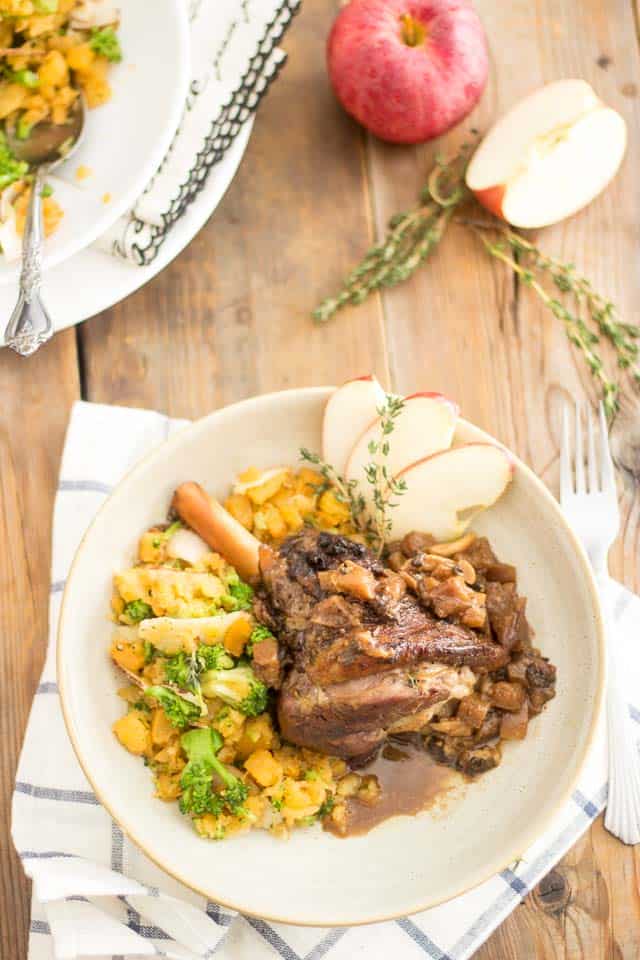 Here's a dish that will require a little more time to prepare, but most of it is cooking time, so you won't even need to attend to it. And once it's ready, you can just keep it warm until you are ready to eat. Trust me, this one is in no hurry, it'll wait for you very patiently.
And honestly, the flavor combination of this dish is so astonishing, it tastes just like it has been created by an assemblage of angels. How appropriate, don't you think? I'm sure Cupid would approve!
---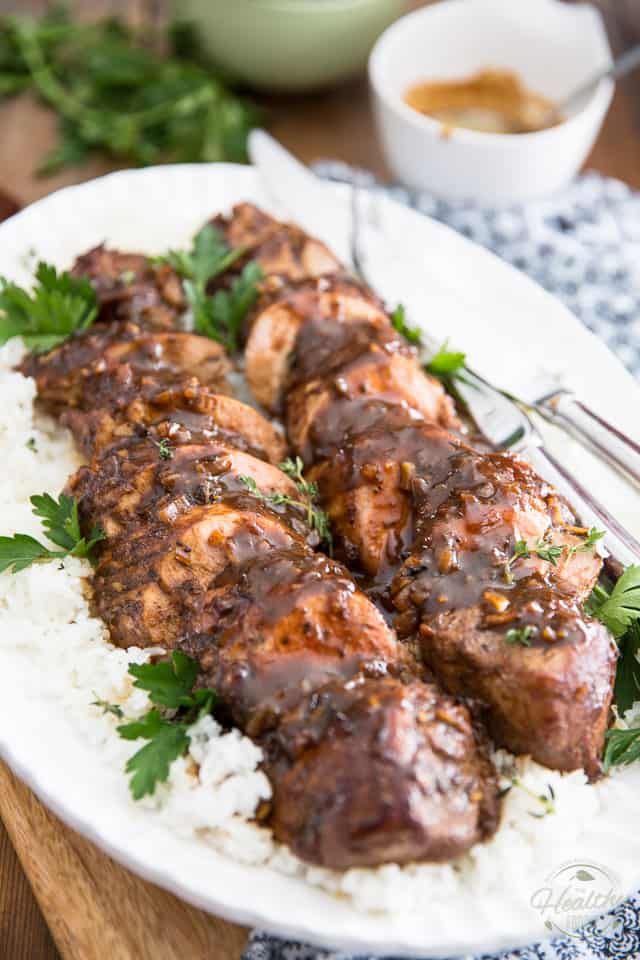 I absolutely LOVE pork tenderloin. I guess it's only natural that I wound up including my Maple Balsamic Pork Tenderloin recipe in this celebration of love roundup!  Not only is this cut of meat super lean, but it's also unbelievably and naturally tasty, juicy and tender, so you don't need to do much to it at all in order to turn it into a more than decent meal.  Plus, it cooks in no time at all: bonus!
When the occasion calls for it, you can so very easily kick it up a serious notch: a simple little marinade-turn-into-super-tasty-sauce will easily transform your ordinary pork tenderloin into a veritable feast fit for a king, or even better yet: the love of your life…
---
Technically, these Lemon Garlic Shrimp Foil Packets are supposed to be cooked on the outdoor grill, but if your grill was still buried under mountains of snow, you could just as well bake them in the oven… It's another incredibly quick and easy meal that you can prepare ahead of time, but that will score you many many points in the yum factor department...
The best part about this one? No dishes to clean! Now something HAS to be said for that; I'm sure you'll have WAY better things to do with your time… 
---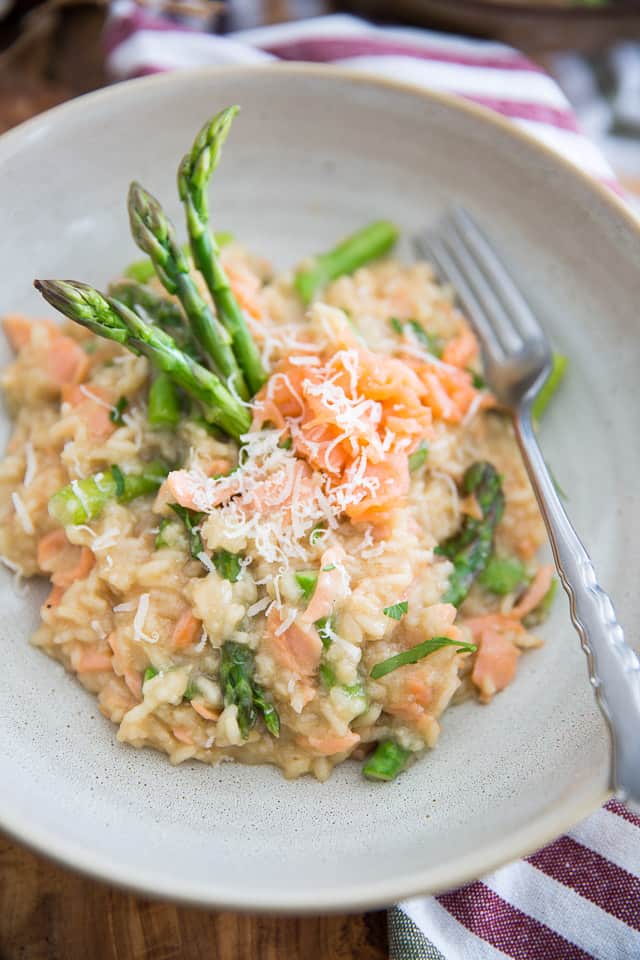 If you're looking to make something that's more on the "comforting" side, then you can't go wrong with this Smoked Salmon Asparagus Risotto. I'm telling you, every single bite of this risotto will make you feel like you've been invited to heaven to share a meal with the gods!
It's so incredibly rich, so creamy, so tasty, so crazy decadent, you'd think that it was totally LOADED with all kinds of butter, cream and cheese, for sure! The fact is it actually contains VERY little cheese, and no cream or butter at all! But your better half doesn't need to know that… let them believe that they are totally indulging and that they'll have a bunch of extra calories to burn later… 
---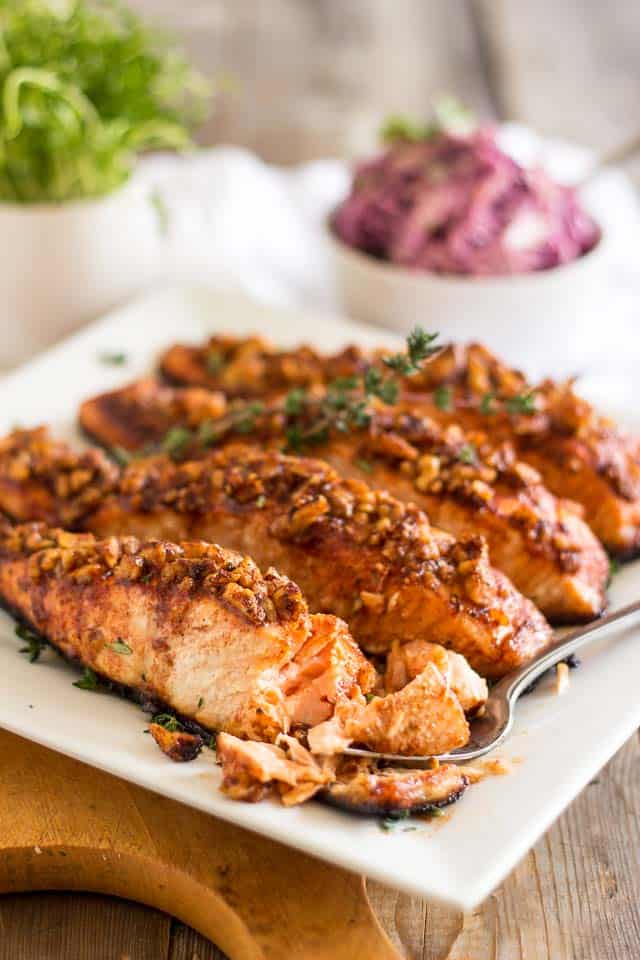 So deliciously tasty, this quick and easy Maple Walnut Crusted Salmon is bound to become a favorite. In fact, it's one of those recipes that you'll want to know by heart! Get it? By heart! Heart, love, Valentine's Day…
Okay, I think I need to work on that one. The joke, that is; NOT the dish. Cuz seriously, I mean it: this one is a true winner: Quick, easy and absolutely delicious. Score!
---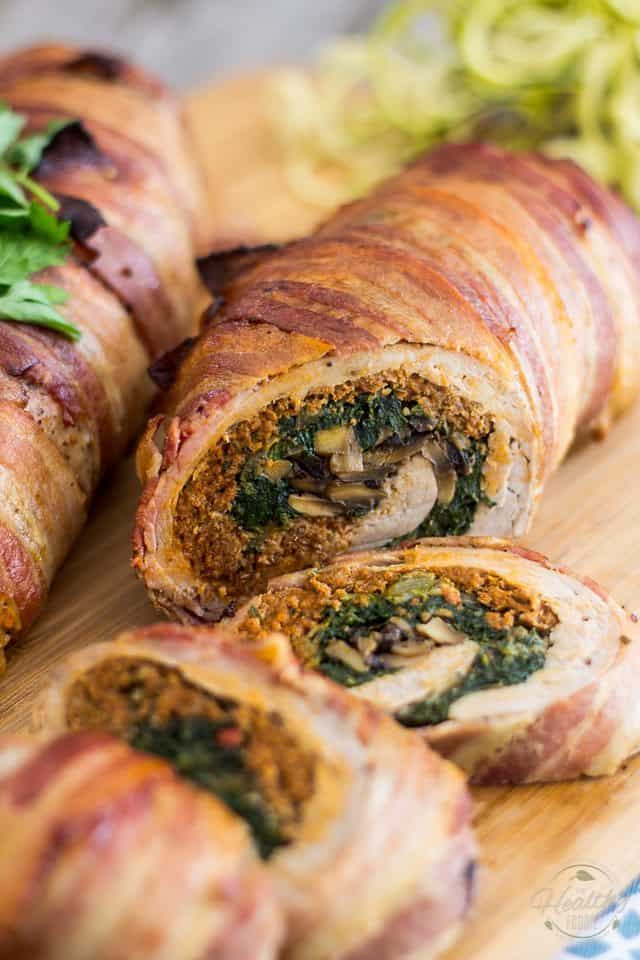 This one is a tad on the time consuming side, but I could NOT not include this recipe, as it happens to be one of my all time favorites. And if your better half happens to be a lover of all things pork, well then I can guarantee that they will be your number one fan for all of eternity if you make this recipe for them…
We're talking juicy pork tenderloin stuffed with spicy Homemade Italian Sausage (although you don't absolutely HAVE to make your own), spinach and mushrooms, all wrapped up in smokey, crispy bacon.
Total pork heaven for any pork lover!
---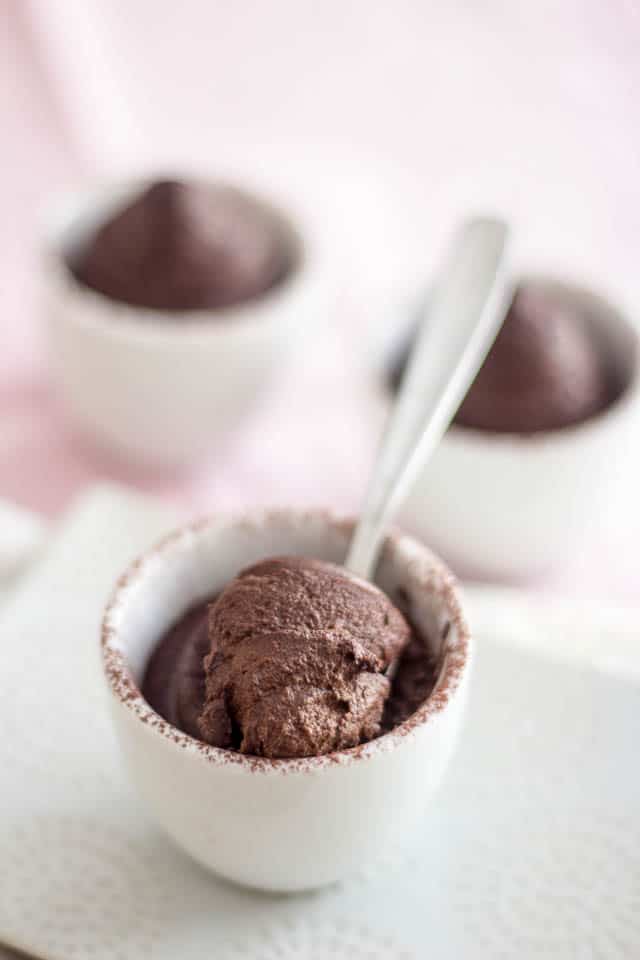 No Valentine's Day dinner would be complete without some kind of a chocolate dessert, now, would it? Well, here's a quick and easy one for you, if you want to put a more-than-decent dessert on the table that won't take more than a few minutes to make.
Plus, despite being entirely dairy free and refined sugar free, this Dark Chocolate Mousse is so insanely rich and delicious, you'll probably end up making it all the time!
---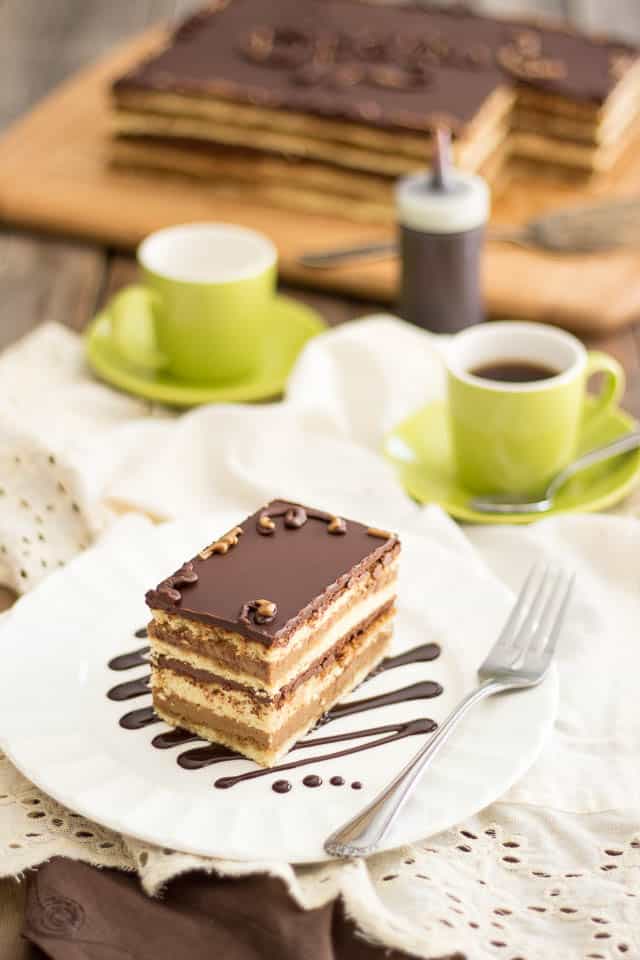 If you're willing to spend a great chunk of time in the kitchen to work on a special Valentine's Day dessert, this Paleo Opera Cake would definitely earn you many, many points…
It seriously tastes just like the finest traditional Opera cakes of this world but contains no grains, no dairy and no refined sugar. Honestly, it's so good, it's worth every single calorie and every single second you'll spend working on it.
And hey, about them extra calories… I'm sure you can think of many ways to burn them off!
---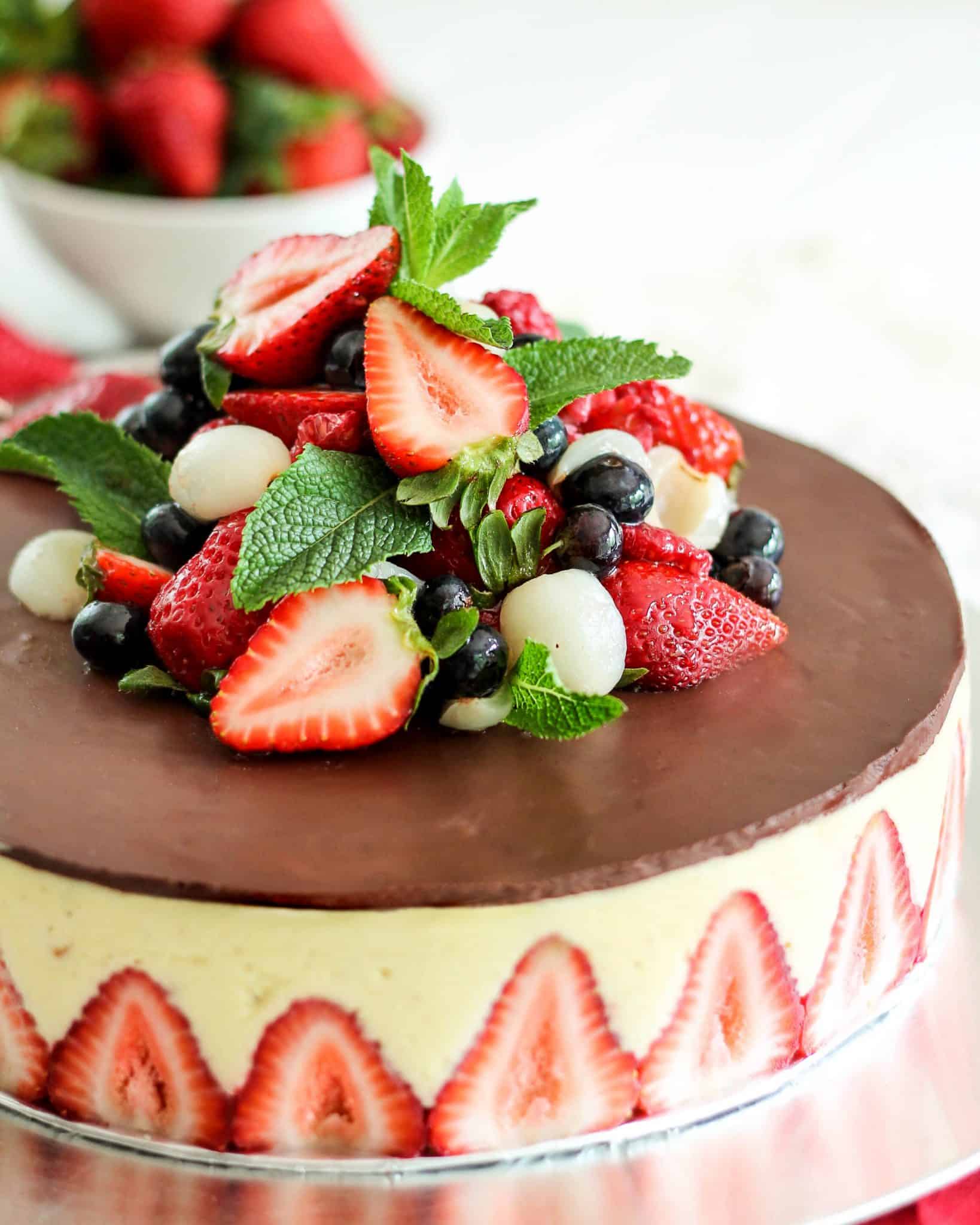 If you really, truly want to WOW your loved one's eyes and taste buds, then you should definitely consider this pure maple syrup masterpiece. Granted, this cake does NOT come together quickly or even easily, for that matter, but it does come with guaranteed oooohs and aaaaaahs… and well very probable, you know… *wink wink*
This is one of my favorite creations ever! Hey, you gotta admit that it is a pretty spectacular cake, and I have no doubt that, if you choose to give it a go, all your hard work will be greatly rewarded.
If you have your heart set on making that magnificent and scrumptious cake, you're gonna have to get your hands on a copy of my book, because sadly, the recipe isn't available on the blog.
It's entirely worth it, I swear. Plus, you'll get access to so many other great recipes, too! Indeed, I've got plenty other great recipes you would fall in love with in Paleo Home Cooking!
In case I didn't get you covered here!
HAPPY VALENTINE'S DAY TO YOU!
If you've tried these recipes, or any other recipe on the blog, please take a minute to rate the recipe and let me know how things went for you in the comments below. It's always such a pleasure to hear from you! You can also FOLLOW ME on PINTEREST, FACEBOOK, INSTAGRAM and TWITTER for more delicious, healthy recipes!