20 Good Reasons to Fire-Up The Grill This summer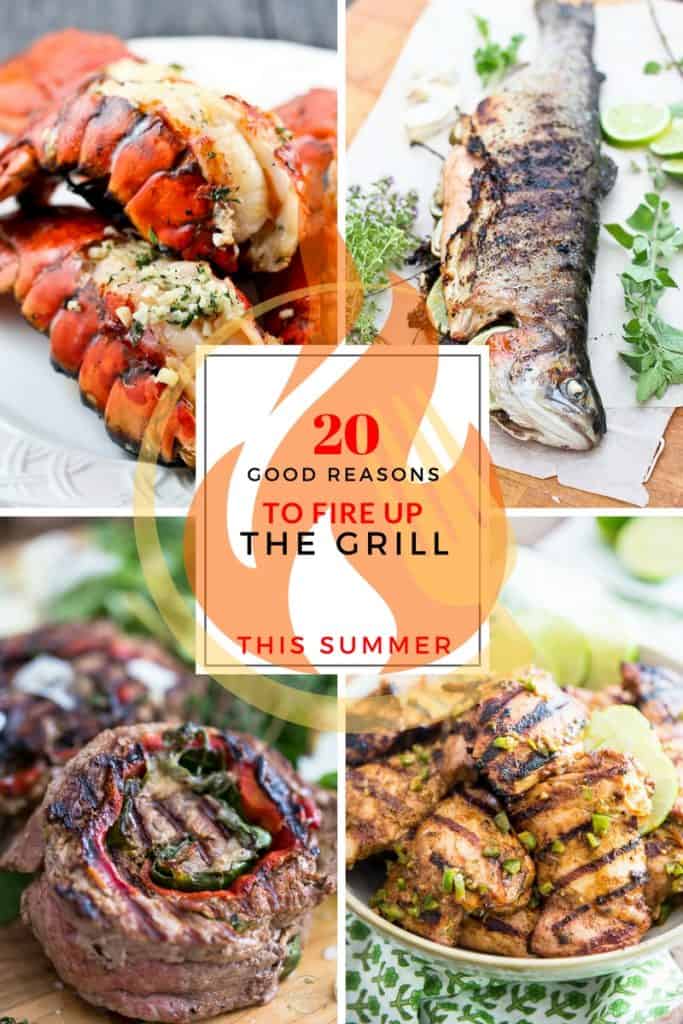 The weather has been pretty good this week-end, so I was browsing Pinterest in search of a little inspiration to fire-up that grill of mine and take advantage of the warm, sunny weather! I found so many amazing recipes that I figured it would be a shame not to share some of them with you guys.
I'm sure that, just like me, you can never too much recipe inspiration, right? Right!
So this time again, just like I did for the sides and salads recipes last week, I put together a little roundup of my favorite finds from around the web, followed by a few of my own personal favorite "grill recipes" from this very blog.
And then, I also added a few teaser recipes from my cookbook, Paleo Home Cooking at the very end of the post…
Enjoy, salivate, get inspired, and then go and fire-up that grill… while it's still warm and sunny out!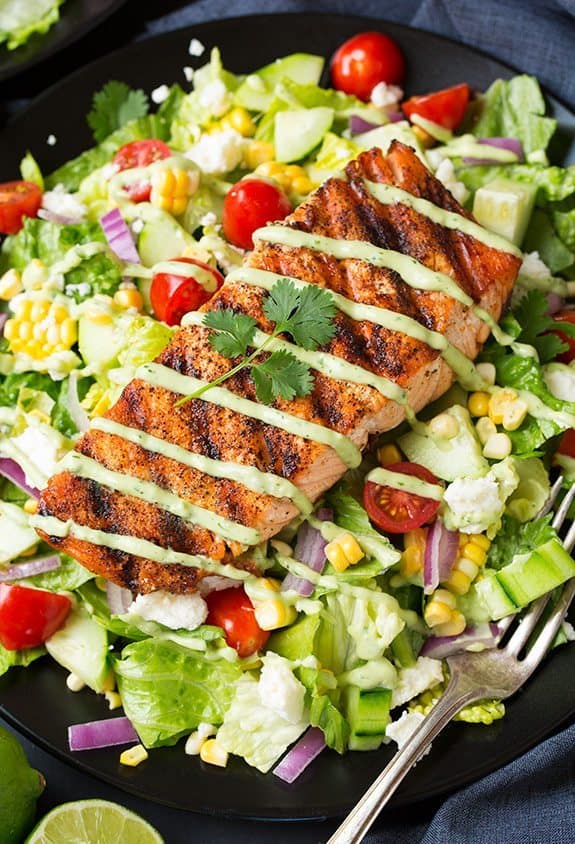 Mexican flavored grilled salmon served over a beautiful, fresh salad and drizzled with a creamy avocado dressing? I think I want to have this for lunch every day for the rest of my life…
by Cooking Classy – Get the recipe here
---
A beautiful fillet of Mahi with a simple olive oil and spice combination that is brushed on right before cooking and a salsa that requires NO COOKING!  It is crunchy and creamy at the same time and the poblano is said to give it just the right kick.
by Laughing Spatula – Get the recipe here
---
Tiffany describes this recipe as a perfectly grilled flaky pink fillet of salmon topped a with sweet and spicy mango salsa. That sounds totally yummy to me!
by Creme de la Crumb – Get the recipe here
---
Grilled shrimp, corn, peppers and zucchini topped with fresh avocado and lime juice – an easy light salad you'll want to make all summer long.
by Skinny Taste – Get the recipe here
---
Amazingly beautiful, juicy and tasty lobster tails, grilled to succulent, mouth-watering perfection!
by Roti N Rice – Get the recipe here
---
Marinated for hours in a flavorful lime cilantro marinade and then thrown onto the grill, this extra-juicy chicken delivers a punch of irresistible summer flavors!
by Whole and Heavenly Oven – Get the recipe here
---
Chicken breasts marinated in an orange infused salty, sweet, and slightly spicy sauce and grilled to perfection. Serve along rice with a salad, or with your favorite vegetables.
by Wholesomelicious – Get the recipe here
---
Sweet and tangy with boatloads of flavor; the author suggests that you serve this tasty grilled chicken dish next to grilled corn and a garden salad for an easy and delicious meal.
by Simply Scratch – Get the recipe here
---
Marinated then cooked quickly and at high heat, this flank steak is said to practically melt in your mouth… I have no problem believing it! It sure makes my mouth water!
by Simply Recipes – Get the recipe here
---
Easy Paleo Grilled Garlic-Lime Skirt Steak with Veggies Recipe
Here's a flavor-packed recipe using skirt steak, which is usually much cheaper than filet mignon, but Trina says you may end up loving it even more! I personally couldn't agree more. And seriously… talk about a bowl of goodness right there!
by Paleo Newbie – Get the recipe here
---
Loaded with authentic Mexican flavor, this marinated flank steak is grilled to perfection for the best Authentic Carne Asada experience. I say yes please!!!
by The Stay at Home Chef – Get the recipe here
---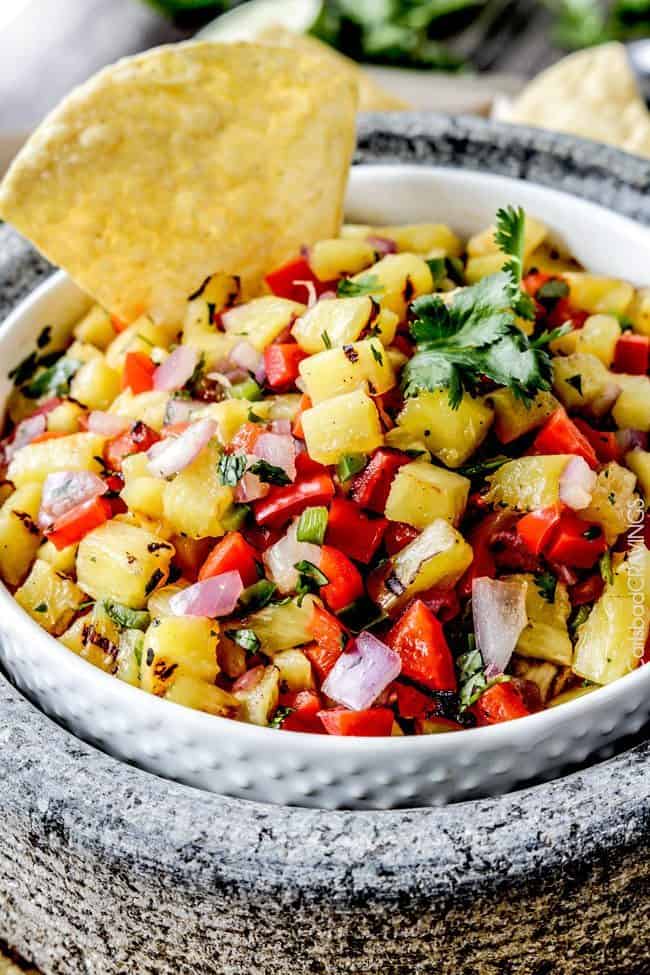 Sweet and smoky fresh Pineapple salsa made even more delicious by grilling the pineapple, red bell peppers, red onions AND jalapeno!  Possibly the best salsa E-V-E-R, according to Jen, its creator! Looks so right, I just can't wait to try it for myself! 
by Carlsbad Cravings – Get the recipe here
---

The only grilled chicken recipe you'll need this summer: it's infused with an amazing medley of summery fresh, zesty, tangy and downright festive flavors!
---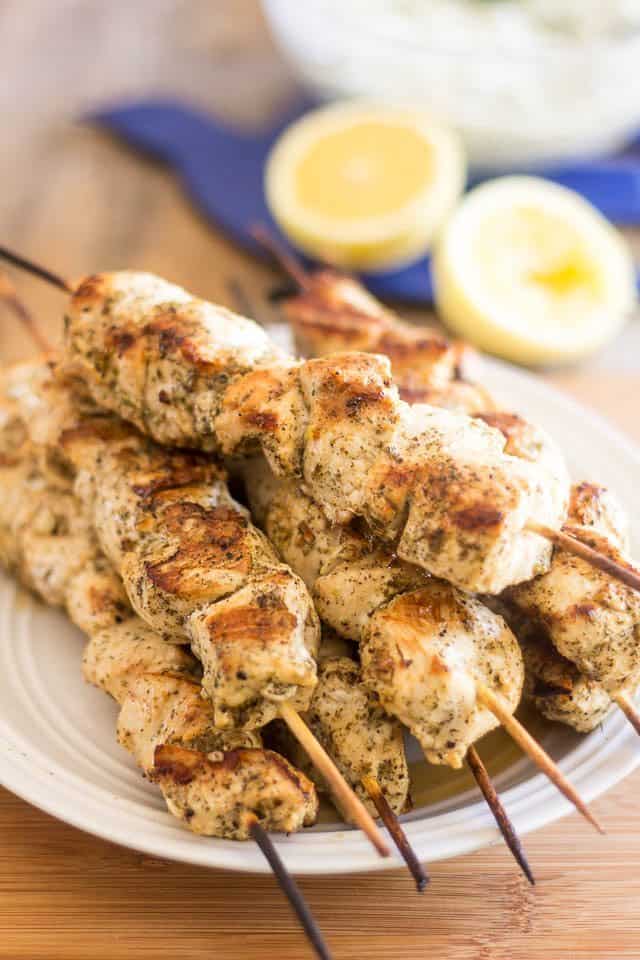 These authentic Chicken Souvlaki are so stupid easy to make and so crazy good, you'll probably want to eat nothing but that all summer!
---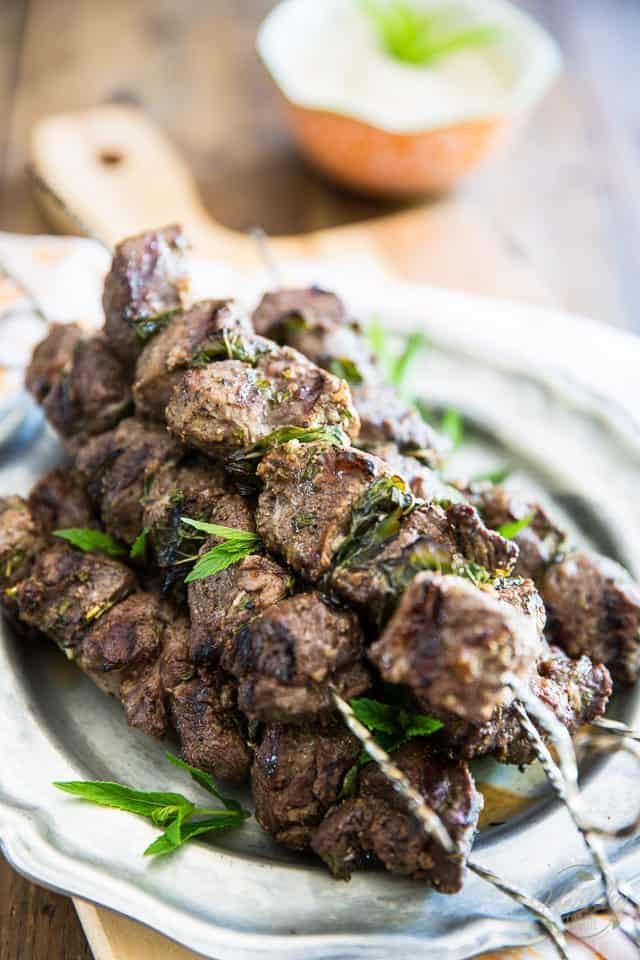 These lamb kabobs with tahini sauce harbor so much flavor, they totally belong on the menu of a 5 star restaurant! Learn how to make them super easily in the comfort of your own home.
---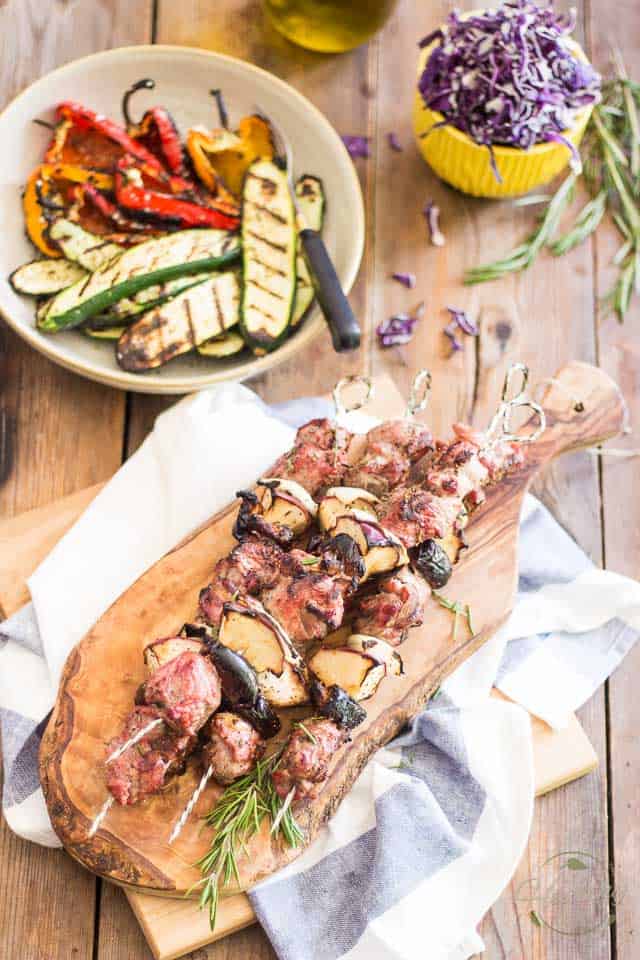 Delicious pieces of lamb, skewered with apples and dates; these kabobs pack so much flavor and are so easy to make, they're gonna blow your mind. Perfect for your next grill party!
---

There are simply no words to describe how insanely good those pork meatball kebabs are. Sweet and salty, soft and crunchy at the same time, every bite feels like there's a party in my mouth and all of my taste buds have been invited! In all honesty, they're probably one of the best things I've eaten in my entire life!
---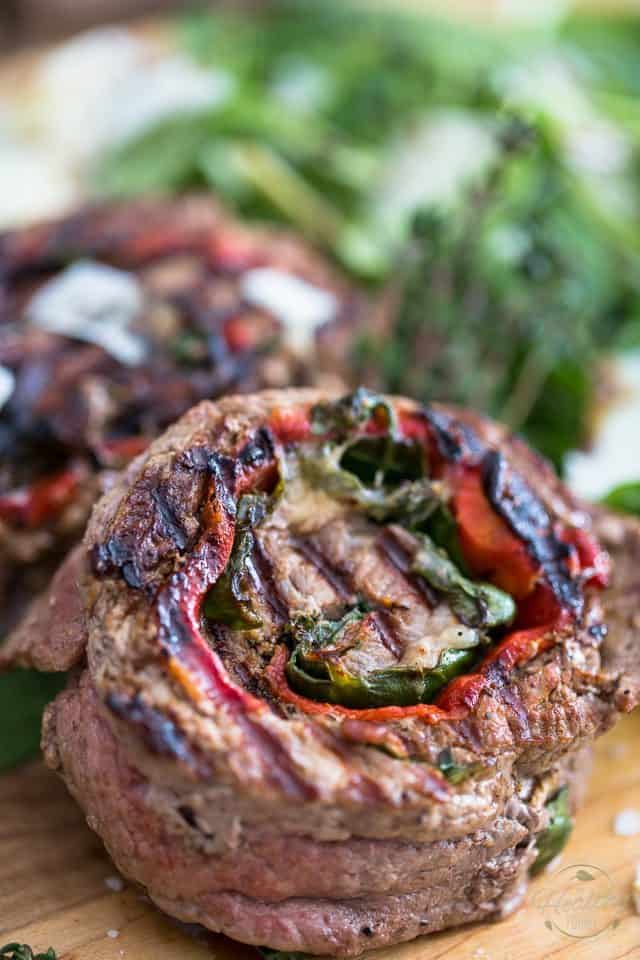 Beef Pinwheels stuffed with Sweet Roasted Bell Peppers, Baby Spinach Leaves and Shaved Parmesan Cheese. Turn the ordinary into extraordinary!
---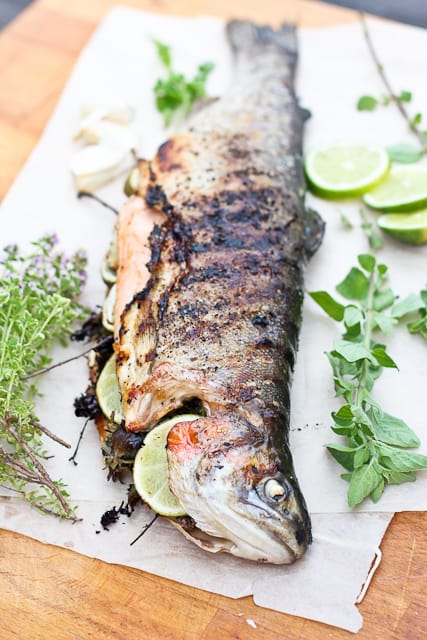 Grilling a whole trout really isn't all that complicated, and the resulting meat is so moist and tender, once you've tried it, you're probably never gonna want to have it any other way.
---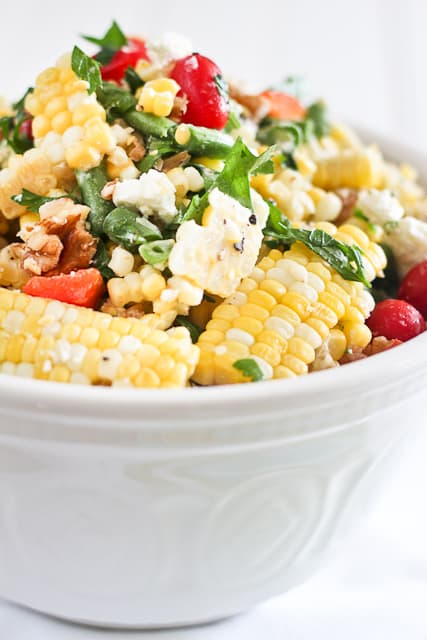 So sweet and fresh and intensely crunchy, with just a hint of hot and tangy, this Grill Roasted Corn Salad just SCREAMS of a beautiful summer day.
---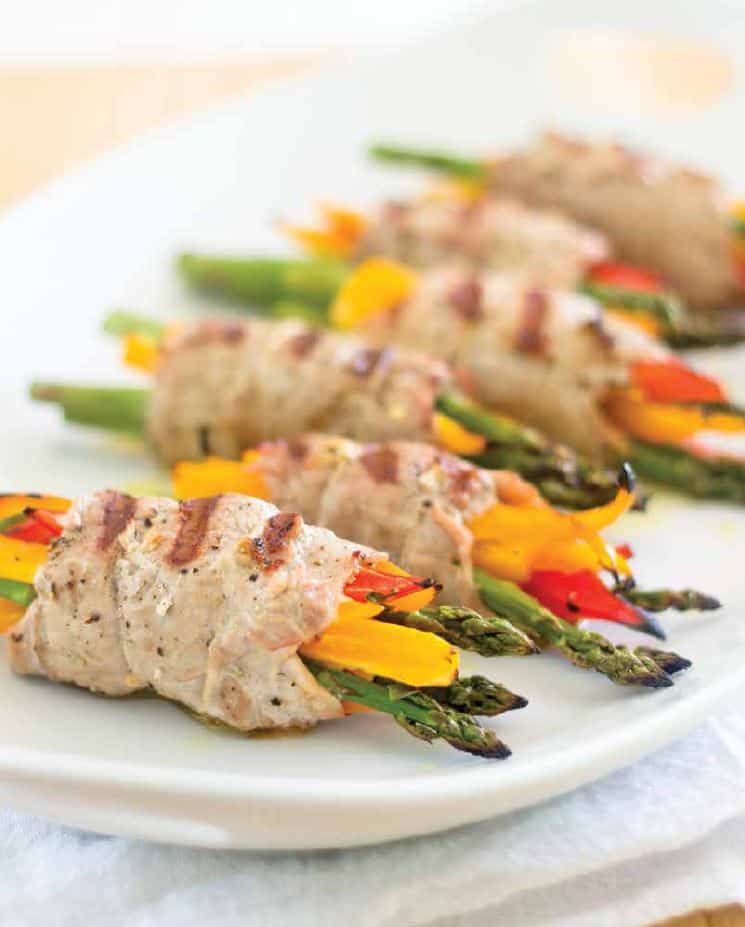 Whether you choose to serve them as an appetizer or as part of a main meal, these little meat rolls are guaranteed to add a bunch of color, and flavor, to your plate. Hey, they work great as party finger food, too, and any potential leftovers make for a brilliant snack: Simply eat them cold, right out of the ice box!
This recipe is available here or in Paleo Home Cooking – Page 228
---
GRILLED PROSCIUTTO E MELONE
Dare to be different: Surprise your guests by serving them an appetizer that's a unique twist on a firmly established classic! Instead of merely wrapping a few slices of melon in prosciutto and serving them as is, the wrapped melon slices are marinated for a few hours and then briefly thrown them on the grill. This marinating-grilling combo not only brings out the sweetness and creaminess of the melon, but it also accentuates the saltiness and chewiness of the meat, creating an explosion of flavors and contrast in textures that you won't soon forget.
This recipe is available in Paleo Home Cooking – Page 90
---
GRILLED BEEF LIVER
If you want to add more offal and organ meats to your diet but can't really consider yourself a fan of liver just yet, I say you should definitely try it on the grill. Cooking it over intense high heat produces a meat that's melt-in-your-mouth tender with a nice, crispy exterior, just like good liver should be. And the addition of the seasoned oil brings out so much flavor, it'll make you completely forget that it's liver and not steak you're eating!
This recipe is available in Paleo Home Cooking – Page 184