Smoked Ham and Hard-Boiled Egg Salad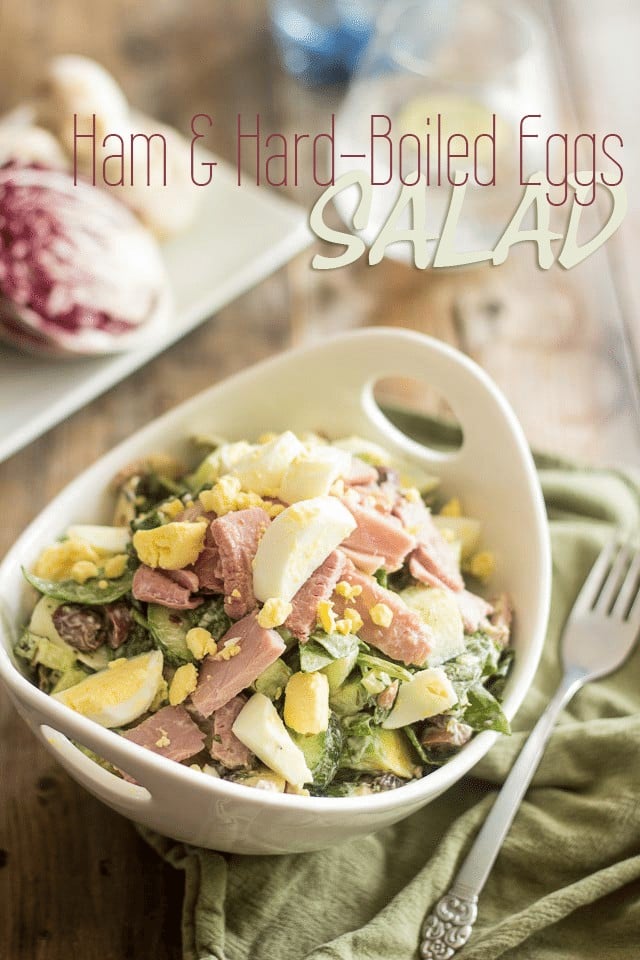 As I was making this salad, I got to thinking about how my whole life, I've heard, read or been told that when attempting to lose weight, one had better be extra careful when selecting salads as a meal option.
Indeed, more often than not, these tend to be loaded with crazy amounts of dressings or vinaigrette, which will turn a seemingly light and healthy meal into a fatty cocktail and a veritable deluge of calories.
So for years, I bought right into this concept and as a result, would always eat my salads either with light dressing (an abomination that shouldn't even exist) or with no dressing at all (not a very palatable option, if you ask me).
I'm soooo happy that I know better now.
In fact, a salad that's high in HEALTHY fats, that contains a good amount of protein and that's loaded with leafy greens and other highly fibrous vegetables, such as this Smoked Ham and Hard-Boiled Egg Salad, might very well be what one should be looking for in a good, healthy "weight loss" meal!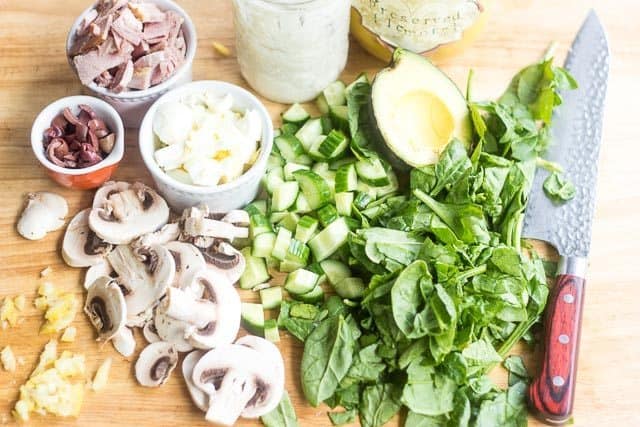 One thing I can tell you is I sure have been loving on salads since I started my 12 week keto challenge. One quick look at my Instagram page will confirm that!  (and again… I haven't posted all of them. I mean, there's only so many salads that one is interested in seeing!)
Quite frankly, I really don't mind it, especially since summer is already (and sadly) coming to an end. Soon, very soon, salads will be a thing of the past. Apples, melons and squash are already starting to show up on the shelves at our local markets.
You know what that means, right? Yep, it won't be long until we start seeing pumpkin flavored everything. Just today, I started writing down the ingredients to a Spicy Pumpkin Nut Butter Recipe that I'm wanting to create. Looks like my brain has already made the switch… Hmphft. Soon that crock-pot of mine will get to see the light of day a lot more often and slowly simmered, hearty meat stews will get hungrily gobbled down in this household.
But hey, we still have a few weeks of summer left, so let's enjoy them to the max and eat salad galore for the time being, shall we?
I know I will!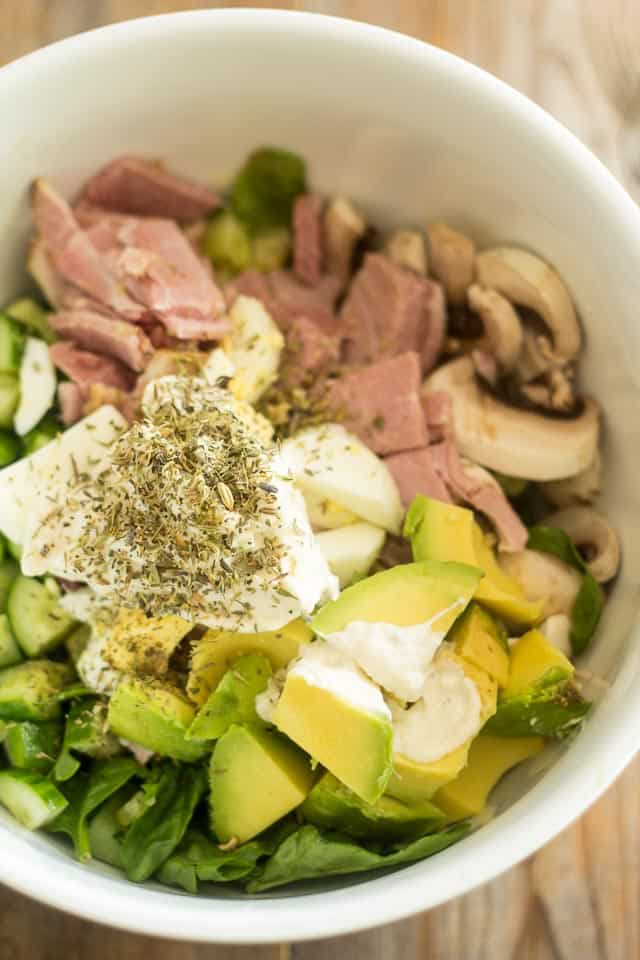 So anyway, about this salad… really, it couldn't be easier to make. All you need to do is chop a whole bunch of yummy ingredients, throw them into a large bowl and toss very delicately until well combined.
For this particular salad, I chose to use some of the delicious Homemade Smoked Ham that I'd just whipped up, but frankly, it would be just as delicious with leftover cooked chicken, cold pork roast or even strips of roast beef.
Other substitutions can be made just as easily. The addition of Herbes de Provence does impart a hint of exoticism to this salad, but if you're not a fan of its slightly flowery flavor, feel free to use oregano instead, or thyme, or any other dried herb that better pleases your taste buds.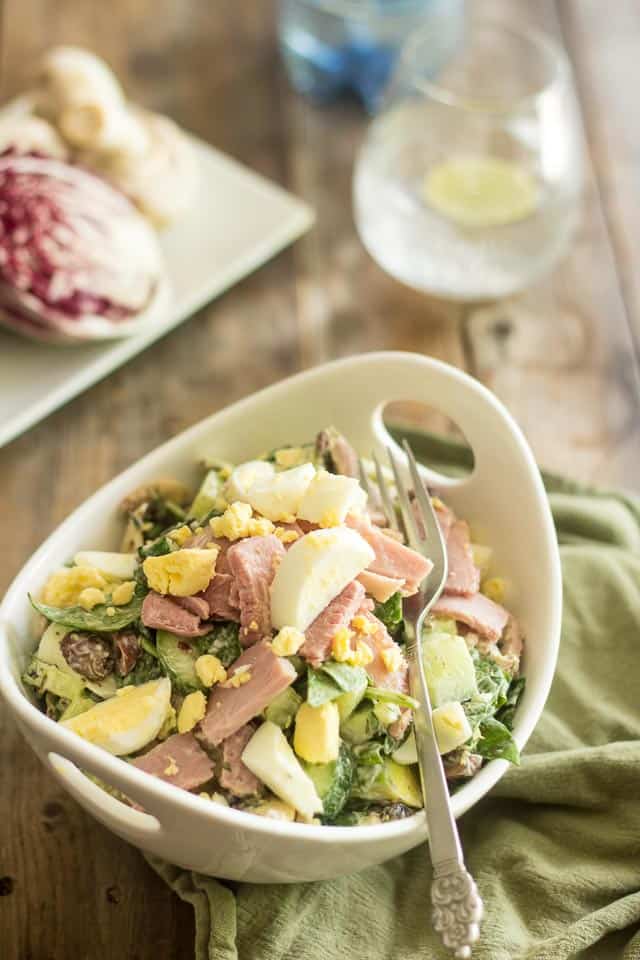 And you know what? To be honest, when making salads, I'll more often than not use just plain homemade paleo mayo as a dressing.
After all, since I do make my own mayo, I tend to add so many aromatics to it, not much else is needed, except for maybe a dash of salt and pepper.
Now if you'll excuse me, I think it's about time I went and made tonight's salad… which will have salmon for protein (and a good dose of Omega 3) this time!
Bon appétit!
Smoked Ham and Hard-Boiled Egg Salad
Servings: 2
Ingredients
1 cup baby spinach leaves, chopped
3 large mushrooms, sliced
2 mini seedless cucumbers, chopped
1/2 ripe avocado, diced
150 g 5oz smoked ham, diced
2 hard-boiled eggs, coarsely chopped
1/4 cup sliced pitted kalamata olives
1/4 cup paleo mayo, extra points if made with coconut oil!
1 tbsp preserved lemon, chopped (or 2 tablespoons lemon juice)
1 tsp herbes de Provence
1/4 tsp Himalayan salt
1/2 tsp freshly cracked black pepper
Instructions
Add all the ingredients to a large mixing bowl and toss delicately until well combined.

Serve without delay.
If you've tried this recipe, please take a minute to rate the recipe and let me know how things went for you in the comments below. It's always such a pleasure to hear from you!
You can also FOLLOW ME on PINTEREST, FACEBOOK, INSTAGRAM and TWITTER for more delicious, healthy recipes!